More and more athletes are showing off their compassionate side by working with PETA to combat animal abuse. These sports superstars are fierce competitors on the field and are tough against animal abuse off the field. Check out some of the sporty celebs who are making big plays for animals, then become an athlete for animals yourself by joining the PETA Pack team!
NFL quarterback Cam Newton joined PETA to show the world what it means to be "Built Like a Vegan":
Olympic gold medalist and proud vegan Alex Morgan knows dogs should be treated like family: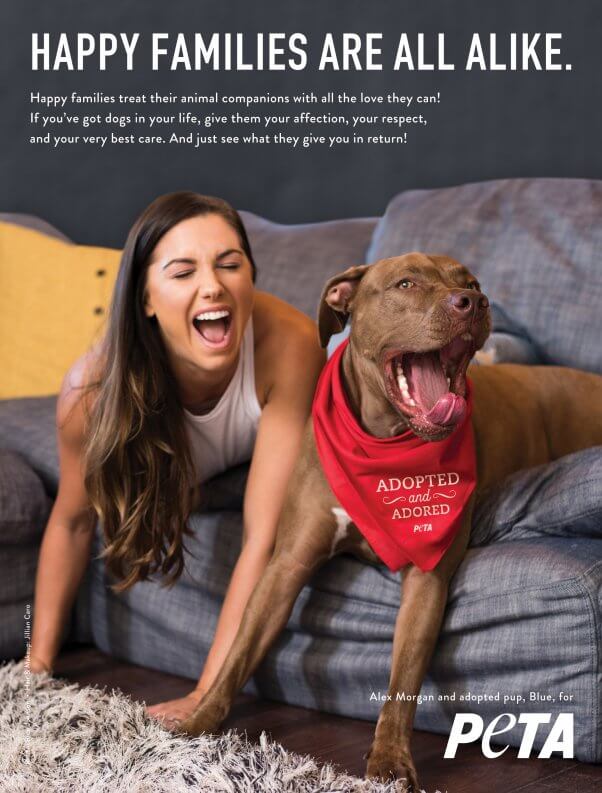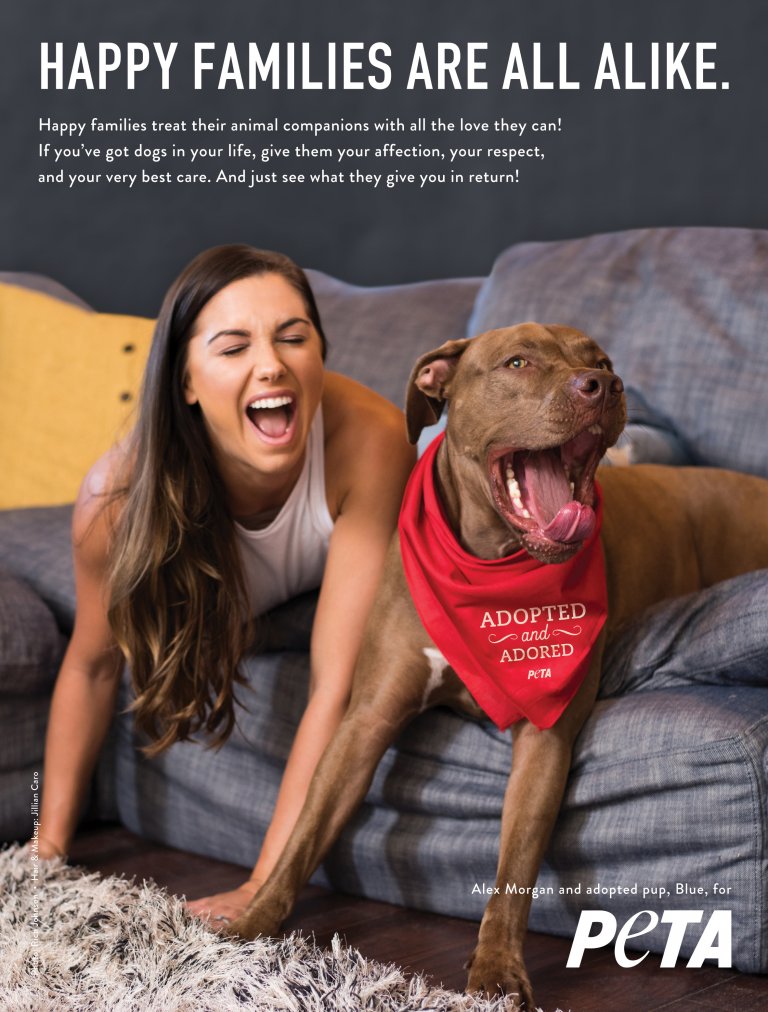 Rich Johnson
Super Bowl champion Tyrann Mathieu has put himself through extreme heat and cold to stand up for neglected dogs:
WNBA MVP Elena Delle Donne urges fans to be an MVP for animals by always adopting, never buying, animal companions:
Once NBA center Enes Kanter saw the devastating impact that the meat, egg, and dairy industries have on animals, the environment, and their workers, he knew that going vegan was the only option:
NFL wide receiver Robby Anderson reminds fans that dogs belong indoors like the family members they are and should be loved and respected—never chained alone outside: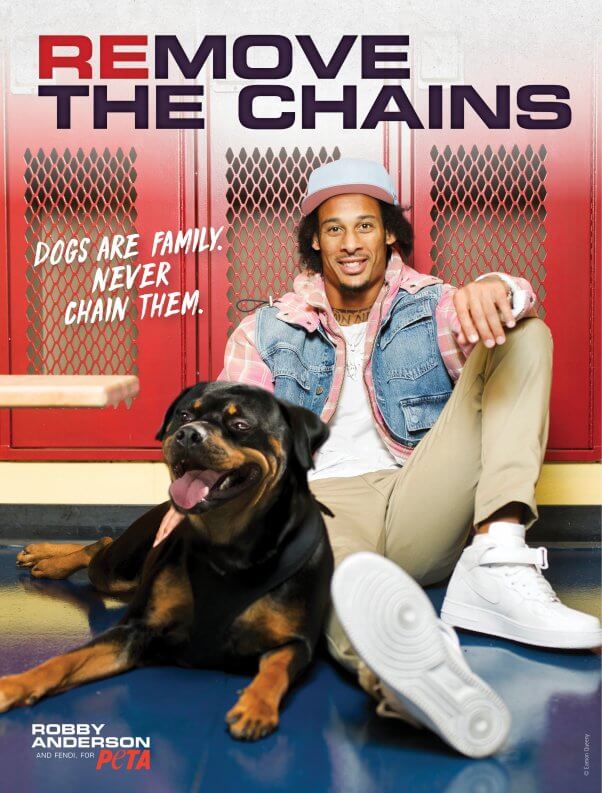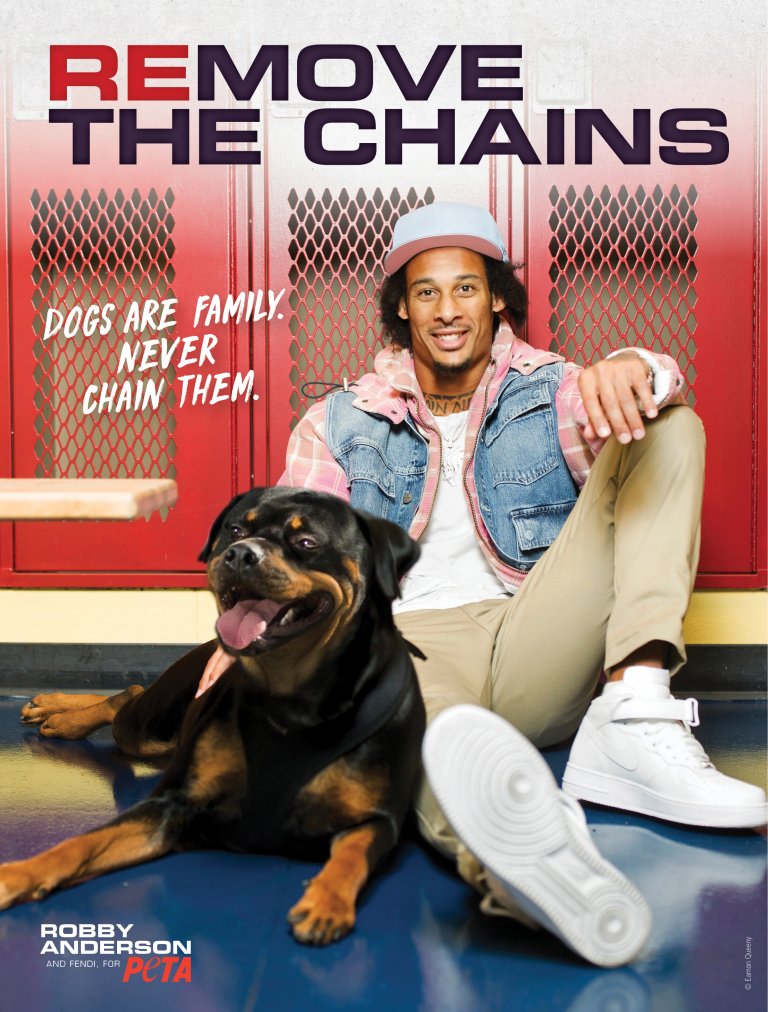 Like a true champion, soccer star Christen Press rescued her best friend: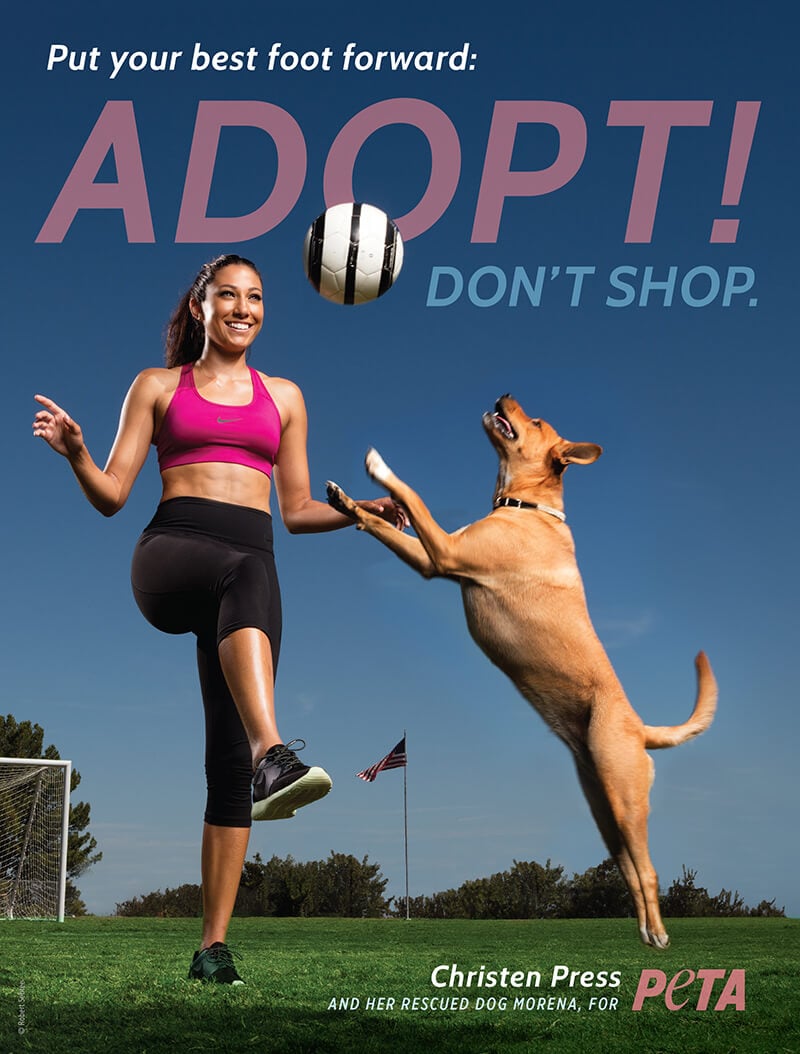 Three-time Super Bowl champion Dont'a Hightower and his dog, Meko, joined PETA's campaign to help neglected dogs forced to live outside in the cold:
When NFL running back Le'Veon Bell learned about the cruelty that animals living inside cramped cages endure, he stepped up his game and showed off his tats to illustrate why he always chooses "ink, not mink":
NBA legend John Salley is a dedicated vegan who has joined PETA to speak up for animals on more occasions than we can count! He flew to Washington, D.C., to host our 23rd annual Congressional Veggie Dog Lunch, wrote to then–first lady Michelle Obama encouraging her to take a vegan pledge, and counted down our top five vegan-friendly NBA arenas:
Candace Parker speaks up for animals killed for their fur: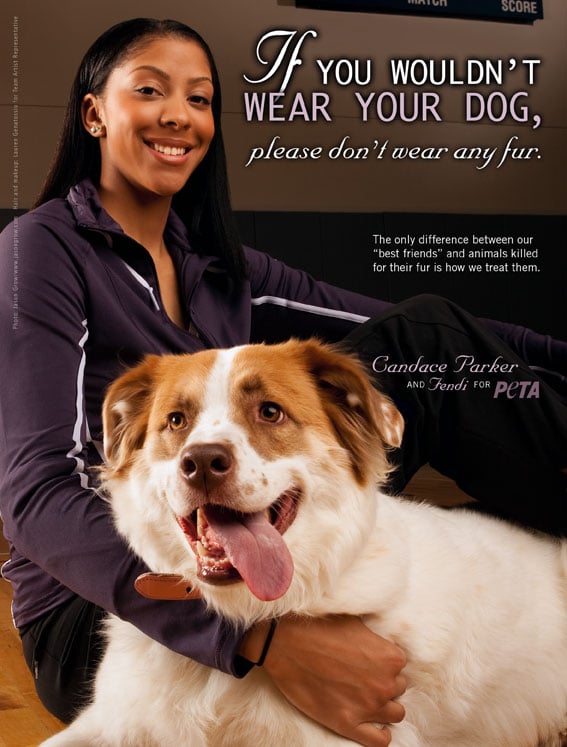 NBA star Lonnie Walker learns firsthand how animals can suffer in hot cars when his dog, Zola, stops for a quick "shopping trip":
Texas A&M University alumnus and Tennessee Titans quarterback Ryan Tannehill sent a letter to his alma mater to urge the school to end its cruel muscular dystrophy experiments: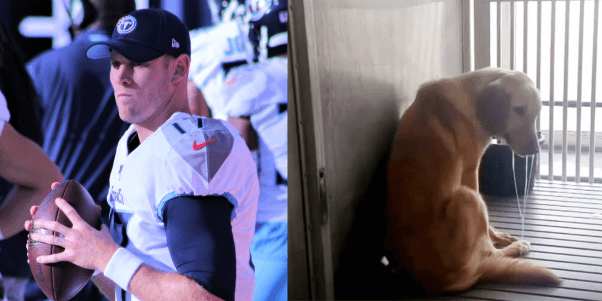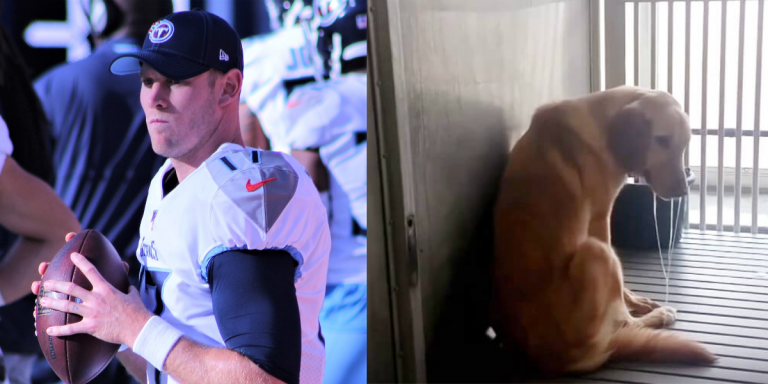 Ryan Tannehill | Chipermc | CC BY SA-4.0
NFL wide receiver Devin Funchess teamed up with PETA to help break the chain of cruelty and get dogs indoors, where they belong: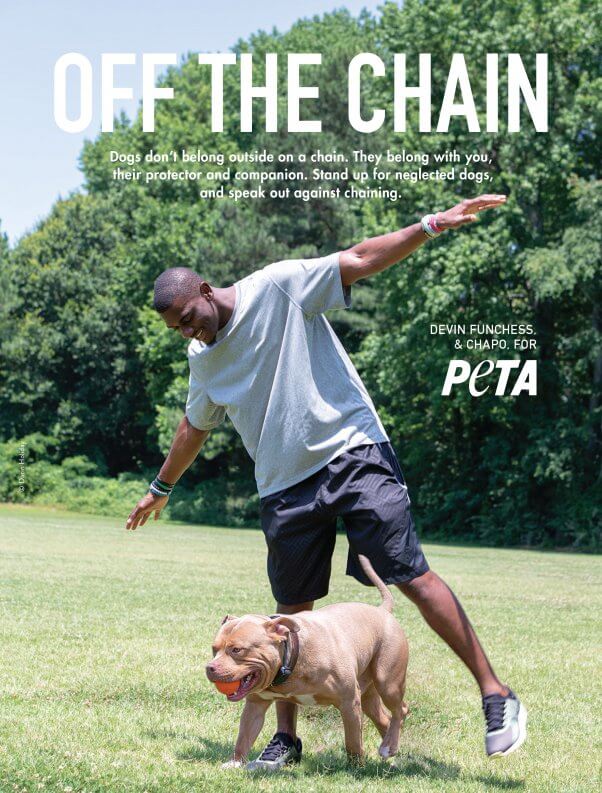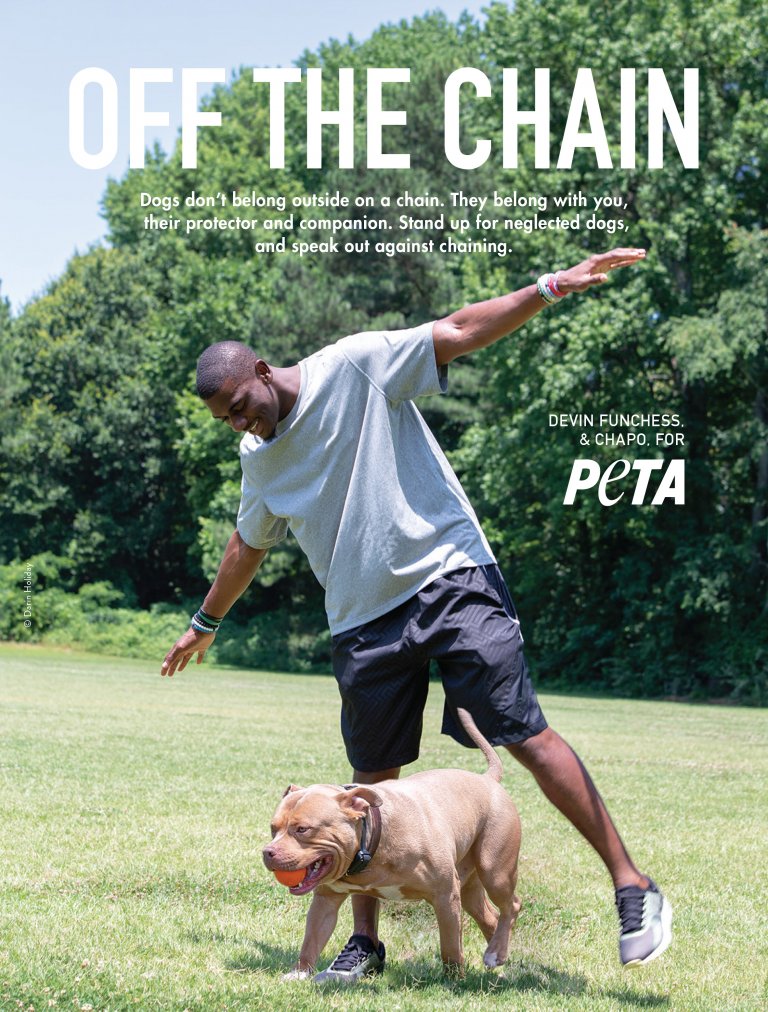 Dennis Rodman slam dunks for animals in his nude anti-fur ad: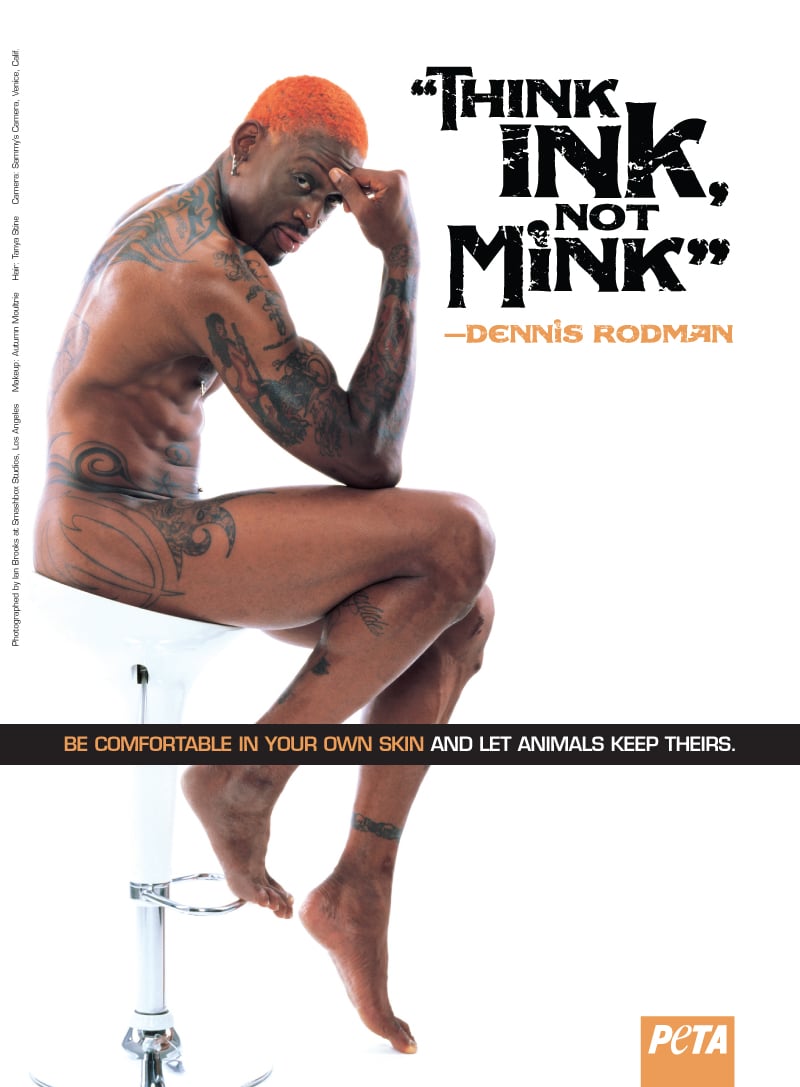 Professional soccer player Tim Howard showed off his tats (and a whole lot more) for PETA's "Ink, Not Mink" campaign:
NFL linebacker Terrell Suggs bared his skin to help animals keep theirs in his "Ink, Not Mink" ad: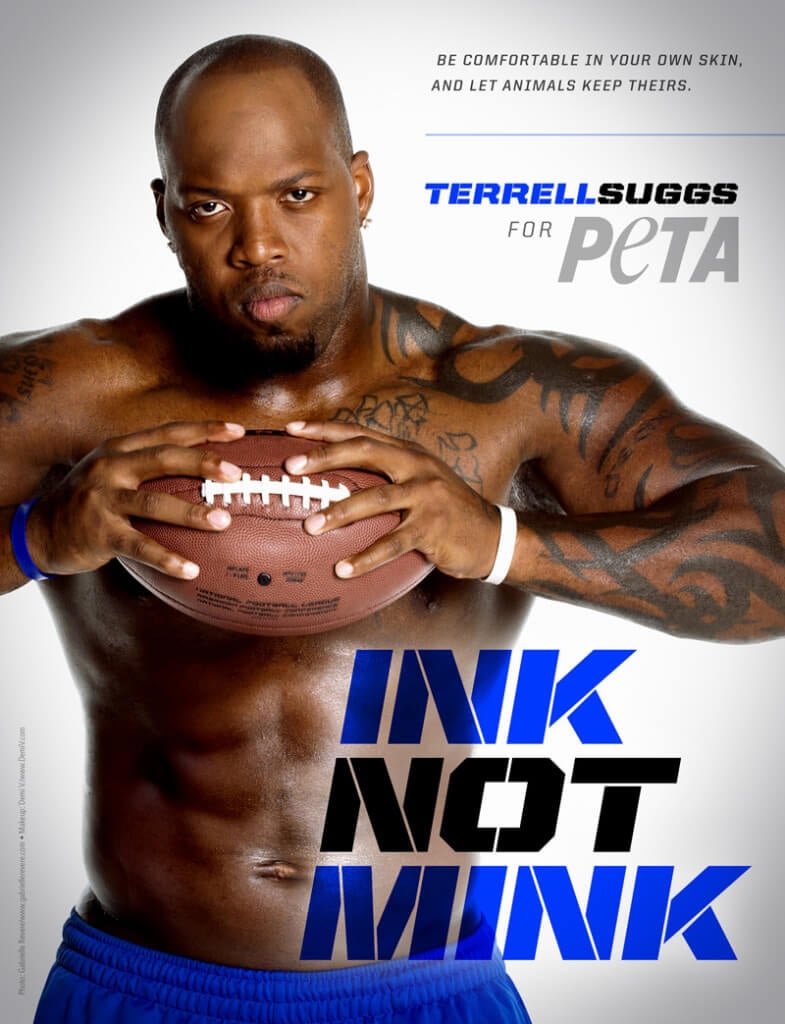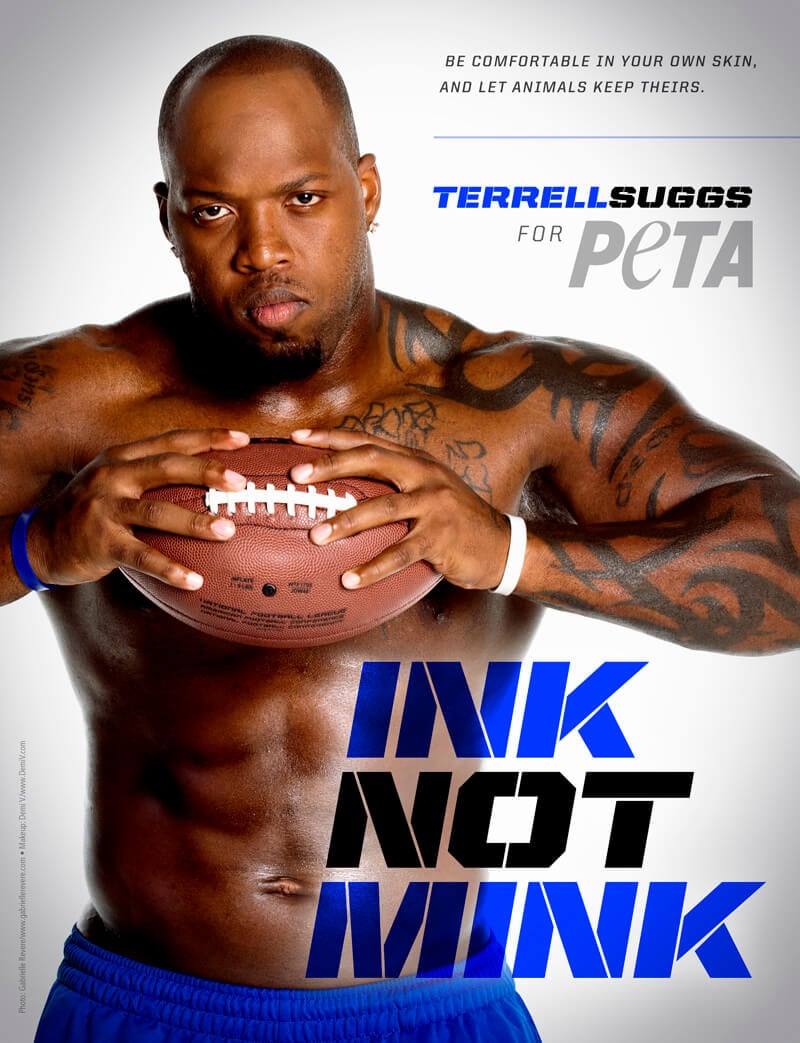 Jarvis Landry teamed up with PETA to warn guardians about the danger of leaving their dogs outside as the temperature rises:
Chris Harris Jr. was up for the challenge of spending time outside during a cold winter's night to raise awareness of the plight of "outdoor dogs":
Metta World Peace (now Metta Sandiford-Artest), formerly of the Los Angeles Lakers, reminded everyone always to report animal abuse:
Olympian Nick Symmonds and his rabbit companion, Mortimer, urged everyone to leave animal testing in the dust by never buying products that are tested on animals:
Surfer Tia Blanco went vegan at 16 and joined PETA to encourage others to go vegan, too:
When U.S. snowboarder and Olympic gold medalist Hannah Teter learned about the seal slaughter that takes place every year on Canada's ice floes, she posed for PETA's "Save the Seals" ad series to help spread the word:
One of the most beloved distance runners, Kara Goucher, joins a long list of fellow Olympic athletes who've teamed up with PETA to remind others that exercising with dogs in the heat can be deadly:
When NFL star Brandon Flowers learned about the cruelty inherent in the fur industry—animals tortured and living inside cramped cages, suffering in all weather extremes, and sometimes even skinned alive—he knew that he had to take a stand:
Golf star Paige Spiranac joined PETA to remind everyone to keep dogs indoors when it's hot outside:
Chase Utley hits a grand slam for animals by urging people to adopt: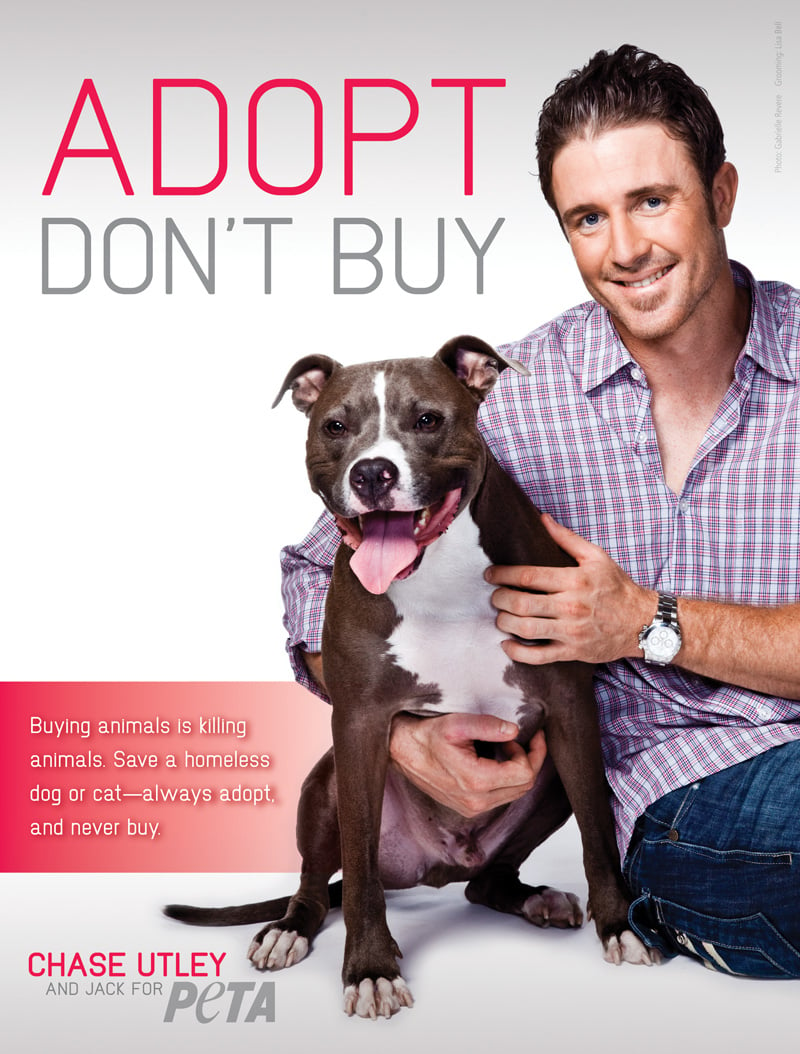 Lance Briggs tackles the issue of dog care: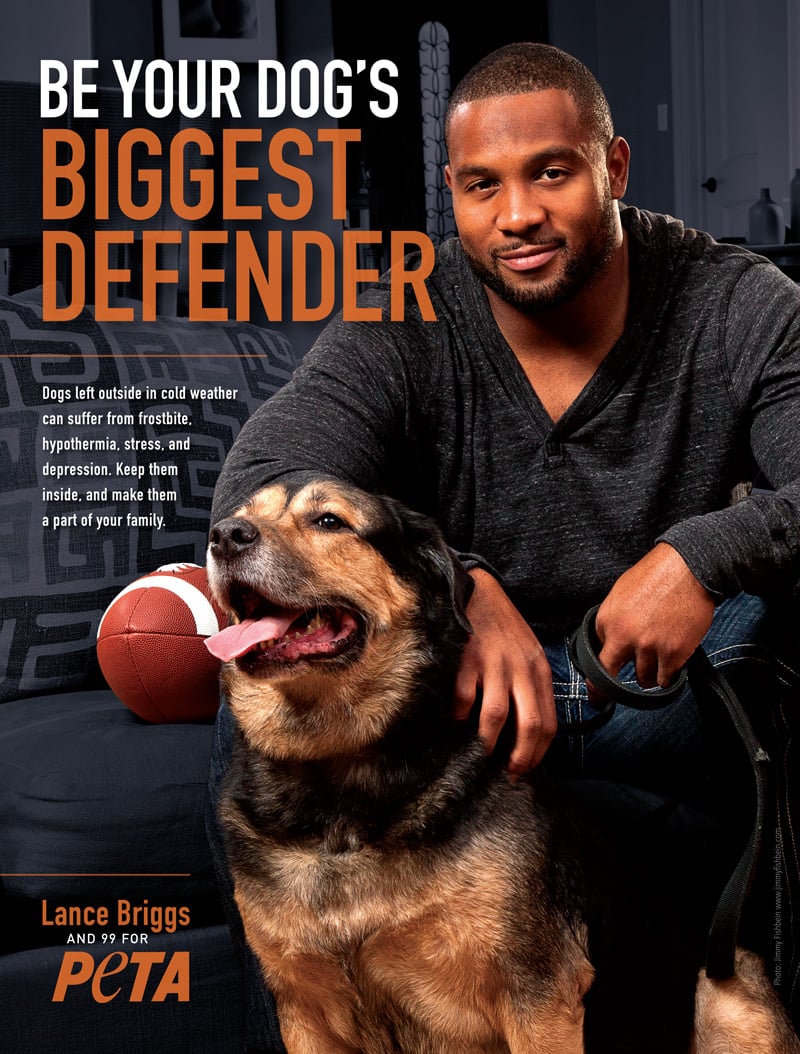 Jake Shields stays strong via his vegetarian diet: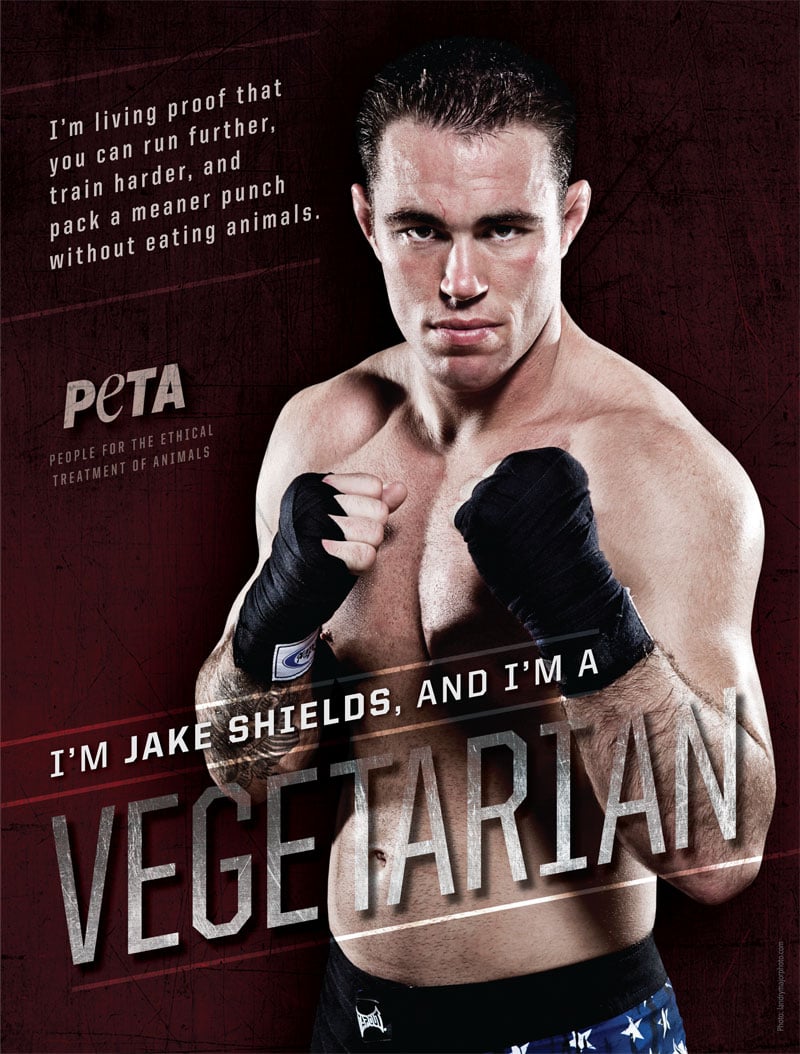 Amanda Beard makes a splash in her anti-fur ad: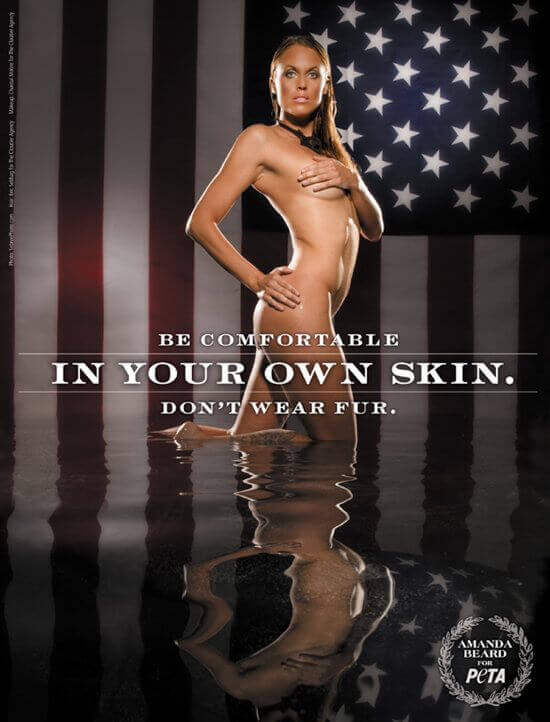 "Sugar" Shane Mosley speaks out against dogfighting: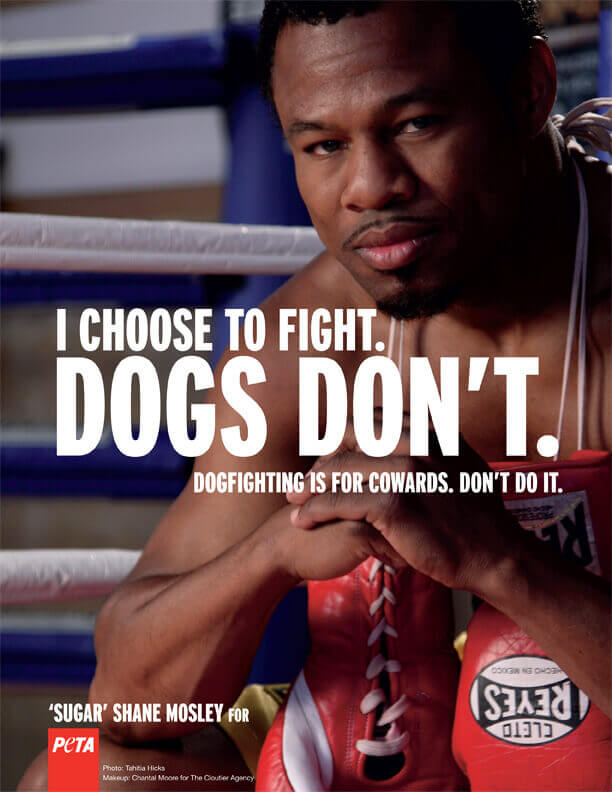 Tony and October Gonzalez score a touchdown for animals by denouncing fur: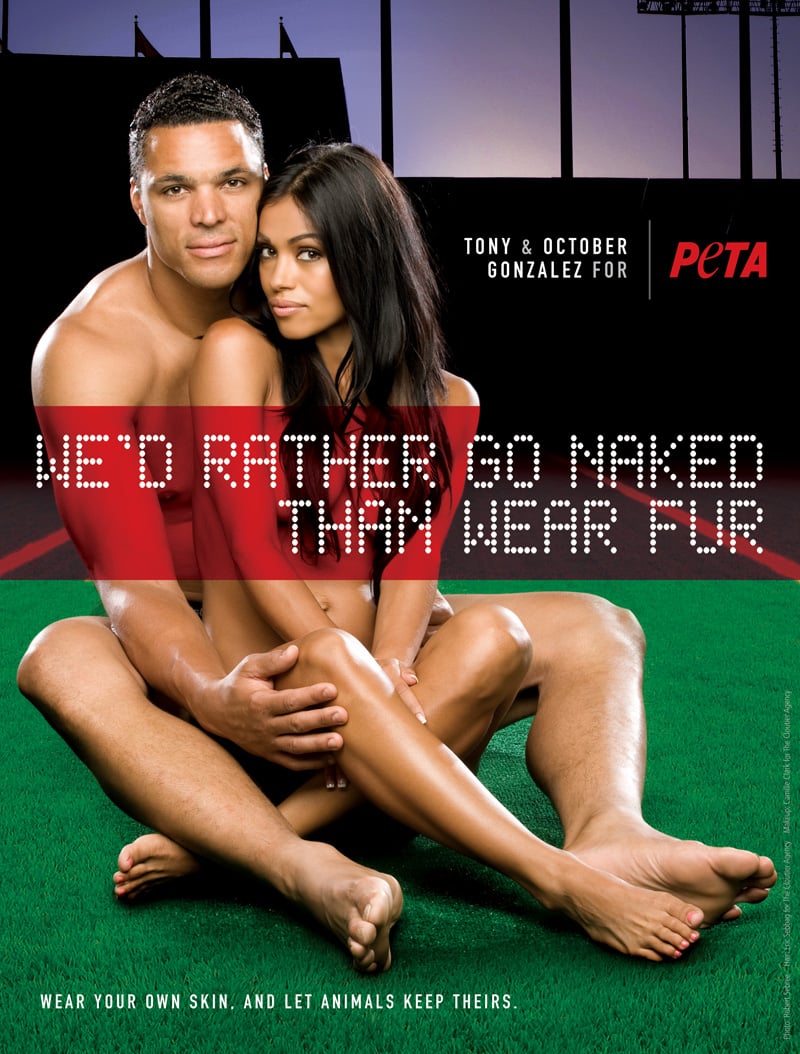 Rich Roll's vegan diet keeps him going and going: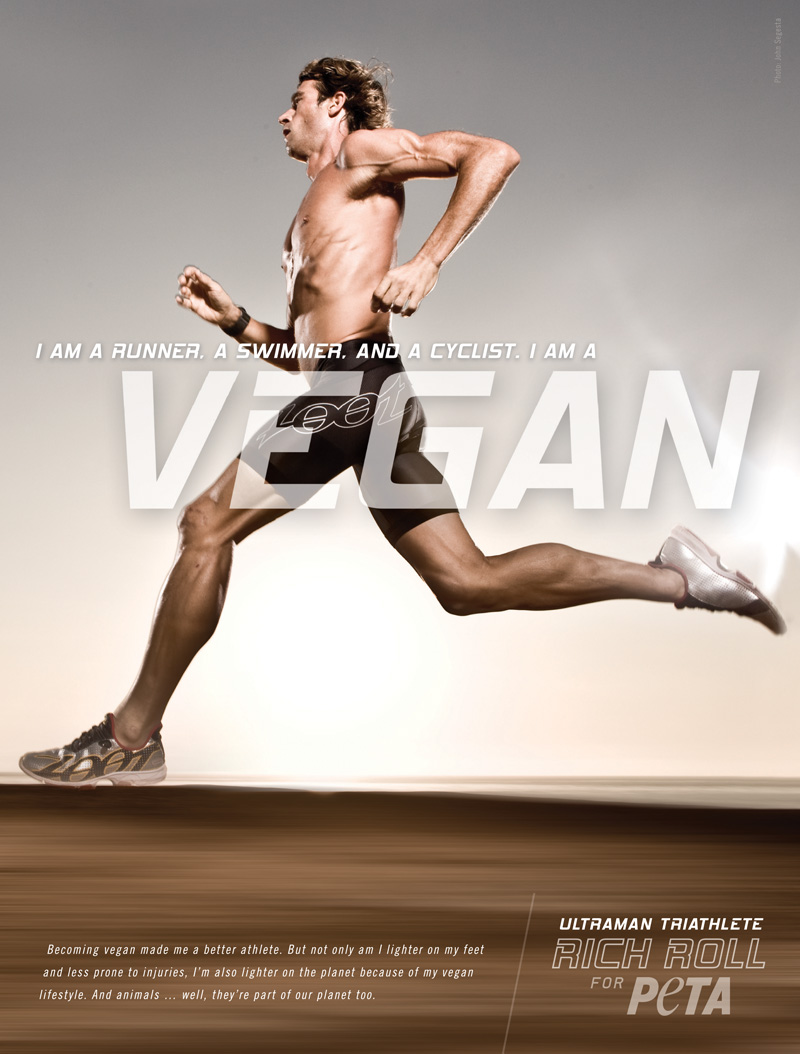 Chad Ochocinco bares his skin to help animals keep theirs: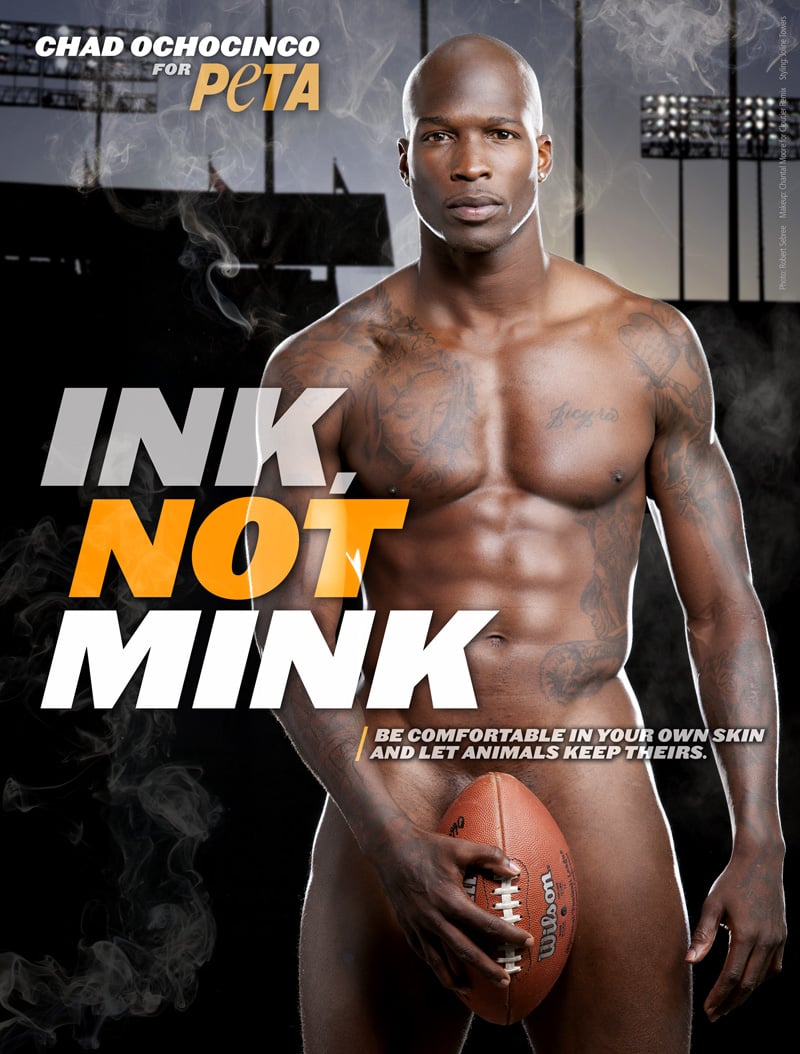 Levi Leipheimer rides ahead of the pack to combat the seal slaughter: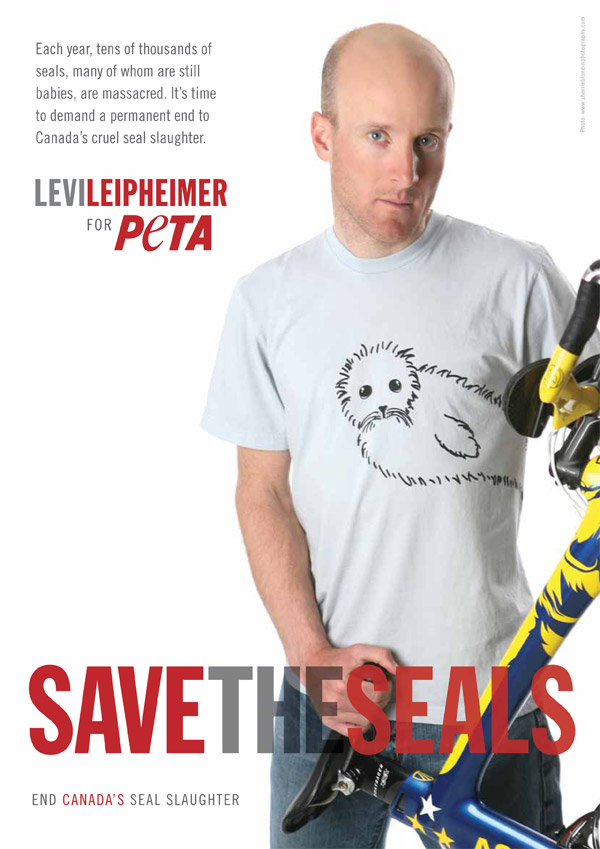 Mac Danzig knocks out his opponents—and cruelty to animals—with a meat-free diet:
Aaron Curry makes defensive plays for dogs:
Join these awesome athletes in being an all-star for animals! Follow PETA on Twitter and "like" PETA on Facebook for up-to-the-minute news on animal rights issues and ways to get involved in our campaigns. Sign up for PETA's Action Team to receive periodic alerts and network with other activists in your area.