Whether it's football, family, or fashion, NFL quarterback Cam Newton gives 100% to everything he does. The same goes for what he eats, and we're thrilled to say that the MVP is all about eating vegan, a lifestyle change that not only can transform your body but also allows you to save the lives of nearly 200 animals a year.
In his stunning debut PETA ad designed by The Community, which was named Ad Age's 2020 Multicultural Agency of the Year, Cam shows the world what it means to be "Built Like a Vegan."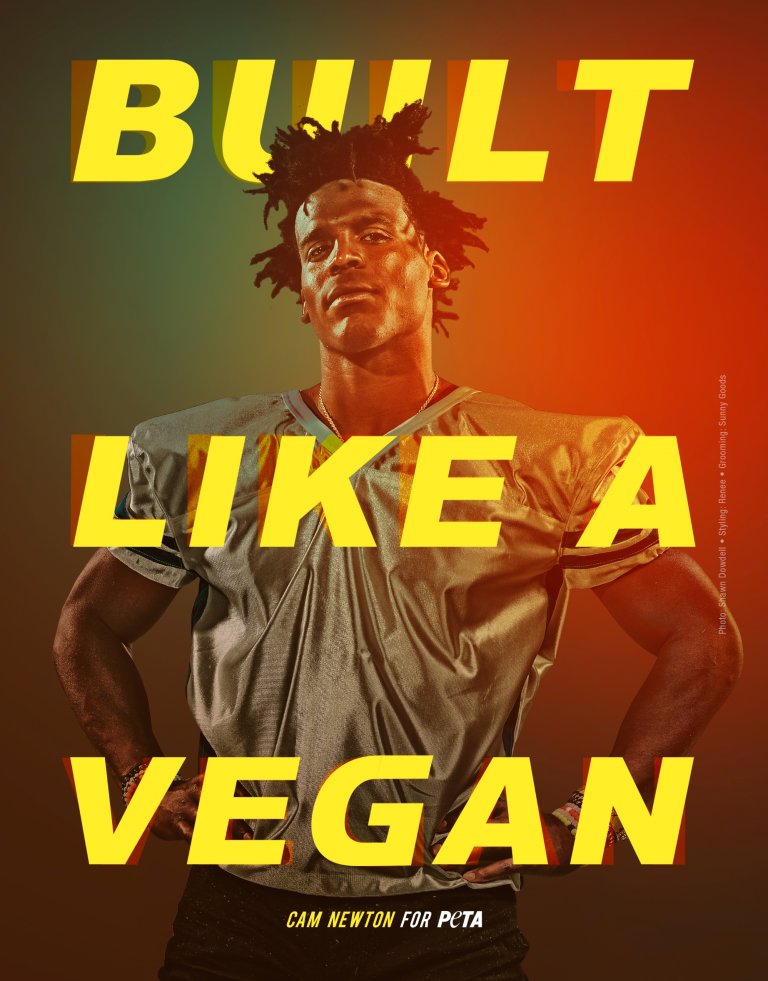 "I've seen such a remarkable change in the way my body responds to the food that I eat," Cam says in an exclusive PETA interview.
He also proudly shared his vegan journey on his personal YouTube channel, explaining how some of the strongest animals on the planet thrive on plants and telling fans how great his body felt after he stopped eating animals.
Cam joins a long list of professional athletes who are ditching meat, eggs, and dairy and fueling their bodies with the power of plants. U.S. women's national soccer team star Alex Morgan and NBA guard Kyrie Irving are proud vegans who were honored by PETA as the Most Beautiful Vegans of 2019. Irving is joined by many other vegan NBA stars, including JaVale McGee and Chris Paul, who is also a Beyond Meat brand ambassador.
Interested in learning about more elite vegan athletes? Check out James Cameron's documentary The Game Changers on Netflix!
Looking for advice on going vegan from one of the NFL's most electrifying quarterbacks? Cam's got you covered. "We have to incorporate a lot of discipline in our everyday life, and why not do it with food?" he asks. His pro tip? "If you can eat on schedule, you won't miss or think anything different, and you'll be all right."
For those who prefer some day-to-day flexibility (or aren't professional quarterbacks), have no fear: As a vegan, you'll be able to adapt easily to any lifestyle or schedule.