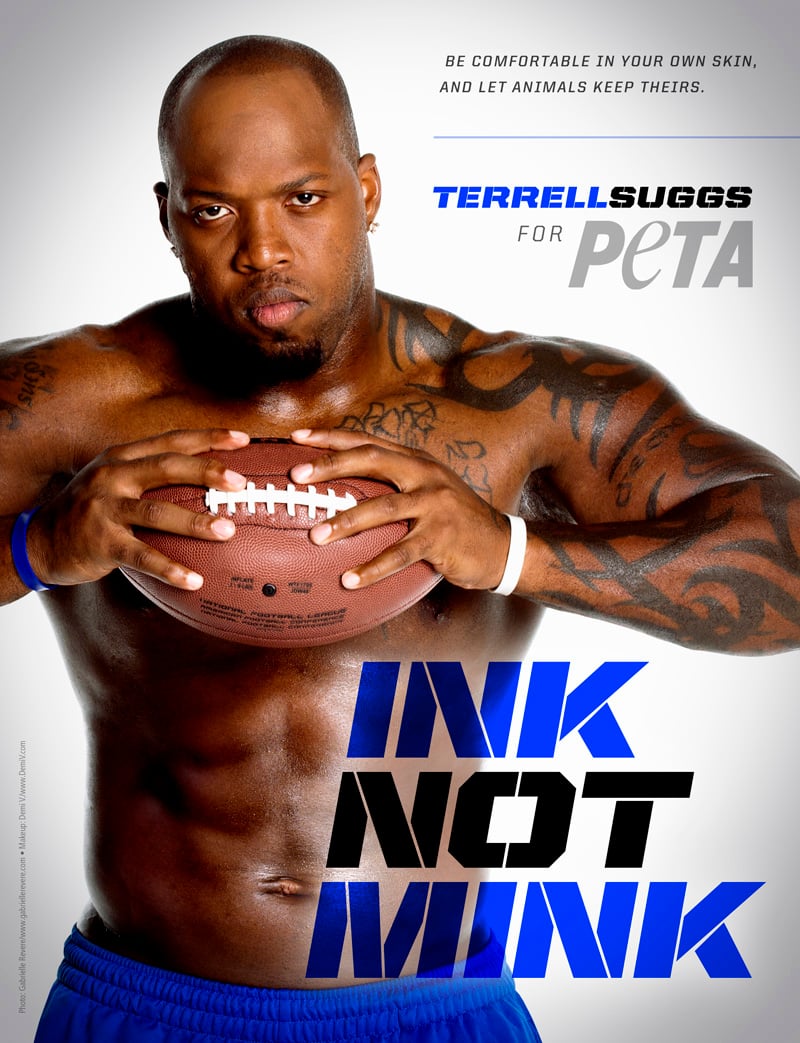 NFL linebacker Terrell Suggs has taken a timeout from tackling running backs to tackle fur. He may be one of the toughest linebackers in the NFL, but Suggs considers fur "cruel and evil" and will never cross the line by wearing it.
For every fur coat, collar, or piece of trim, millions of foxes, minks, coyotes, and rabbits—and even cats and dogs—are violently bludgeoned, electrocuted, or drowned or are strangled with wire nooses. Many of these animals are even skinned alive. In China, the world's largest exporter of fur, there are no penalties for this abuse. The only way to combat this cruelty is by never buying or wearing fur or fur trim.
Check out exclusive behind-the-scenes video footage of Terrell Suggs' "Ink, Not Mink" photo shoot to learn why he bared his skin to help animals keep theirs.
Suggs challenges fans to watch video footage of an undercover investigation of fur farms: "I hit people for a living, and even I couldn't bear just to handle the cruelty to these animals. … If you can endure through 10 seconds of the video, you gotta watch it."
Can you watch this video for more than 10 seconds?
"We can change a lot of people's minds about fur" if we raise awareness, Suggs says. Join him and other star athletes, including Amar'e Stoudemire, Chad Ochocinco, Willis McGahee, and Chris Andersen, by pledging to go fur-free. Then, recruit family and friends—ask everyone on Facebook and Twitter to accept Suggs' challenge to watch 10 seconds of the Chinese fur farm exposé. Together, we can score a major victory for animals!