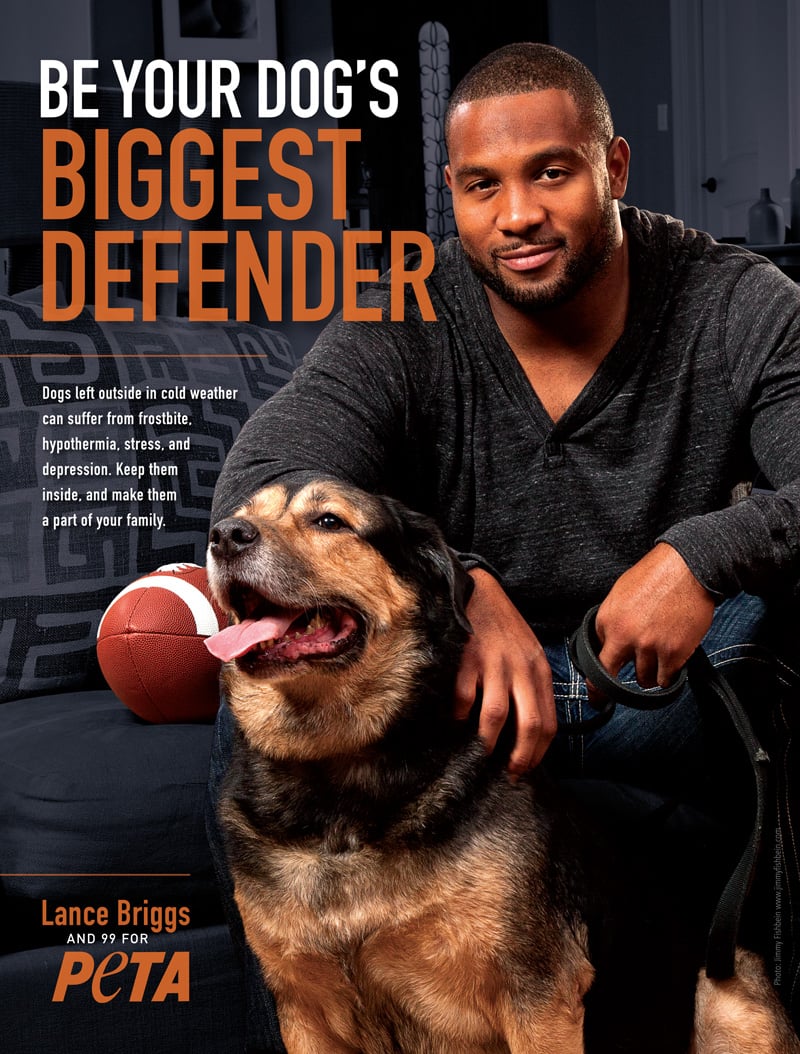 As one of the few players in NFL history to have surpassed the 1,000-tackle mark, Chicago Bears linebacker Lance Briggs is known for his skills on the field. Off the field, he is teaming up with PETA to tell dog guardians to "be your dog's biggest defender."
Lance stars in a print ad and a TV public service announcement (PSA) with his four-legged friend 99 to warn companion animal guardians about the dangers of leaving dogs outside when temperatures drop. He explains, "Each winter, countless dogs struggle to survive long lonely days and nights outside in the freezing cold and rain. Many freeze to death or suffer from exposure, frostbite, and hypothermia because of a lack of even the most basic shelter or care." Keep your animals safe by allowing them indoors and making sure that they always have proper shelter.
Watch Lance's TV public service announcement below now. Click here to see an exclusive behind-the-scenes interview from his PETA photo shoot!
Please be an angel for a cold, lonely dog this winter by sponsoring a doghouse. Learn more here.

Tips to Keep Animals Safe in Cold Weather
Follow Lance's lead by being a dog's biggest defender. Share the following cold-weather tips with friends, coworkers, and neighbors. You might save a life:
Take animals inside. Puppies and kittens, elderly animals, small animals, and dogs with short hair, including pointers, beagles, Rottweilers, pit bulls, and Dobermans, are particularly susceptible to the elements. Short-haired animals will also benefit from cozy sweaters or coats.
Provide dogs with proper shelter. Doghouses should be made of wood or plastic (metal conducts cold) and positioned in a sunny location during cold weather. Raise the house several inches off the ground and put a flap over the door to keep out cold drafts. Use straw for bedding. (Rugs and blankets can get wet and freeze.)
Don't allow your cat or dog to roam freely outdoors. During the winter, cats sometimes climb up under the hoods of cars to be near warm engines and are killed or badly injured when the car is started. (To help prevent this, bang loudly on the hood of your car before starting the engine.) Animals can also become disoriented when there is snow or ice on the ground. More animals are lost during the winter than during any other season.
Clean off dogs' and cats' legs, feet, and stomach after they come in out of the snow. Salt and other chemicals can make animals sick if ingested while they are grooming themselves.
Provide outdoor animals and wildlife with a source of water. Put water in a heavy bucket or bowl to prevent tipping, and break the ice at least twice a day if it freezes.
Call the humane society or animal control to report neglect. If possible, take pictures and write down dates and times when you notice that an animal is going without food, water, or shelter. "Complain" about barking. Barking dogs are often lonely, neglected dogs. Provide neglected dogs with food, water, and toys, and offer to donate a sturdy doghouse. Volunteer to take dogs for walks and take them into your own house on cold nights.