From shopping compassionately to cooking delicious vegan meals for friends, acting to help animals is easy and fun!
Everyday Activism
Ditch the Yankees tee and sport an animal-friendly message instead! Use your trip to the store, the ball game, or anywhere else to proudly express pro-animal messages.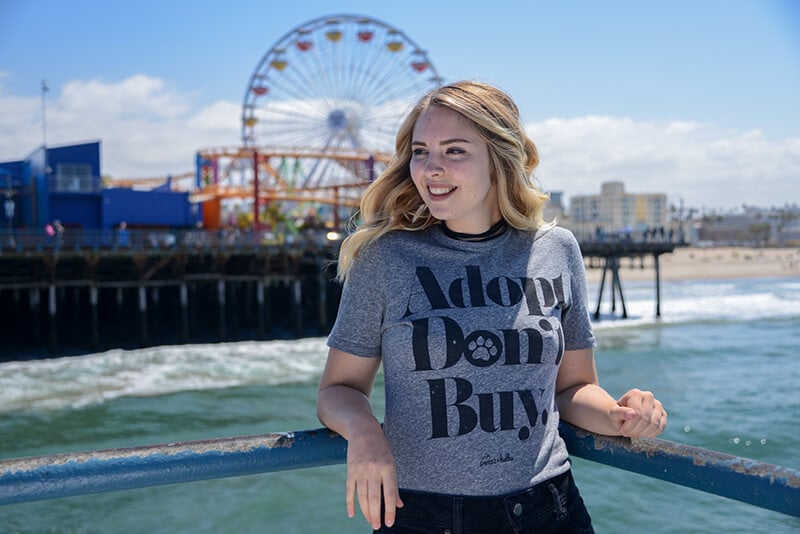 Stuck in a jam? Give drivers something to read besides your license plate. Make that drive to work count: Put a bumper sticker (more than two is too many) on your car.
Take literature with you wherever you go and leave it everywhere—at the Laundromat, in waiting rooms, on the bus, or in dressing rooms, bookstores, coffee shops, and grocery stores. Never pass a bulletin board without tacking up a leaflet or poster. How much easier can it get?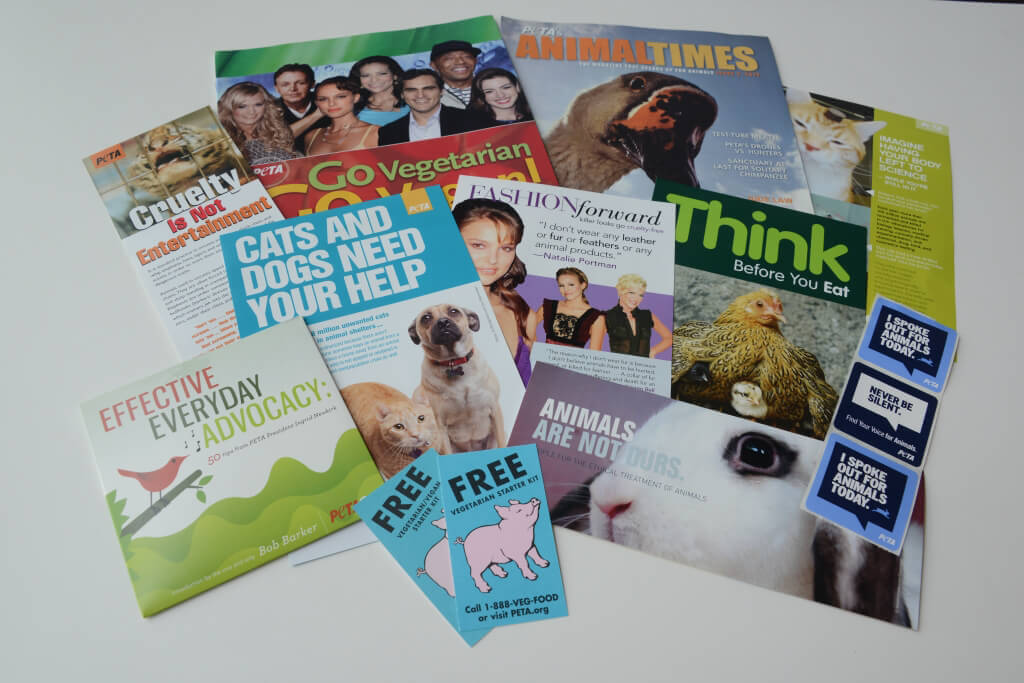 Engage in button and sticker activism. Wear compassion on your sleeve (or backpack or hat). It's amazing how effective simple activities (like strategically placing a PETA sticker or button on your jacket or backpack) can be. Quick and easy actions like these can help you get your message to dozens of people every day. You'll be amazed by the conversations that one little button or sticker can start! It's also a great way to meet like-minded people.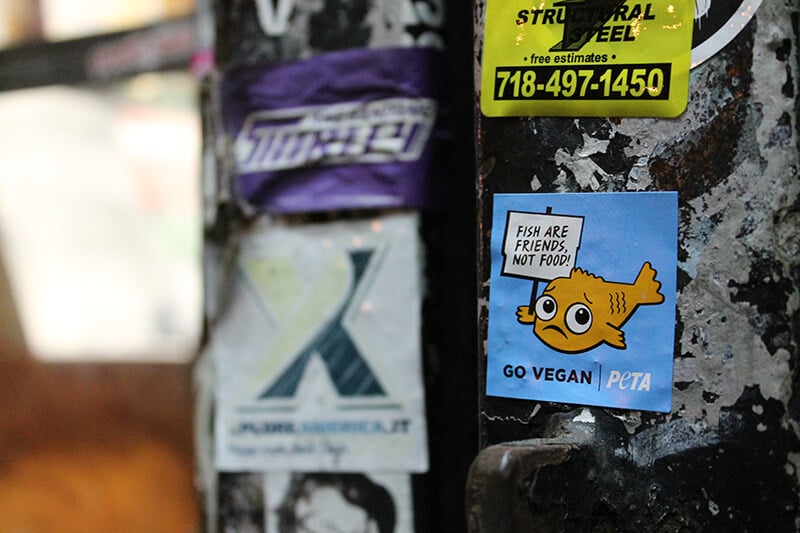 Make your refrigerator into a billboard for animals. Magnets, posters, and stickers are always great things to put in the kitchen, especially if yours is often visited by nonvegans.
Grassroots Activism
Set up an information table. A great way to reach a large number of people is to set up an information table in a busy area of your town (try the local mall, concert venues, street and craft fairs, middle schools, high schools, colleges, etc., and be sure to get permission). Stock your table with fliers and factsheets, and get ready to amaze and educate passersby! Check out our guide to tabling.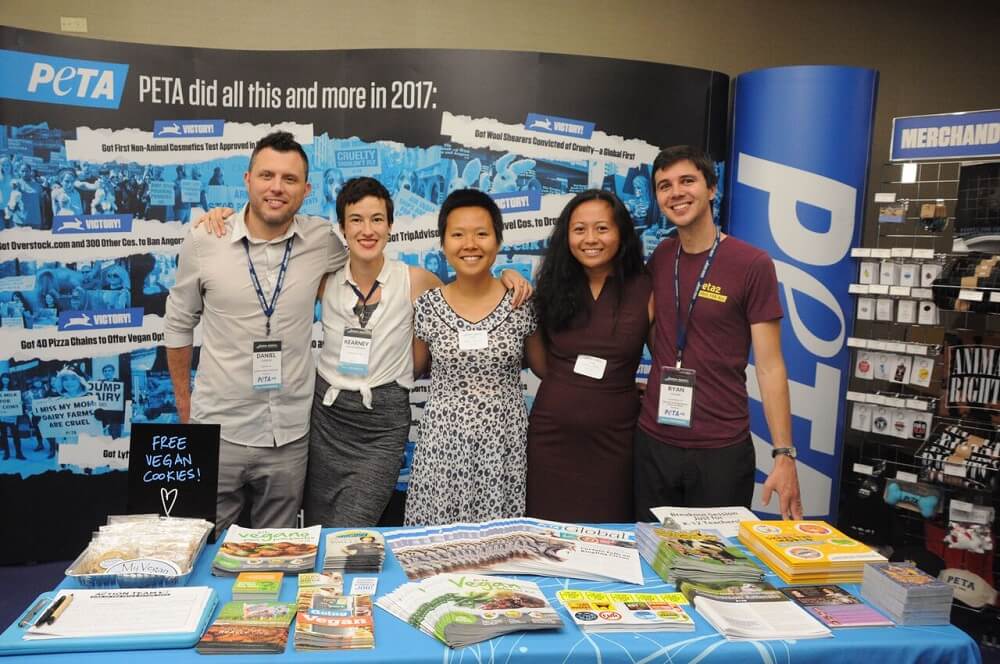 Donate animal rights DVDs to your local video rental store. Order one or more of PETA's compelling and informative DVDs about animal rights and donate them to the documentary section.
Ask your library to order animal-friendly books. Libraries are always looking for books and other materials that appeal to the needs and interests of their patrons, so let them know that animal rights issues are important to you! Ask your librarian to order a few of your favorite books on animal rights and a few vegan cookbooks. We'll send out our books to libraries for free—just ask the librarian to write us a letter on library letterhead to receive PETA's free library pack of books, videos, factsheets, and colorful display boards. Requests can be sent to: PETA's Library Pack, 501 Front St., Norfolk, VA 23510. The more readily accessible books on animal rights are, the more animals will benefit.
Make a library display. Public libraries usually have prominently placed display cases that members can use to educate others about issues that concern them. A display with a collage or poster, some leaflets, and appropriate books from the library is sure to get attention!
Plan a demonstration. Organizing a demonstration is a great way to help animals, and it's not as scary or difficult as it may sound. In fact, demonstrations can involve as little as passing out leaflets and holding posters. PETA has all the information that you'll need to hold a successful demonstration.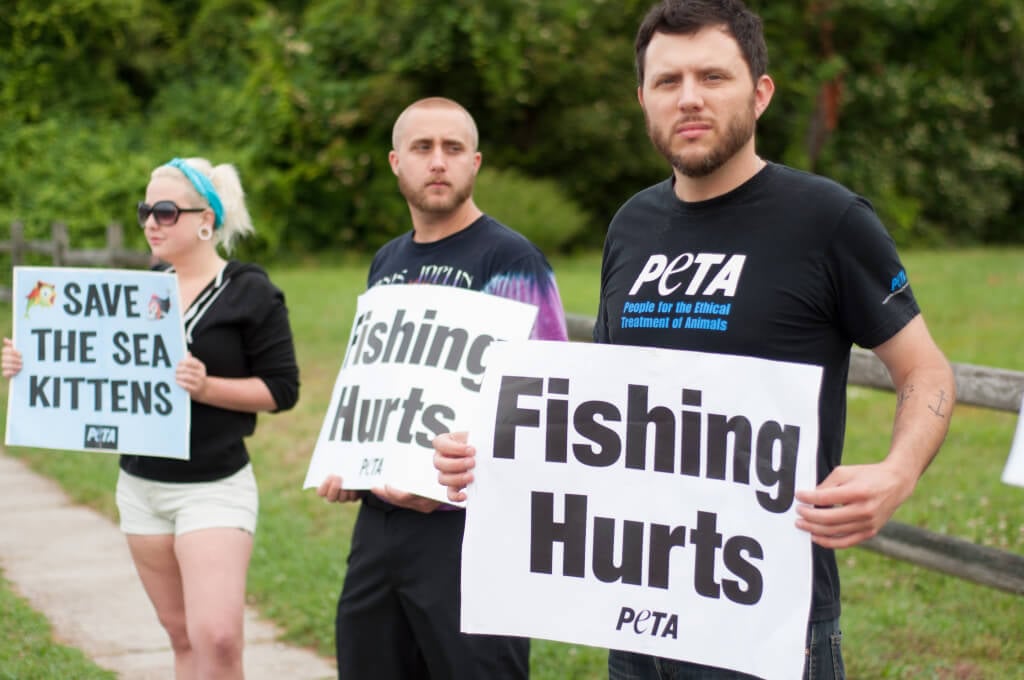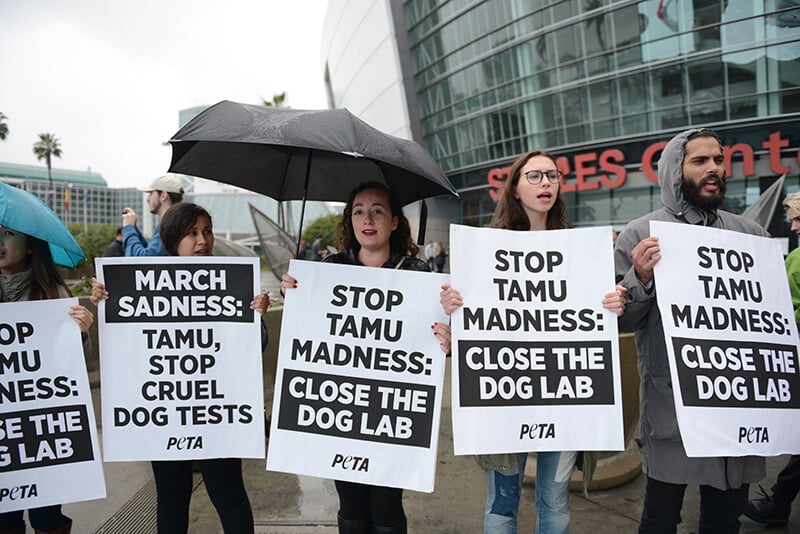 Promote animal rights on cable-access TV. Expose thousands of people to the plight of animals on factory and fur farms, in laboratories, and in circuses by organizing your own cable-access television show. It's easy, and we can supply you with all the information and tapes that you'll need for free! E-mail [email protected] for more info.
Social Activism
Use your connections. Members of local organizations can talk to their clubs about offering vegan meals at all functions. Church members can speak with pastors about vegan options at church dinners and fundraisers. Be sure to write letters on animal rights issues to the editors of all magazines that you subscribe to. Actions like these will take very little time but make a big difference for animals.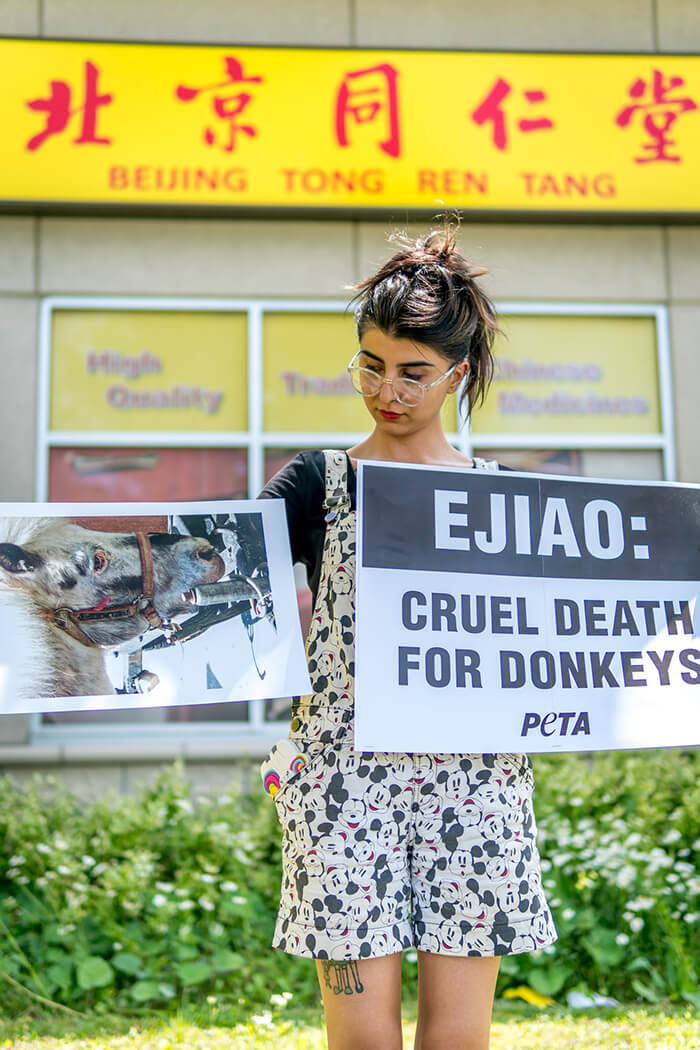 Host a vegan dinner party. Many people would like to try veganism but just don't know what to eat. We can't think of a better way to promote compassion than by showing your officemates, ball club, or nonvegan friends just how exciting vegan dining can be. Your humane fare is sure to be the talk of the next office party. Not sure what to make? Check out PETA's vegan recipes for some great ideas.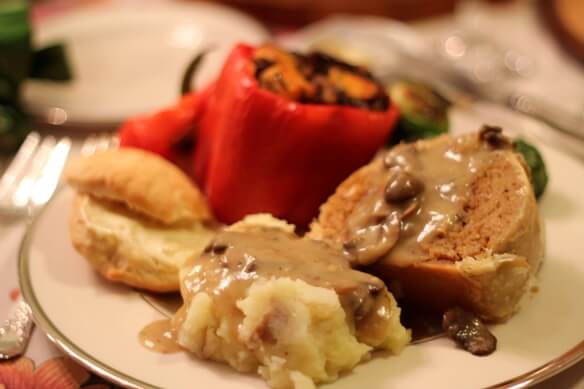 Teach a college or community education course on animal rights or living a cruelty-free lifestyle. This will allow you to reach countless people who read the catalog, as well as everyone who signs up for the class. Most communities have alternative colleges or community education programs through which you can sign up to teach a course.
Sponsor a speaker (or arrange to give a talk yourself!). Sponsoring a speaker or giving a talk is easier than it sounds, and it's very effective. Many local schools, universities, and civic clubs will host speeches on animal rights. Contact us to find out if we have a contact at the venue that you're considering. We can also provide you with ideas for possible speakers and information on becoming a speaker yourself.
Armchair Activism
Place our banners on your blog or Web site. Encourage your friends to do likewise. You can also include a link to an animal rights Web site in your e-mail signature.
Find free advertising space. Many billboard companies, bus shelter advertisers, and even newspapers and magazines will donate unused space to nonprofit organizations. A bit of time on the phone to your local advertising representatives can help reach thousands. Call around and chat with advertising people to find out what's available in your town, and we'll help you place our various vegetarian ads.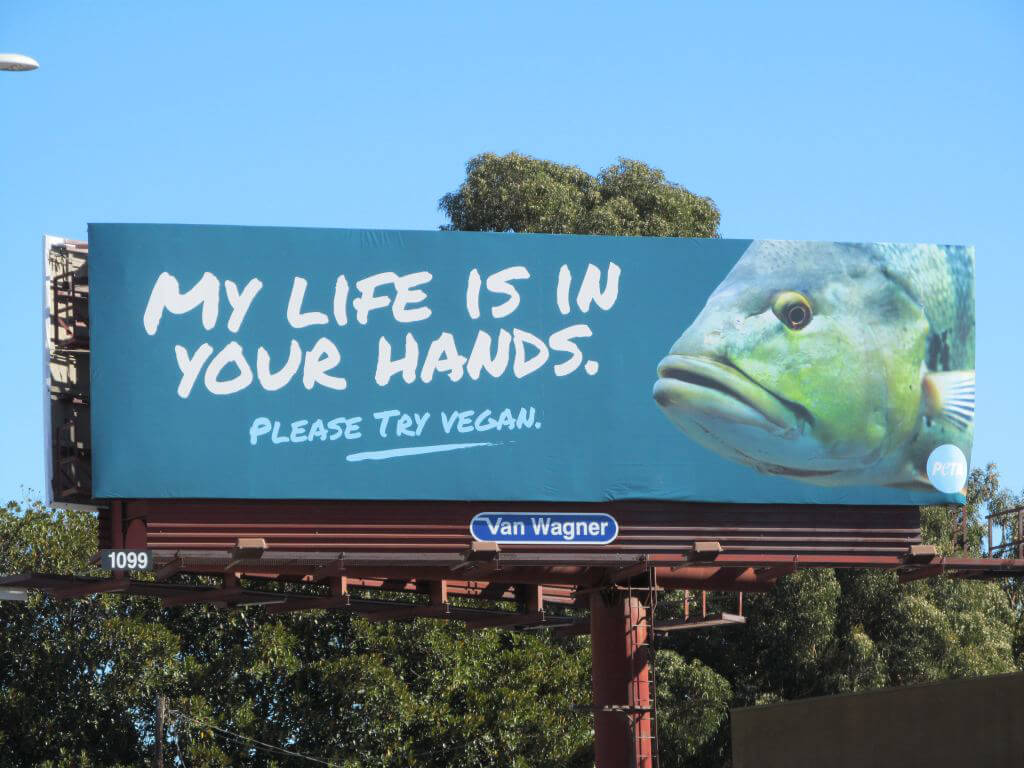 Make a Commitment
Volunteering in your community is a great way to spread the word about animal rights. Volunteer at your local animal shelter—most animal shelters welcome volunteers who can help walk dogs, clean cages, and dole out love and attention to needy animals. Walk your neighbor's dog—all dogs deserve exercise and attention, so be a friend to a lonely neighborhood dog.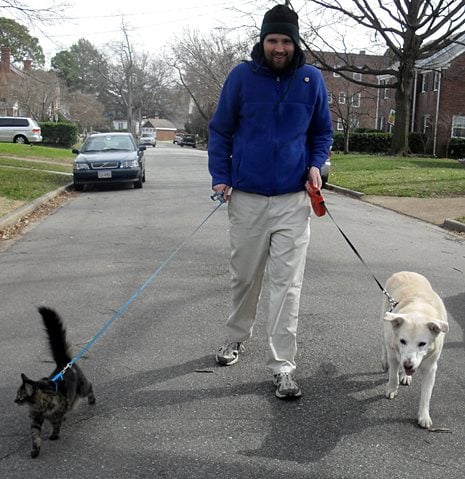 Cook vegan meals for a local soup kitchen or for someone you know who is stuck at home. Help build doghouses for chained backyard dogs in your community, and include dry straw for bedding.
Enlist the help of a local wildlife rescuer to stop cruel trapping or drowning of animals in your community.
Hold a weekly volunteer work party to write letters, help out at an animal shelter, or make banners or signs for a demonstration. And show animal rights videos every chance you get.
Set up an information table during community events and gatherings—anywhere that there are people to talk to about animal rights. Or stand on a busy street corner and pass out free PETA literature to passersby. We'll send you everything that you need and give you tons of great tips and talking points.
Opportunities Abound at PETA
We are always looking for passionate, hardworking people to join our team at PETA. You can get paid to make a difference by working for animals. Or, as an intern, among other things, you can get the animal rights message to local, national, and international media.