It's been quite a year for vegan athletes, and PETA is celebrating by crowning U.S. women's national soccer team star Alex Morgan and NBA guard Kyrie Irving as this year's Most Beautiful Vegan Celebrities.
Morgan and Irving are leading a pack of top athletes—including Venus Williams, Colin Kaepernick, Cam Newton, Meagan Duhamel, and Zdeno Chara, to name just a few—showing the world that going vegan can improve their game, quicken recovery time, and prolong their careers. Both stars are not only upping their game by going vegan but also saving animals, helping the planet, and teaching fans that strength and compassion can go hand in hand.
As an Olympic gold medalist and FIFA Women's World Cup champion who was featured on the cover of Time magazine, Morgan is clearly at the top of her game. And in her "free time," she's also a champion for animals. Shortly after shooting her "Treat Your Dogs Like Family" PETA campaign co-starring her adopted dog, Blue, Morgan announced to the world via Twitter that she had been a vegan for three months—and she hasn't looked back! "I am passionate about giving animals a voice. I even adopted a vegan diet, because it didn't feel fair to have a dog I adore, and yet eat meat all the time," she told Reuters.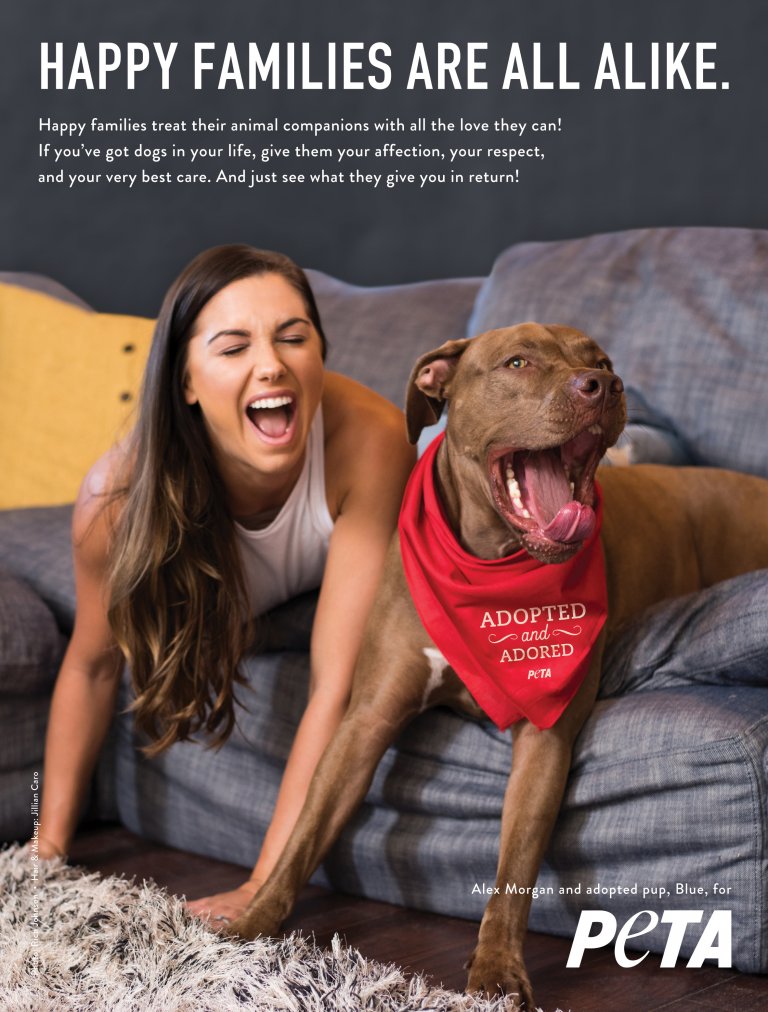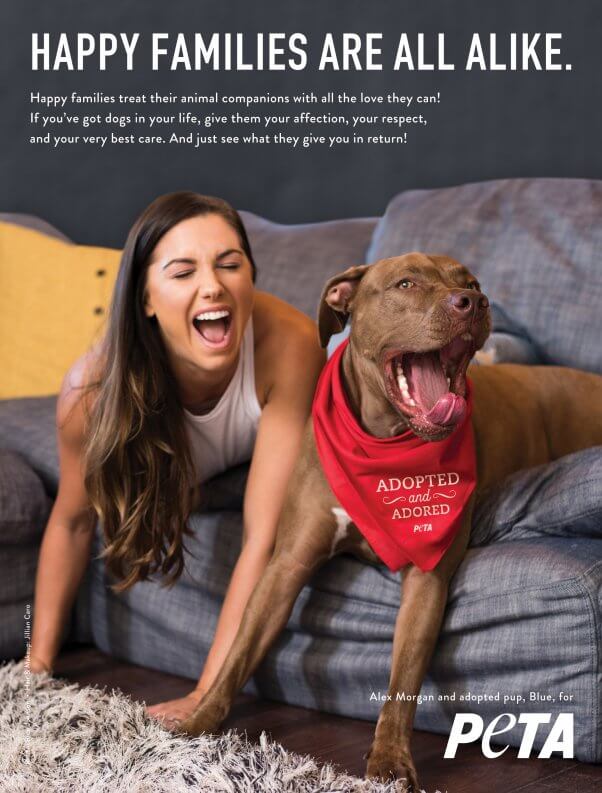 Rich Johnson
Irving reportedly went vegan after watching the Netflix documentary What the Health, and he attributes his improved performance on the court to eliminating animals from his diet. The NBA champion and six-time NBA All-Star (he also has three Olympic gold medals—but who's counting?) is also a Beyond Ambassador and investor in Beyond Meat, proclaiming, "I've fallen in love with the Beyond Burger."
Irving also gave his healthy and compassionate lifestyle a shout-out in his 2017 Nike commercial and made sure his popular Nike Kyrie 5 kicks matched his diet by being 100% animal-free.
NBA star @KyrieIrving's talent, finesse, & fine af looks can all be attributed to eating #vegan 🏀🔥 #BlackVegansWhoInspire #BlackHistoryMonth pic.twitter.com/q4BWOIGreF

— PETA (@peta) February 28, 2019
The world has no shortage of beautiful, famous vegans, making it another year of stiff competition. Top contenders for this year's honor included athletes JaVale McGee and Colin Kaepernick, Game of Thrones' Maisie Williams, producer Swizz Beatz, and singers Billie Eilish and Ellie Goulding.
Morgan and Irving join a compassionate group of celebrities—including Ava DuVernay, Benedict Cumberbatch, Jenna Dewan, Ruby Rose, Maggie Q, Liam Hemsworth, and Jhené Aiko—who have been honored with this annual award.
Ready to step up your game by going vegan? Order a free vegan starter kit today!