WNBA star and Los Angeles Sparks forward Candace Parker scores a slam dunk for animals by posing with her rescued four-legged friend, Fendi, in an ad for PETA to tell fans, "If You Wouldn't Wear Your Dog, Please Don't Wear Any Fur." The only difference between our best friends and animals used for their fur is how we treat them.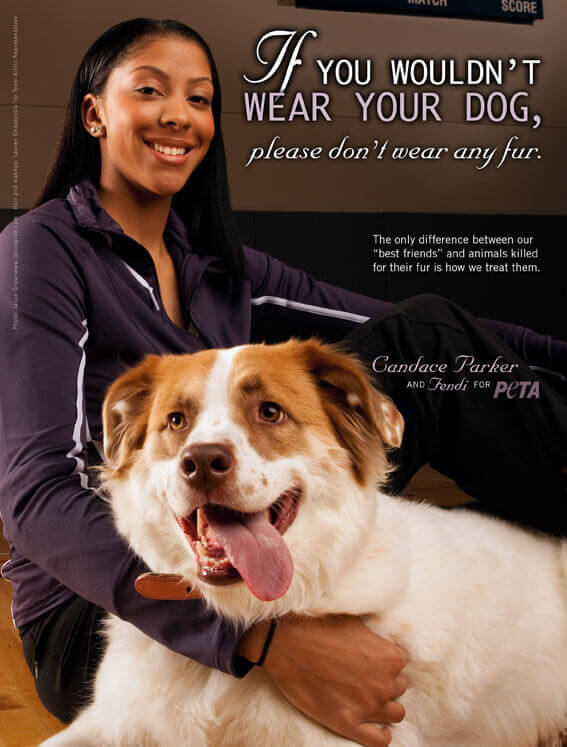 Candace is the second woman in WNBA history to dunk during a regulation game, but this MVP, Rookie of the Year, and Nickelodeon Kids' Choice Award winner scores the winning point on our scoreboard for speaking out against the fur industry. Candace wanted to be a part of PETA's anti-fur campaign because, she says, "I really feel like it's very cruel what they do to animals, and I love my dog and couldn't imagine anybody harming her."
Animals killed for their fur endure tremendous pain and suffering. Foxes, minks, and rabbits—and even dogs and cats—are bludgeoned, stomped, electrocuted, and often skinned alive. PETA undercover investigations reveal that animals struggle and scream in pain as workers rip the skin off their writhing bodies.
All animals feel pain and suffering. Please join Candace in refusing to contribute to animal suffering by never buying or wearing fur or fur trim.
Stay up to date on all of Candace's moves on and off the court by becoming a fan on Facebook or following her on Twitter.