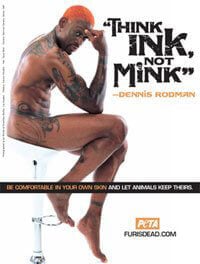 Dennis Rodman went to NYC for Fashion Week—not to sit in the front row at a show but to unveil his provocative PETA ad in the very tents where designers push their fur garments. In the ad, Rodman appears nude—except for his tattoos—alongside the caption, "Think Ink, Not Mink," and urges, "Be comfortable in your own skin and let animals keep theirs."
Rodman was the first man—and the first sports star—to pose for PETA's "Rather Go Naked Than Wear Fur" series, which has featured Pamela Anderson, Kim Basinger, and Christy Turlington. When the 6-foot-8-inch basketball phenomenon, whose "Dennis Rodman Foundation" helps the homeless, heard about PETA's program that donates thousands of castoff fur coats to homeless shelters across the country, he instantly agreed to pose for the cause, explaining that furriers have pushed free furs on him over the years and he's always refused to take them. (He only wears fake fur.)
Rodman watched Pamela Anderson's three-minute video showing how animals live and die before being made into fur coats and collars. "If you actually look at [the video] firsthand, it gives you a different perspective on animals and how they're treated. … It's heart-wrenching to see what they go through," he said.
Rodman's PETA photo shoot was done by fashion photographer Ian Brooks at L.A.'s famed Smashbox Studios. Rodman's makeup was by Autumn Moultrie and his hair by Tanya Stine.
Dennis Rodman joins the ranks of Dominique Swain, Pamela Anderson, Kim Basinger, and Christy Turlington, who've also gone au naturel to save animals' skins in PETA's highly publicized "Naked" series.