NFL fans know Brandon Flowers to be a strong defender on the field. What they may not know is that this tough guy has a soft spot—for animals. While he loves his own dog as a member of the family, Brandon's respect for animals extends beyond that. When he learned about the cruelty of the fur industry—animals tortured and living in cramped cages, suffering in all weather extremes, and sometimes even skinned alive—Brandon knew he had to take a stand.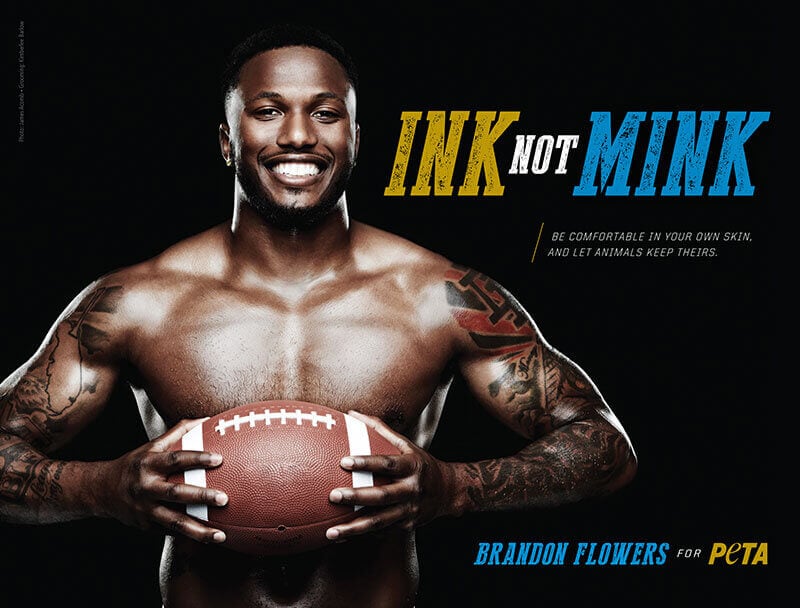 He understands that obtaining an animal's fur is, as he puts it, not just "a haircut"—it's a bloody, painful, and deadly fate for animals, so he's committed to standing against the fur industry by teaming up with PETA to show why he always chooses "ink, not mink"!
Electrocuted, beaten, drowned, strangled, or even skinned alive—such is the fate of animals who are raised for their fur, including foxes, minks, raccoons, rabbits, chinchillas, and even cats and dogs. In China, the world's largest exporter of fur, there are no penalties for abusing animals on fur farms.
Watch Brandon's exclusive behind-the-scenes interview and see him show some skin, including his ink, and that smile to help animals.
For every fur coat, piece of fur trim, or fur-lined boot, at least one animal endured a painful life and died in agony. Join Brandon today, and take the pledge to help lead the charge for animals everywhere by living a kinder lifestyle and vowing never to buy fur or fur trim!