Playing for the Miami Dolphins, Jarvis Landry knows just how hot summer weather can be—and how easily dogs left outside can overheat.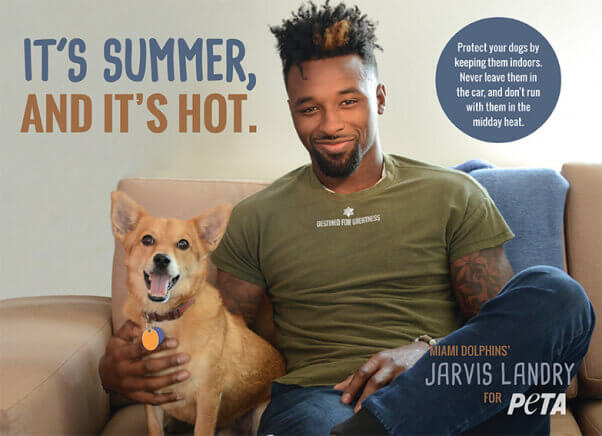 Average summer temperatures reach 90 degrees and higher in Miami, so Jarvis teamed up with PETA to warn guardians about the danger of leaving their dogs outside as the temperature rises. He wanted to share the message that lack of access to water or shade can be fatal for dogs when it's hot out.
Here are some tips for keeping dogs safe during hot weather:
Keep dogs indoors, especially during the hottest part of the day.
Outside, provide shade and clean drinking water in a heavy bowl that won't tip over.
Don't take dogs jogging during the heat of the afternoon hours, and never force them to exercise.
On long walks, rest often and take plenty of water. Choose shady, grassy routes—hot pavement can burn dogs' paws.
If you see a dog in distress, contact humane authorities right away. Watch for symptoms such as restlessness, excessive thirst, heavy panting, lethargy, a lack of appetite, a dark tongue, a rapid heartbeat, fever, vomiting, or a lack of coordination. A dog showing any of these symptoms should be provided with water and shade immediately. Call your veterinarian right away.
Want to do more for dogs? Spread the word by sharing Jarvis' video!