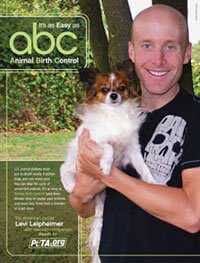 He's a seasoned competitor in the most grueling cycling races around the world, including the Tour of Germany, the Tour of California (which he won in 2007), and the king of all races, the Tour de France. But between training sessions and serving as the Discovery Team leader for the 2007 Tour de France, Leipheimer made time to speak out for animals.
The busy world-class athlete posed for PETA's first ever Animal Birth Control (ABC) public service announcement (PSA) with his canine companion, Bandit, who was rescued from neglect in Girona, Spain. Leipheimer's PSA encourages people to help end the animal overpopulation crisis by spaying and neutering their animal companions.
Leipheimer is no stranger to taking action for animals. He and his wife, Odessa Gunn, run Freedom Hill, a foundation they started to provide financial assistance to animal protection organizations.
In Leipheimer's PSA, he urges fans to help homeless animals, saying, "U.S. animal shelters must put to death nearly 4 million dogs and cats every year. You can help stop the cycle of unwanted animals. It's as easy as Animal Birth Control! Save lives: Always spay or neuter your animals, and never buy them from a breeder or a pet store."
In addition to posing for the PSA, Levi sat down for an interview with PETA to discuss his training routine, his animal rescue work, the boost his vegetarian diet gives to his performance, and the importance of spaying and neutering animal companions.
Says Levi, "In the United States, there really isn't any excuse for not spaying and neutering your pets. There are low-cost spay-neuter options in almost every city and town. All you have to do is look."
You can help. Take PETA's pledge to end animal homelessness today!