NFL wide receiver and proud dog dad Robby Anderson is reminding fans that dogs are meant to be loved and should never, ever be chained.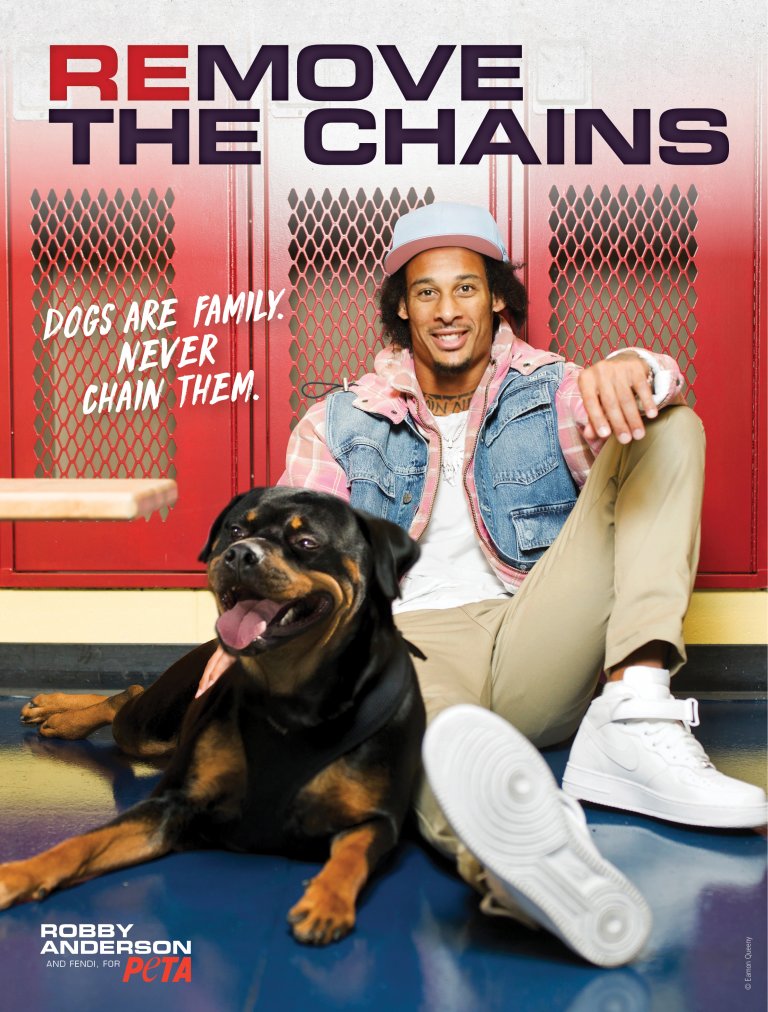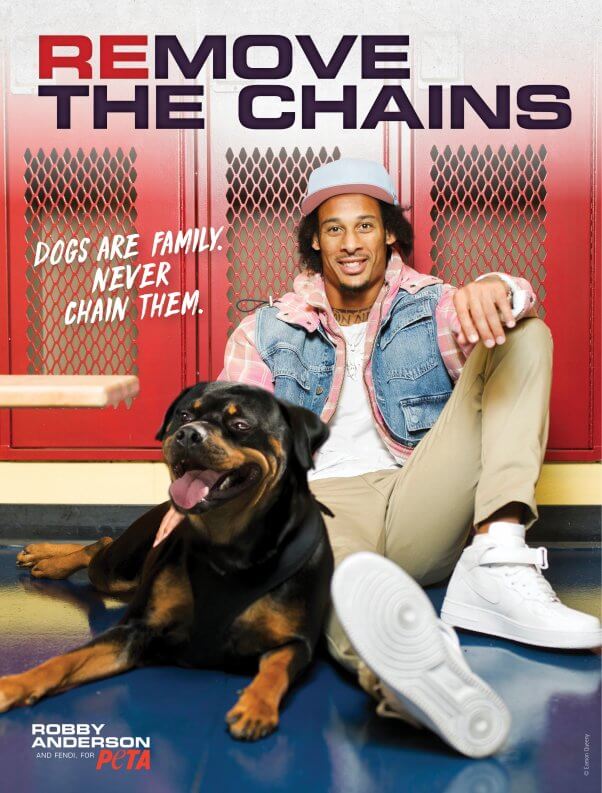 Most football fans are familiar with the term "move the chains"—and now, one of their own is giving it a new meaning. In his debut PETA ad, Anderson—one of the fastest wide receivers in the league—and his dog Fendi are asking people to remove the chains around the necks of dogs who are kept tethered outside 24/7, 365 days a year, often in extreme temperatures.
"How would you feel to be left on a chain all day long, stuck outside when it's extremely hot outside, extremely cold, you know, raining, and to be stuck outside on a piece of concrete or old grass and dirt? It's not a good feeling for an animal."
—Robby Anderson of the Carolina Panthers
Robby's anti-chaining message is particularly important for those in areas of southeastern Virginia and northeastern North Carolina, where PETA's field team works around the clock helping tens of thousands of animals each year—many of whom are kept chained outside 24/7. You can learn more about the team's work and the dogs Robby is advocating for in the documentary Breaking the Chain, produced by Oscar winner Anjelica Huston.


The most effective way to help chained dogs in your community is to organize and help get tethering laws passed. In recent years, thanks to PETA's efforts, many of the cities in our field service area have passed ordinances to restrict or ban this cruel practice. In addition, Virginia passed a law prohibiting the tethering of dogs during certain weather conditions, including when the temperature is 32 degrees or lower. We're working with a number of jurisdictions in northeastern North Carolina to pass similar legislation. Click here to see if your state or community has legislation concerning chaining or tethering dogs.