Alternatives to Animal Testing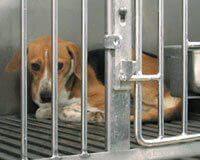 I am not interested to know whether vivisection produces results that are profitable to the human race or doesn't. . . . The pain which it inflicts upon unconsenting animals is the basis of my enmity toward it, and it is to me sufficient justification of the enmity without looking further. ―Mark Twain
One of the most significant trends in modern research in recent years has been the recognition that the results of animal tests are rarely relevant to humans. Studies in esteemed publications such as the Journal of the American Medical Association and the British Medical Journal have repeatedly concluded that because of the fundamental biological differences among species, animal tests do not reliably predict outcomes in humans. These same studies have also concluded that the overwhelming majority of animal experiments fail to lead to medical advances that improve the health of humans and, in fact, are often dangerously misleading.
The world's most forward-thinking scientists have accepted this conclusion and have moved on to develop, validate, and implement methods for studying diseases and testing products that save animals' lives and are actually relevant to human health. PETA not only funds the development of many of these methods but also vigorously promotes their use to governments and companies around the world and publishes research on their superiority to traditional animal tests.
Non-animal methods usually take less time to complete than the crude, archaic animal tests that they replace. In addition, they cost only a fraction of what animal experiments cost and are not affected by species differences that make applying test results to humans difficult or impossible. Effective, affordable, and humane research methods include sophisticated in vitro, genomic, and computer-modeling techniques as well as studies of human populations, volunteers, and patients.
Thanks to this new understanding, many non-animal research methods are now being used around the globe. Here are just a few examples:
Pioneering contract research laboratory CeeTox uses human cell-based in vitro (test tube) toxicity screening to test drugs, chemicals, cosmetics, and consumer products. These humane tests replace cruel tests that involve pumping substances into animals' stomachs and lungs and dripping chemicals into animals' eyes or onto their raw, shaved skin. In a landmark 2007 report, the National Academy of Sciences confirmed that scientific advances can "transform toxicity testing from a system based on whole-animal testing to one founded primarily on in vitro (non-animal) methods."
Innovative biotechnology firm Hµrel has developed a 3-D in vitro (test tube) human "liver" that scientists can use to study the breakdown of chemicals in the human body. This technology effectively mimics human organs and can be used to test cosmetics, drugs, and chemicals.
VaxDesign's groundbreaking Modular IMmune In vitro Construct (MIMIC) system uses human cells to create a working dime-sized human immune system for testing the safety and effectiveness of HIV/AIDS vaccines. This in vitro method is faster than animal tests, can be used to test vaccines on the immune systems of many different human populations at once, and can replace cruel, ineffective tests on animals in which monkeys are infected with HIV-like diseases and forced to endure acute weight loss, major organ failure, breathing problems, and neurological disorders before they die excruciating deaths or are killed.
The scientists and engineers at Harvard's Wyss Institute have created "organs-on-a-chip," including the "lung-on-a-chip" and "gut-on-a-chip." These tiny devices contain human cells in a 3-dimensional system that mimics human organs. The chips can be used—instead of animals—in disease research, drug testing, and toxicity testing.
Researchers with the National Cancer Institute, the U.S military, private companies, and universities across the country have shown that MatTek's in vitro 3-D human skin tissue equivalent is an excellent substitute for animals when it comes to conducting burn research and cosmetics testing and doing research related to radiation exposure and chemical weapons attacks, etc.
Instead of cutting into and damaging the brains of rats, cats, and monkeys, progressive researchers who are interested in studying the human brain are using advanced human-based brain-imaging and -recording techniques such as MRI, fMRI, EEG, PET, and CT. These modern techniques allow the human brain to be safely studied down to the level of a single neuron (as in the case of intracranial EEG), and researchers can even temporarily and reversibly induce brain disorders using transcranial magnetic stimulation. Not only do these techniques eliminate the use of animals and the obstacle of interspecies extrapolation, they also provide rich data about the human brain that could not be ascertained through the use of animals.
Antibodies—which are used to research, diagnose, and fight diseases and have traditionally been created by injecting cancer cells into mice—can now be produced using DNA that's made in a laboratory or taken from human cells.
A research method called microdosing can provide vital information on the safety of an experimental drug and how it is metabolized in humans. Volunteers are given an extremely small one-time drug dose that is well below the threshold necessary for any potential pharmacologic effect to take place, and advanced imaging techniques are used to monitor how the drug is broken down in the body.
Ninety-five percent of medical schools across the U.S. have completely replaced the use of animal laboratories in medical training with sophisticated human-patient simulators, virtual-reality systems, computer simulators, and supervised clinical experience. The American Medical Student Association now states that it "strongly encourages the replacement of animal laboratories with non-animal alternatives in undergraduate medical education."
Read PETA's "Alternatives to Animal Tests" factsheet for more examples of effective and humane medical research and testing.