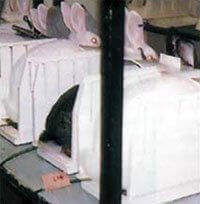 Before most medical products can be sold, manufacturers must show that they're free from substances that cause a fever response. These fever-causing substances, also called pyrogens, trigger our immune system and can pose a serious health hazard, especially in the case of drugs and medical devices that are injected or implanted into our bodies. The only regulatory agency in the U.S. that routinely requires pyrogen testing is the Food and Drug Administration (FDA).
Animal Tests
Two pyrogen tests use animals. In the rabbit pyrogen test (RPT), which has been in use since the 1940s, rabbits are restrained and injected with a test substance while their body temperature is monitored for changes that suggest the substance might be contaminated with pyrogens. In this test, rabbits can suffer from painful reactions, including fever, breathing problems, circulatory and organ failure, and even fatal shock. The bacterial endotoxin test (BET), which was developed in the 1960s, uses the blood of horseshoe crabs who are captured from their natural habitat and made to bleed in a painful process.
Despite their long history of use, the rabbit and horseshoe crab blood tests were never formally validated to determine whether the information they produce is relevant to humans. These tests have a number of well-documented shortcomings, including differences in how rabbits, horseshoe crabs, and humans respond to pyrogens.
Non-Animal Tests
The most accurate way to measure pyrogens for humans is by using a test that imitates the human response to pyrogens. The monocyte activation test (MAT)—which uses cells from donated human blood and has been available since the 1990s—can replace pyrogen testing in animals. This animal-free test detects pyrogens by measuring the immune response of human cells when they're exposed to a test substance, a process that is better able to detect human pyrogens than the animal tests.
Another non-animal test uses a synthetic version of "factor C," the active ingredient in horseshoe crab blood that detects pyrogens. This humane "factor C" can be made in the laboratory without harming a single animal, and it works just like the horseshoe crab test.
Regulators in Europe have added these two non-animal tests to the list of tests that are available for detecting pyrogen contamination and are encouraging companies to use them instead of forcing rabbits and horseshoe crabs to endure painful procedures.
In the U.S., PETA scientists are urging the FDA to reconsider its requirement that companies use the rabbit and horseshoe crab tests and are working with the FDA and companies to accelerate the adoption of animal-free tests.