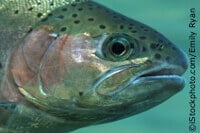 Each year, millions of feeling, intelligent fish are confined, abused, and killed in cruel experiments in laboratories around the world. Goldfish have holes drilled into their tiny skulls and steel coils implanted in their eyes, zebra fish are killed and have their brains removed after being injected with amphetamines, and rainbow trout and other fish are subjected to painful and outdated toxicity tests in which they are poisoned to death with harmful chemicals.
While the exact number of fish used in experiments is unknown because the Animal Welfare Act does not provide any protection to fish—and does not require experimenters even to report the number of fish they use—estimates indicate that they make up a large proportion of the animals suffering in laboratories (between 7 and 15 percent). In the U.S., that could be 15 million animals or more.
And these numbers are increasing dramatically. A 2008 U.K. government report found that that country's sizeable jump in the number of animals used in experiments since 2007 was "mainly due to increases in the use of fish."
These facts are especially disturbing in view of these smart, social animals' profound ability to feel pain and suffer. A 2009 National Research Council report on the pain and distress experiences of animals—including fish—used in experiments stated that "all vertebrates should be considered capable of experiencing the aversive state of pain." The Canadian government states that fish "are capable of behavioral, physiological and hormonal responses to stressors (including noxious stimuli) which can be detrimental to their well-being" and that the stress from simply being handled can make them sick or kill them. Dr. Donald Broom, a scientific advisor to the British government, has stated, "The scientific literature is quite clear. Anatomically, physiologically and biologically, the pain system in fish is virtually the same as in birds and mammals."
Help fish and other animals who are abused in laboratories by signing PETA's pledge to be cruelty-free, and only support companies and charities that do not fund or conduct cruel experiments on animals.