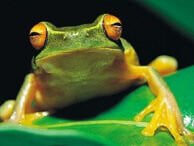 Each year in the U.S., an estimated 20 million animals are abused for cruel, archaic teaching exercises, despite the existence of superior non-animal teaching tools. Roughly half of them are killed and used for classroom dissection; others are tormented while they're still alive in classroom biology and psychology experiments and cut apart in medical training drills.
The tragedy of these animals' deaths is magnified by the fact that humane, non-animal learning methods, like sophisticated computer software, are available and have been shown to teach anatomy and complex biological processes as well as—or better than—cruel, archaic, and environmentally destructive animal labs, while instilling in students respect for animals' lives.
Dissection
Approximately 10 million animals are used for crude classroom dissection exercises annually in the U.S. PETA's investigations into biological supply companies, which sell animal bodies and parts, have uncovered acts of cruelty to animals, including the drowning of rabbits and the embalming of cats while they were still alive.
Biological supply houses breed animals such as mice, rats, and rabbits; obtain fetal pigs from slaughterhouses that cut them from their mothers' bodies after their mothers are killed; and trap or take other types of animals from a variety of locations.
For example, millions of frogs are captured in their natural habitats every year for dissection and experimentation, and the U.S. Department of the Interior has even stated that amphibian population declines are due in part to the use of these animals in dissection. Other animals, such as the cats commonly dissected in biology courses, are obtained from animal shelters, pet stores, backyards, and the streets of the U.S. and Mexico.
Classroom Experiments
In addition to the animals mutilated in dissection, millions of live mice, rabbits, rats, turtles, and other animals are tormented and killed in crude university-level biology and psychology demonstrations. Turtles are smashed on the head with hammers and have holes drilled into their shells so that their hearts can be viewed and manipulated. Frogs' brains are destroyed when pins are stuck through their skulls so that students can cut them open and stimulate their exposed muscles with electricity. Mice, rabbits, and rats are also subjected to highly invasive, painful, and otherwise harmful procedures at the hands of students and professors, including electric shock, surgically induced brain damage, drug addiction, starvation, maternal deprivation, and more.
Medical Training
Although no U.S. medical schools use animals to teach students, some other medical programs continue to have trainees attempt to learn various concepts and skills by performing invasive and often deadly procedures on animals.
In some emergency medical training courses at universities and hospitals, dogs, pigs, sheep, and goats have holes cut into their throats and chests and needles stabbed into their hearts. In horrific military training drills, goats and pigs are shot, stabbed, dismembered, blown up, and burned. In a dwindling number of pediatrics programs, cats and ferrets have hard tubes repeatedly forced down their delicate throats for intubation training. Other courses have trainees practice using surgical tools and other medical devices by cutting into live animals.
Compassionate Curricula  
Animals aren't the only ones whose lives are negatively affected by these cruel animal tests. In addition to the harm caused to animals, many people at all stages of their educational careers are uncomfortable with the use of animals in education. Studies show that exposing students—more than half of whom oppose animal testing—to animal dissection can traumatize them, foster insensitivity toward animals, and even dissuade some from pursuing careers in science.
Thankfully, because of growing ethical concerns, technological advances, and robust findings about the educational effectiveness of modern non-animal methods, many people are rejecting these crude animal laboratories and educators and professional organizations at all levels are embracing more humane teaching tools.
Sophisticated computer software and strikingly lifelike human simulators have been repeatedly shown to teach basic and advanced biological principles and medical procedures better than invasive, painful, and deadly animal laboratories, while instilling in students respect for animals' lives. Unlike dissection and live-animal laboratories, in which students have one opportunity to perform a procedure and learn the requisite content, non-animal methods allow students to repeat the material until they are proficient and confident without the distraction of mutilating or harming an animal. And for those learning to treat people, these humane methods model human anatomy and physiology.
Physicians in training at nearly every medical school are now taught with a combination of didactic methods, human-patient simulators, interactive computer programs, safe human-based teaching methods, and clinical experience. Today, one can even become a board-certified surgeon without harming any animals, and experience with animal dissection and experimentation on live animals isn't required or expected of those applying to medical school. Veterinary training programs are increasingly moving away from performing harmful procedures on animals as well.
While there was a time when the use of animals in the classroom went almost unchallenged, today's students are ready, willing, and able to stand up for animals and work with PETA to use non-animal methods that are more humane and effective. For more information on how you can say no to harming animals in the classroom, click here.