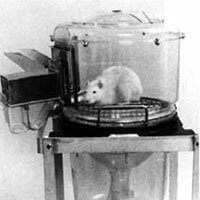 Skin absorption studies are carried out to determine the rate at which a chemical is able to penetrate the skin. A chemical's dermal delivery rate is mainly of interest to regulatory agencies concerned with chemical exposures in the workplace. U.S. federal agencies that require the submission of skin absorption data include the Environmental Protection Agency, the Food and Drug Administration, the Occupational Safety and Health Administration, and the Agency for Toxic Substances and Disease Registry.
Animal Test
Rats' backs are shaved and a chemical is smeared on them for an exposure period of up to 24 hours, after which the rats' skin is washed and the animals are housed individually in "metabolism cages" to permit the collection of their excrement for analysis.
Animals are later killed and their skin, blood, and excrement are analyzed, after which the rate of skin absorption is calculated. Despite their years of use, animal-based studies of skin absorption rate have never been properly validated to establish their relevance to people. Other disadvantages not mentioned include the potential for biasing the results of the animal studies by the process of washing off the test chemical from the animals' skin, thus facilitating absorption of the test chemical.
Non-Animal Test
Various tissue culture methods have been rigorously evaluated and accepted in Europe as total replacements for animal based skin absorption studies. These methods use skin from a variety of sources to measure the passage of a test chemical into and across skin to a fluid reservoir.
Absorption of a test chemical is measured over time by analysis of the receptor fluid and the treated skin. The reliability and relevance of in vitro skin absorption studies have been thoroughly established through a number of international expert reviews, and these methods have been codified and accepted as an official test guideline of the Organization for Economic Cooperation and Development (OECD).
The non-animal tests have a number of scientific advantages over the animal tests, including the ability to study a broader range of doses, including those at the actual level of exposure that occurs in the occupational or ambient environment. Despite these clear advantages, however, most U.S. agencies continue to rely on animal testing to measure skin absorption.