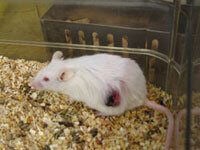 More than 111 million mice and rats are killed in U.S. laboratories every year. They are abused in everything from toxicology tests (in which they are slowly poisoned to death) to painful burn experiments to psychological experiments that induce terror, anxiety, depression, and helplessness.
They are deliberately electroshocked in pain studies, are mutilated in experimental surgeries, and have everything from cocaine to methamphetamine pumped into their bodies. They are given cancerous tumors and are injected with human cells in genetic-manipulation experiments.
PETA's investigations inside the laboratories of the University of North Carolina at Chapel Hill and the University of Utah revealed that mice and rats were given enormous tumors and painful, deadly illnesses. Rats had holes drilled into their skulls for invasive brain experiments. The Jackson Laboratory (JAX) deliberately breeds mice to be genetically predisposed to have debilitating ailments—including cancerous tumors, obesity, paralysis, a depressed immune system, and high levels of anxiety and depression. Each year, JAX sells millions of mice to laboratories around the world and experiments on an additional million mice in its own laboratories, force-feeding them large quantities of test chemicals; forcing them to swim in a pool of opaque water, in which they must find a hidden platform to avoid drowning; and placing them on hot plates, heated to 131 degrees F, to see how long it takes for them to respond to the scorching heat of the plate in pain-reflex tests.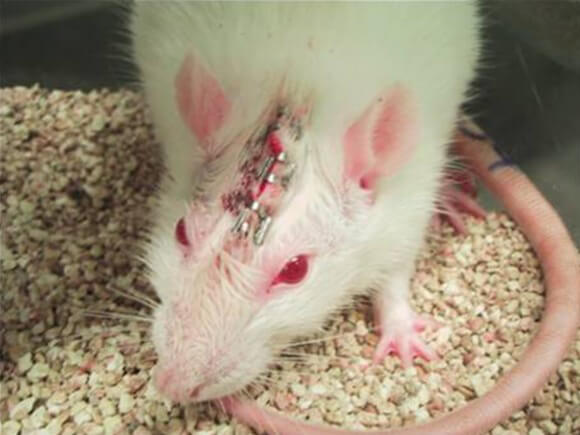 Documents obtained by PETA through the Freedom of Information Act reveal that at the University of California—San Francisco, experimenters chopped off the ends of mice's tails without painkillers; performed toe amputations on mice older than 10 days of age, in violation of standard veterinary guidelines; disposed of living newborn mice by throwing them into a cooler intended for dead animals; and performed experimental surgeries on mice, without giving them post-operative anesthetics.
Mice and rats are mammals with nervous systems similar to our own. It's no secret that they feel pain, fear, loneliness, and joy just as we do. These highly social animals communicate with each other using high-frequency sounds that are inaudible to the human ear. They become emotionally attached to each other, love their families, and easily bond with human guardians. Male mice woo mates with high-pitched love songs. Infant rats giggle when they are tickled. Not only do rats express empathy when another rat or a human they know is in distress, they also exhibit altruism, putting themselves in harm's way rather than allowing another living being to suffer.
But even though these animals feel pain and suffer as much as dogs, cats, and rabbits do, they are excluded from the meager federal Animal Welfare Act provisions that extend at least some protection to these other species. Because mice and rats are not protected by the law, experimenters don't even have to provide them with pain relief. While experimenters who use guinea pigs must provide them with pain relief and must at least show that they've looked for modern alternatives to the use of animals, experimenters don't even have to count the mice and rats they kill. A 2009 survey by researchers at Newcastle University found that mice and rats who underwent painful, invasive procedures such as skull surgeries, burn experiments, and spinal surgeries, were given post-procedural pain relief only about 20 percent of the time.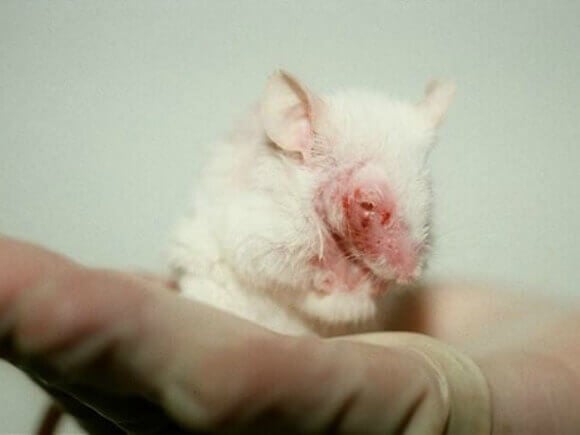 Some estimates indicate that as many as 800 U.S. laboratories aren't subject to federal laws and inspections because they experiment exclusively on mice, rats, and other animals whose use is unregulated.
You can help make a difference for these vulnerable animals by urging your members of Congress to amend the Animal Welfare Act to include protection for mice and rats. Please support only companies and charities that do not test on animals, and take PETA's pledge to be cruelty-free today!