Vegan Recipes for the Cooking Impaired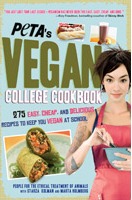 Here are a couple of the easy ideas from the book. Try them along with the recipes for fresh salads, hummus wraps, and veggie burgers, and you'll feel like you're really cookin'.
Skinny Chick Chickpea Salad
1 (16-ounce) can chickpeas, drained
1 1/2 cups celery, diced (can usually be found on any salad bar)
1/2 cup vegan mayonnaise
2 tablespoons lemon juice (fresh or from the squirter)
1 teaspoon garlic powder
1 teaspoon onion powder
Salt and pepper, to taste Pita (optional)
Mix the chickpeas and celery. Add the remaining ingredients and season with salt and pepper. Serve in pita pockets or as an individual salad.
Melon-Berry Bliss
2 frozen bananas (peel and cut into chunks before freezing)
4 or 5 cantaloupe chunks (grab them from the dining hall salad bar)
4 or 5 honeydew chunks (grab them from the dining hall salad bar)
1 cup frozen blueberries
1 cup apple juice
Blend everything together until smooth.
See, no matter how old you are, there's no need to subsist on unfrosted blueberry pop tarts, peanuts, raisin bran, and bananas alone!
Related Posts
Respond