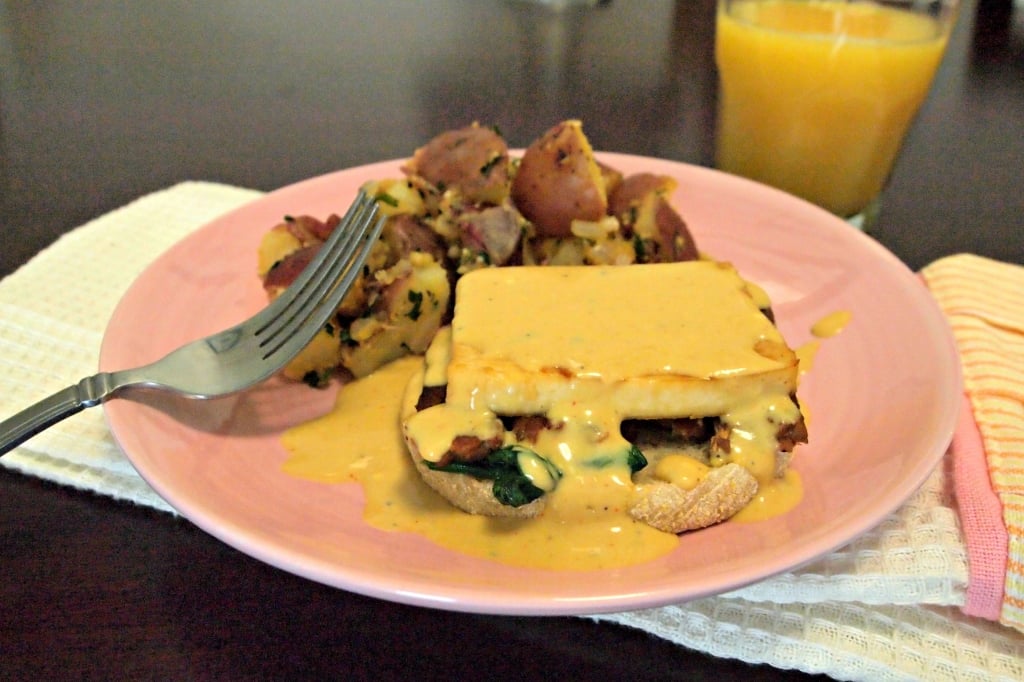 For the Vegan Hollandaise Sauce:
6 ripe yellow tomatoes
1/4 cup extra-virgin olive oil, plus extra for tossing with the tomatoes
1 tsp. Dijon mustard
Pinch of white pepper
2 Tbsp. white vinegar or wine vinegar
2 Tbsp. vegan margarine (try Earth Balance brand)
2 tsp. arrowroot mixed in 1/4 cup cold water
• Preheat the oven to 300°F.
• Toss the tomatoes in some olive oil. Place on a baking sheet and roast for 30 minutes. Flip over and roast for another 30 minutes.
• Remove from the oven and place in a blender, pulsing to chop. Slowly add the 1/4 cup of oil and the mustard, white pepper, and vinegar, blending until fully emulsified. Strain through a sieve.
• Place the sauce in a medium sauté pan over medium heat. Add the vegan margarine and the arrowroot mixture and whisk until thickened. Taste and adjust the seasonings.*
For the 'Eggs' and 'Bacon':
1 block extra-firm tofu, cut into 6 1/4-inch-thick slabs
3 Tbsp. unbleached white flour
1 Tbsp. nutritional yeast
Pinch of turmeric
Garlic powder, to taste
1/2 tsp. salt
1/2 tsp. black pepper
1 Tbsp. canola oil
6 slices faux Canadian bacon (try Yves brand)
• Using a ring mold, cut the slabs of tofu into circles the same diameter as the English muffins.
• In a bowl, mix the flour, nutritional yeast, turmeric, garlic powder, salt, and pepper. Dredge the tofu in the flour mixture and shake off any excess.
• In a medium pan, heat the canola oil over high heat. Fry each side of the tofu rounds until golden. Remove and place on paper towels to drain.
• In the same pan, cook the faux Canadian bacon for 1 to 2 minutes on each side and set aside.
To Assemble:
6 English muffins
1 Tbsp. vegan margarine
3 Tbsp. minced fresh chives
• Toast the English muffins and spread with the vegan margarine. Top each half with one tofu round and one slice of the faux Canadian bacon. Place on serving plates.
• Spoon the Vegan Hollandaise Sauce on top. Sprinkle with the chives and serve immediately.
Makes 6 servings
*To save time, make the Vegan Hollandaise Sauce a day in advance and reheat for serving.