Vegan
Chef Joya's Chicago-Style Italian Beef Sandwiches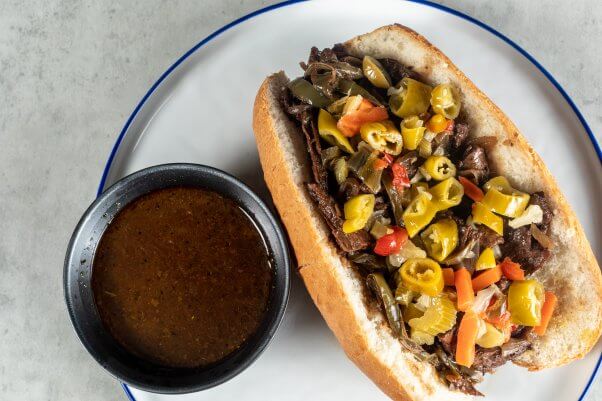 Print
Ingredients
2 cups

water

1 cup

dry red wine

6

cloves garlic, minced

1 1/2 Tbsp.

vegan beef bouillon

2 tsp.

dried oregano

2 tsp.

dried basil

2 tsp.

Red House seasoning

1 tsp.

salt

1/2 tsp.

black pepper

1 10- or 12-oz.

bag dark, flat soy beef chunks

2 Tbsp.

olive oil

1 large

onion, sliced

2

green bell peppers, sliced

8-10

Italian sandwich rolls

Hot giardiniera or hot sauce (optional)
Instructions
In a medium pot, combine the water, red wine, garlic, vegan beef bouillon, oregano, basil, Red House seasoning, salt, and black pepper. Mix well.
Add the dark soy chunks to the broth mixture.
Cook over high heat for 15 minutes.
Add the olive oil to a hot skillet.
Remove the soy chunks from the broth mixture and turn the heat down to simmer.
Carefully add the soy chunks to the oil (it will spatter). Cook for about 4 minutes, or until nicely seared.
Turn the heat down to low and add the onion, the peppers, and at least 1 cup of broth to the soy chunks. Simmer for 5 minutes, or until the soy chunks become tender.
To assemble the sandwich, place a generous amount of vegan beef and vegetables on an Italian sandwich roll. Add hot giardiniera or hot sauce, if desired.
Spoon some of the broth over the sandwich or serve it on the side for dipping.
Adapted and published by permission of Chef Joya.