Vegan
Crispy Asparagus Pockets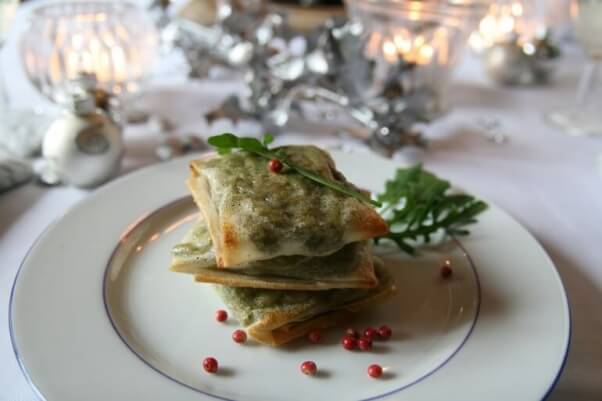 Print
Ingredients
2 tsp.

dried seaweed flakes

3 Tbsp.

hoisin sauce (usually vegan, but be sure to check the label!)

17.5 oz.

canned or jarred asparagus, cut into 1 1/2–inch pieces

1 pkg.

filo pastry, cut into 12 squares

2 Tbsp.

olive oil
Instructions
Preheat the oven to 430°F.
In a small bowl, mix the dried seaweed flakes and hoisin sauce.
Place a few asparagus pieces in the middle of each filo square and top with 1 teaspoonful of the hoisin mixture. Fold the top and bottom of the pastry over the asparagus, then fold in the sides.
Turn upside down (to prevent from opening) and place on baking tray lined with parchment paper. Brush with the olive oil.
Bake until lightly browned, about 8 to 10 minutes.
Serve immediately.
Makes 4 servings