Vegan
Bryant Terry's Caramelized Leek and Seared Mushroom Toast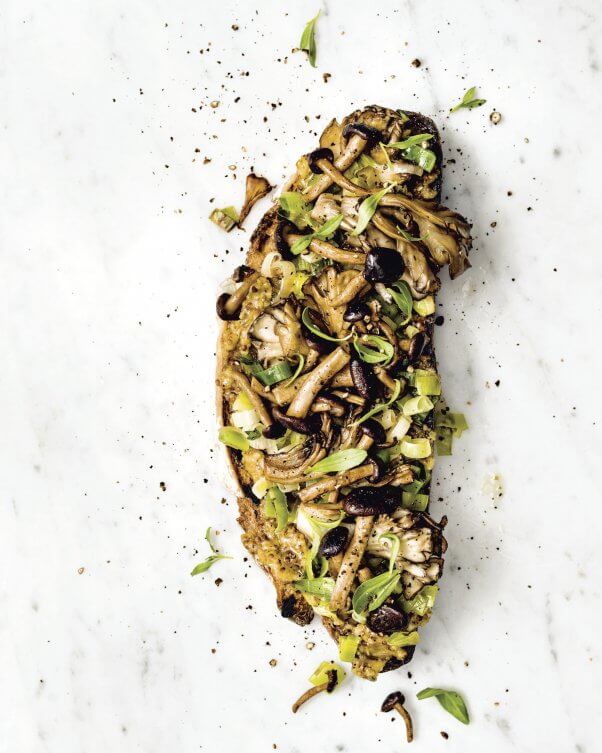 Print
Ingredients
3/4 cup

pine nuts, toasted

1/4 cup plus 2 Tbsp.

extra-virgin olive oil

2 1/2 Tbsp.

whole-grain mustard

1 tsp.

dark agave

Salt and white pepper, to taste

1 lb.

wild mushrooms (such as maitake, chestnut, or chanterelle)

1 cup

finely chopped leek (about 1 medium leek)

1 Tbsp.

minced fresh thyme

4 thick slices

sourdough or other rustic bread, toasted

1 Tbsp.

chopped fresh tarragon, for garnish
Instructions
Using a mortar and pestle, grind the pine nuts into a fine paste. Add 1/4 cup of the olive oil, the mustard, and the agave and stir well to combine. Season with the salt and pepper. Set aside.
Chop the mushrooms so that all the pieces are similar in size. In a large cast-iron skillet, warm 1 tablespoonful of the olive oil over medium heat. Add the mushrooms and a generous pinch of salt. Cook, stirring often and scraping the pan, until the liquid has evaporated and the mushrooms are starting to brown, about 7 to 10 minutes. Turn off the heat, transfer to a medium bowl, and set aside.
In the same skillet, warm the remaining olive oil over medium-low heat. Add the leek and cook until softened, about 5 minutes. Add the thyme and a pinch of the salt and cook until the leek is browned and smells fragrant, about 2 to 3 minutes. Transfer to a small bowl and set aside.
To serve, generously slather the mustard–pine nut spread over each slice of toast then top with the leek mixture and the mushrooms. Season with the salt and pepper and garnish with the tarragon.
Makes 4 servings
Adapted and published by permission of Bryant Terry.