As PETA works tirelessly to stop the cruel, ineffective, and archaic animal experimentation industry, we've had help from some major celebrities in the fields of music, film, television, and sports. From taking on Elisabeth Murray, an experimenter at the National Institutes of Health (NIH) who spends her days sawing open monkeys' skulls and pumping toxins into their brains, to calling out Texas A&M University (TAMU) for experimenting on dogs deliberately bred to suffer from canine muscular dystrophy (MD) to urging customers to shop cruelty-free, let's take a look at the efforts of some of the influential figures who have joined with PETA to help end animal testing:
Paul McCartney
Paul McCartney has collaborated with PETA on everything from exposing slaughterhouses to helping greyhounds at a blood bank, and animal testing is no exception. The rock legend sent a letter to TAMU President Michael K. Young, asking him to stop the school's MD experiments on dogs and release the animals currently being housed in its laboratory to loving, adoptive homes. McCartney also donated his 1993 protest song and anti–animal experimentation anthem "Looking for Changes" to PETA's campaign to end cruel experiments on animals funded by NIH, which wastes $18 billion in taxpayer funds each year.
"I'm looking for changes that will continue the momentum of getting animals out of laboratories," says McCartney. "Experiments on animals are unethical—they're a colossal failure and a waste of time and money. We can and must do better."
Lily Tomlin
"Enough is enough" was the message that more than 5,000 TAMU faculty and staff heard on their phones. And the voice at the other end of the line was none other than Hollywood icon Lily Tomlin, who made a very personal plea for their support in urging TAMU President Young to end the school's experiments on dogs.
The Grace and Frankie star and Detroit native also wrote to the University of Michigan (UM) to ask its officials to stop allowing cats and pigs to be abused in cruel and deadly flight training exercises. In a letter to UM President Mary Sue Coleman, Tomlin wrote, "Having trainees jam hard tubes down cats' throats, cut holes into pigs' throats and chests, and stab needles into the animals' bones and the tissue surrounding their hearts is simply unjustifiable when modern and superior alternatives are available."
After a yearlong campaign by PETA and supporters like Tomlin, UM ended its use of cats in its Survival Flight intubation training laboratory!
James Cromwell
Emmy-winning actor and longtime activist James Cromwell has been handcuffed on several occasions for protesting against cruelty to animals, including during a PETA protest at TAMU's Board of Regents meeting. The star condemned the university's experiments on dogs, which have been going on for almost 40 years but have not resulted in a single treatment that can reverse debilitating MD symptoms in humans.
Cromwell also got himself arrested for a good cause when he stormed into the University of Wisconsin (UW) System Board of Regents meeting to call for an end to the school's cruel brain experiments, in which experimenters mutilated, deafened, starved, and eventually killed cats. After PETA's steadfast campaign with the help of celebrity supporters like Cromwell, this UW lab closed its doors in 2015!
The American Horror Story star also lent his voice to raise awareness of NIH's monkey fright experiments, leaving voicemails for 10,000 NIH employees. "An 'American horror story' is taking place in your agency right now," Cromwell said. "Your colleague Elisabeth Murray is receiving millions of dollars to torture and experiment on living monkeys."
Tell NIH to End 'Monkey Fright' Experiments
Bill Maher
The Real Time With Bill Maher host has partnered with PETA several times to speak out against institutions that conduct tests on animals. He called bullsh*t on Murray's NIH "experiments," reminding viewers that she's torturing monkeys on their taxpayer dollars.
The political commentator also called TAMU "dogs' worst enemy" for its canine MD laboratory.
Urge TAMU to Release 25 Dogs Serving Life Sentences in a Lab
Maher spoke out in defense of cats who were tortured in cruel brain experiments at the University of Wisconsin–Madison. But thanks to PETA's campaign, the embattled laboratory closed its doors, and the remaining four cats in the laboratory, including 3-year-old tabbies Rainbow and Mango, were adopted into private homes.
Anjelica Huston
PETA honorary board member and Oscar winner Anjelica Huston wrote to NIH Director Francis Collins, urging him to slash the agency's bloated budget for expensive and ineffective animal experiments and instead pursue human-relevant research that stands a chance of producing results.
"Studies that are pointless, wasteful, or extremely cruel should be ended now, and that means the emphasis should be placed on non-animal studies, because they offer real promise."

—Anjelica Huston in a letter to NIH
These celebrities are urging the U.S. government to stop tormenting monkeys in fright experiments:
https://www.facebook.com/official.peta/videos/753160225260447/
Sofia Sisniega
Club de Cuervos and La Casa de las Flores star Sofía Sisniega stripped down for a good cause, joining PETA Latino to encourage shoppers to keep all products tested on mice, rats, rabbits, guinea pigs, and other animals off their shopping lists.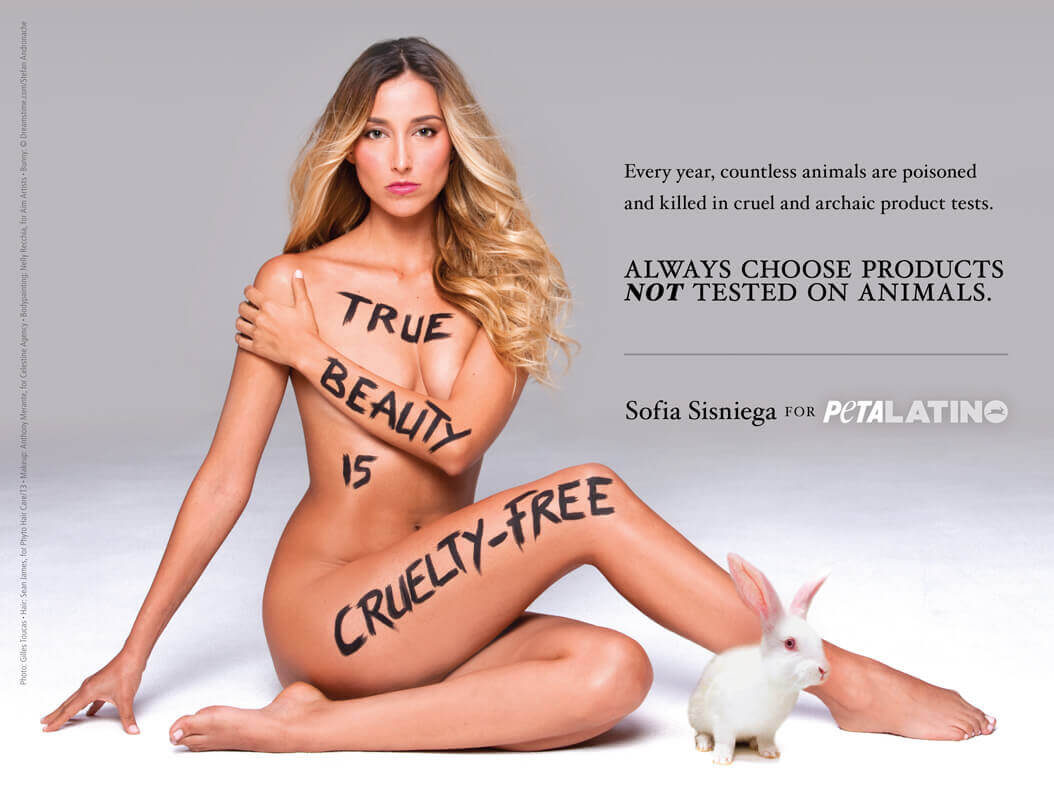 Evanna Lynch
Actor Evanna Lynch, best known as Luna Lovegood in the Harry Potter series, sent a letter on PETA's behalf calling on the president of Johns Hopkins University to end the school's brain experiments on barn owls, writing, "There can be no ethical justification for this grotesque cruelty." The longtime vegan also teamed up with PETA to make a new kind of makeup tutorial, showing fans what life for animals in labs is really like.
Kevin Nealon
Two minutes—that's all the time actor and Saturday Night Live alum Kevin Nealon needs to debunk pseudoscience and make the case against testing on animals.
Edie Falco
Sopranos legend and longtime PETA supporter Edie Falco recorded a message for 2,000 faculty and staff members at the University of Delaware, urging them to take action against cruel and infective tests on rats being conducted on experimenter Tania Roth's watch. Listen to Falco's full message.
"[F]or almost 20 years, experimenter Tania Roth has been tormenting and killing mother rats and their infants in these horribly painful, inhumane experiments, and ultimately, they are completely worthless."

—Edie Falco
Ryan Tannehill
Tennessee Titans quarterback Ryan Tannehill sent a letter to TAMU, his alma mater, urging it to end its cruel experiments on dogs. He pointed to the "heartbreaking" eyewitness video footage obtained by PETA that shows dogs who were deliberately bred to develop a crippling and painful form of canine MD. The university has ended the breeding of these dogs and allowed many to be adopted into real homes.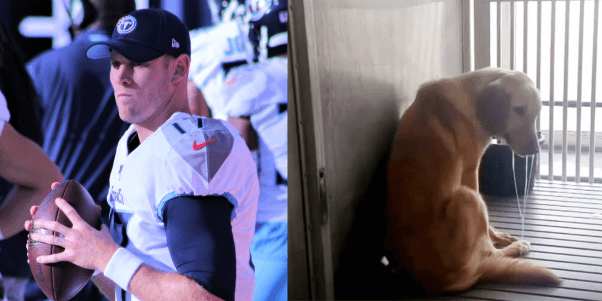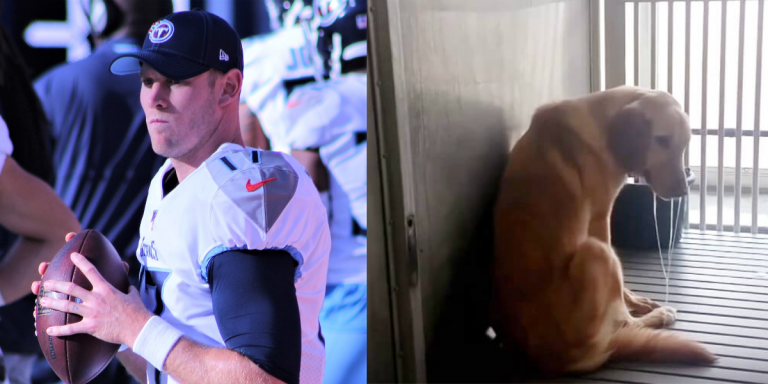 Ryan Tannehill | Chipermc | CC BY SA-4.0
Casey Affleck
When Oscar winner Casey Affleck learned that TAMU experimenters have been tormenting dogs for over 35 years, he knew that he had to speak up. In addition to filming a public service announcement calling out TAMU, the devoted dog guardian also filmed a quick video with an adorable rescued dog and spoke lovingly about his own companion, Bella, who was found on train tracks with three legs—likely after being used as a "bait dog."
Iggy Pop
"Godfather of Punk" Iggy Pop has worked with PETA on multiple occasions to speak out against animal testing. He donated his hit song "Free" to us for a video highlighting the suffering of monkeys held captive and used in cruel laboratory experiments at NIH and other facilities:
And after learning that his alma mater, the University of Michigan, was abusing and killing cats and pigs in its Survival Flight course for nurses, Iggy fired off a letter on PETA's behalf, urging the university to drop these cruel and archaic animal labs.
In 2013, we were able to secure a victory when the university agreed to stop using cats in its labs.
Floriana Lima
Known for her work on popular TV shows such as The Punisher and Supergirl, actor Floriana Lima used her real-life powers to be a superhero for animals by speaking out against the "forced swim test," which tortures mice, rats, guinea pigs, hamsters, and gerbils. In this cruel, worthless test, experimenters put animals in inescapable containers filled with water. The panicked animals try to escape and paddle furiously, desperately trying to keep their heads above water. Eventually, exhausted, they'll start to float.
After discussions with PETA, Johnson & Johnson, Bayer, GlaxoSmithKline, AbbVie, Roche, AstraZeneca, Novo Nordisk A/S, Boehringer Ingelheim, Pfizer, Bristol Myers Squibb, and other companies all announced that they would no longer conduct or fund this test!
Tell Eli Lilly to Ban the Cruel Forced Swim Test!
Richard Linklater
Award-winning director and lifelong Texan Richard Linklater sent a letter on PETA's behalf, urging TAMU to end its canine MD experiments. "There's no doubt in my mind that a cure must be found for MD, but these experiments are purposefully bringing dogs into the world in order to subject them to a shortened life of pain, misery, and neglect," wrote the Boyhood filmmaker. "I'm urging you to end these experiments and release the dogs for adoption so that they can live out their remaining days in comfort."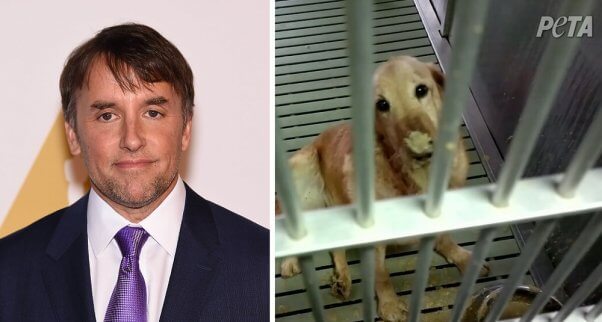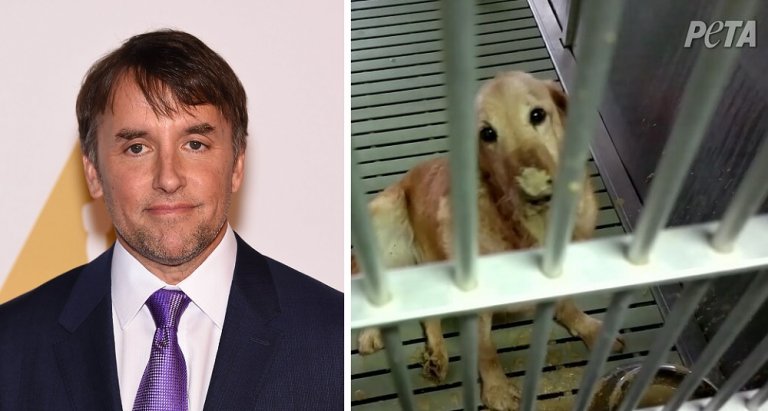 Left: ©StarMaxInc.com
Dave Navarro
Musician Dave Navarro is known for his body art, guitar shredding, and iconic rocker look. His intense rocker style includes an array of beauty products that help give him his dark edge, but some makeup was too dark even for him. So when he discovered that some companies perform cruel tests on animals, he knew that he had to speak out and urge everyone to buy only cruelty-free products.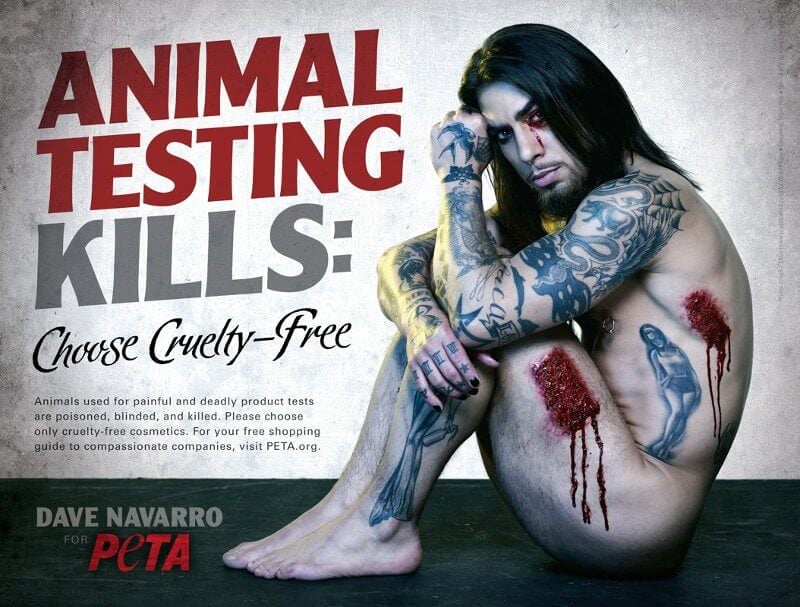 Nikki Sixx
The dogs at TAMU have also received support from Mötley Crüe cofounder and bassist Nikki Sixx, who sent a letter to the university's president stating his opposition to subjecting "man's best friend" to a life of suffering. "I have enjoyed going to Texas throughout my whole touring career. Getting to experience the culture, the food, and the people there over the last few decades has been incredible," Sixx told PETA. "My wife and I are the owners of two incredibly lovable golden retrievers. So to say the experiments at Texas A&M University are absolutely heartbreaking is beyond an understatement."
*****
One more time for the people in the back: Animals aren't lab equipment. Please join the efforts of these celebrities and PETA to help end animal testing by sharing this blog post on social media.