Update (November 4, 2022): VICTORY! Texas A&M University has confirmed that it will release the nine healthy golden retrievers it had transferred from its failed canine muscular dystrophy laboratory to the veterinary school!
This momentous news comes after PETA's hard-fought campaign that began with our shocking exposé of the school's deplorable laboratory. Our relentless pressure ended its cruel breeding of dogs to develop this crippling disease and led to the release of more than 50 dogs.
But we never gave up on these nine betrayed golden retrievers. We campaigned hard—and now the dogs will be in homes before the end of the year.
You can read more about our win for the nine dogs here.
---
Originally posted on June 13, 2018:
Award-winning director and lifelong Texan Richard Linklater has sent a letter on PETA's behalf calling the canine muscular dystrophy (MD) experiments at Texas A&M University (TAMU) "unjustifiable" and urging the institution to end them now.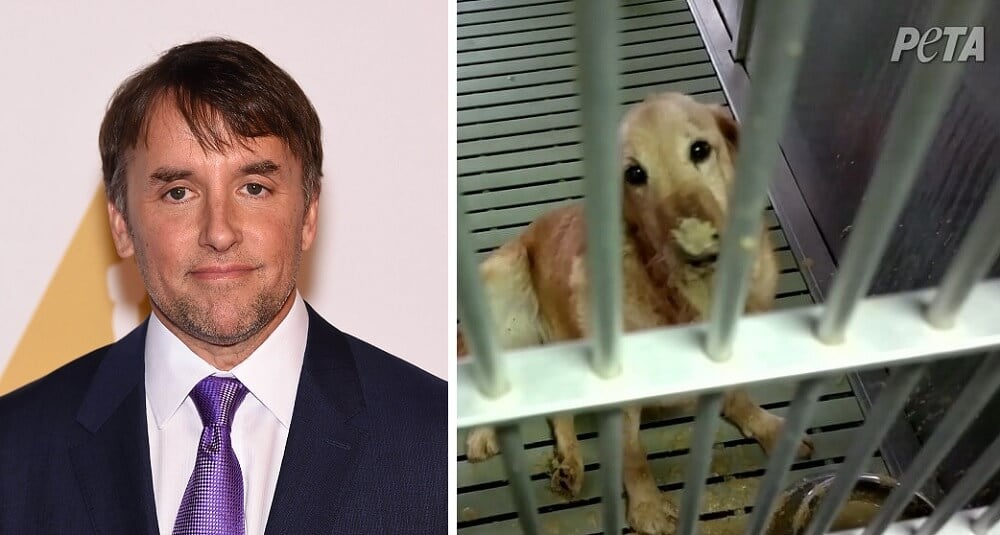 Left: ©StarMaxInc.com
In the letter, Linklater notes that in the more than 35 years that TAMU experimenter Joe Kornegay has been subjecting dogs to this torment—for which animals are caged, often alone, in barren metal cells and their muscles are stretched and torn—he's failed to produce a cure or even a treatment that reverses symptoms of the disease in humans. His infamous legacy is built on wasted resources and false hope for MD patients.
"There's no doubt in my mind that a cure must be found for MD, but these experiments are purposefully bringing dogs into the world in order to subject them to a shortened life of pain, misery, and neglect," writes the Boyhood filmmaker. "I'm urging you to end these experiments and release the dogs for adoption so that they can live out their remaining days in comfort."
Eyewitness video footage obtained by PETA shows dogs in Kornegay's lab struggling to walk, swallow, and even breathe.
Linklater joins a long list of celebrities—including Bill Maher and TAMU alumnus and Miami Dolphins quarterback Ryan Tannehill—scientists, medical doctors, patients with muscular dystrophy, and dedicated activists working to end these cruel experiments.
Linklater is the genius behind brilliant films such as Slacker, Dazed and Confused, School of Rock, A Scanner Darkly, The Before Trilogy, and many more.
Help Shut the Dog Lab Down
TAMU must commit to using only modern, animal-free research methods that will actually help MD patients. Please urge the university to close its dog laboratory, stop breeding MD-afflicted animals, and release all dogs for adoption into good homes.