Update (November 4, 2022): VICTORY! Texas A&M University has confirmed that it will release the nine healthy golden retrievers it had transferred from its failed canine muscular dystrophy laboratory to the veterinary school!
This momentous news comes after PETA's hard-fought campaign that began with our shocking exposé of the school's deplorable laboratory. Our relentless pressure ended its cruel breeding of dogs to develop this crippling disease and led to the release of more than 50 dogs.
But we never gave up on these nine betrayed golden retrievers. We campaigned hard—and now the dogs will be in homes before the end of the year.
You can read more about our win for the nine dogs here.
---
Originally posted on July 22, 2021:
Texas A&M University has spun lies about its former dog-breeding program (which ended, thanks to PETA), censored Facebook and YouTube comments, and banned a man with muscular dystrophy (MD) from its campus—and now, we're calling out yet another deception. Peter Nghiem, the canine MD laboratory's lead experimenter, lied when he publicly stated that after being used there, healthy dogs are adopted out. Some of them were. But now, the university has quietly transferred nine of them to another campus laboratory.
Included in that group is Cannoli. He was initially put up for adoption but was betrayed by the school when he was pulled off the adoption list and transferred to the second lab.
Texas A&M Is Desperate to Keep Dogs Confined to Its Sterile Laboratories
Here's another one of Texas A&M's latest lies: When a Texas state representative pressed the university about the remaining dogs in its canine MD laboratory, he was told that all of them have canine MD and must be kept at the school to receive round-the-clock veterinary care. This is clearly false—fewer than half of the dogs still trapped at Texas A&M are afflicted with canine MD. The program also appears to have little funding for experiments. So, why is the university fabricating reasons to continue warehousing these dogs?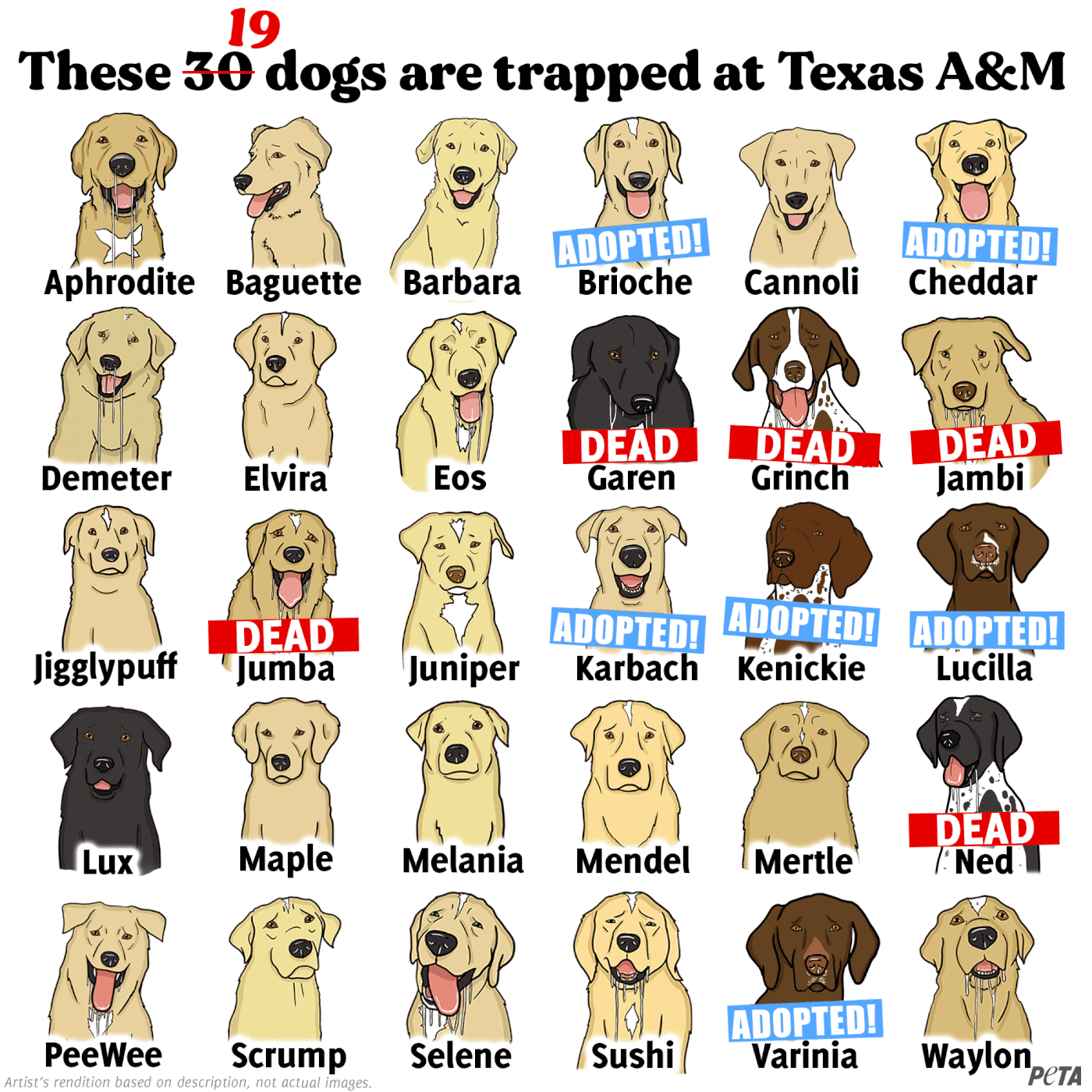 While Texas A&M Continues to Lie, More Dogs Die
PETA has offered to take these remaining dogs and place them in loving homes, but the university hasn't responded. Instead, it's forcing them to live in sterile laboratories, without the safety and comfort of a loving home.
Most recently, two MD-afflicted dogs from the colony named Garen and Grinch had to be euthanized. Grinch had suffered from excessive salivation, persistent vomiting, muscle atrophy, and pressure sores on all four of his legs. On multiple occasions, piles of vomit were found under Garen's kennel. He frequently left portions of his food uneaten and began to lose weight. The pair's last days—or even weeks—alive were likely spent in excruciating pain.
It's too late to help Garen and Grinch. Texas A&M let them down in the worst of ways, but that doesn't mean the remaining 19 dogs still trapped there should have to suffer, too. That's why PETA is repeating our call for the university to release the remaining dogs for adoption in a letter to the new Texas A&M president.
Help PETA Keep the Pressure on Texas A&M
PETA's campaign to end the school's dog-breeding program has included attention-grabbing protests, celebrity action, multiple lawsuits, call-ins, support from 500 physicians, and testimonials from people with MD.
We aren't done yet. Help PETA persuade Texas A&M to close the laboratory, release all the dogs for adoption into good homes, and redirect resources toward humane research methods: