Popular band AFI has baffled critics for years, as few can agree on adjectives and labels to accurately describe its ever-changing sound. The same cannot be said of AFI's lead singer, PETA friend Davey Havok. A longtime vegan and passionate advocate for animals, he's unapologetically and inarguably kind.
Now, Havok has teamed up with PETA and a rescued rat named Wee Man for a new ad campaign that focuses on speciesism—and what we can all do to battle the human-supremacist worldview.
'Shut Your Mouth and Open Your Eyes' to Speciesism
Havok and his new friend Wee Man came together specifically for their new PETA campaign. The musician says that his choice of costar came down to the speciesism that rats are often the victim of.
"[Rats] are thought to be pestilent. They're not. They're very caring animals. They group together. They sleep in packs. They're playful. It's unfair to discriminate against animals and harm them. Rats do not deserve to suffer, just like your dog or your cat," explains Havok in the video as Wee Man sits dotingly upon his shoulder.
Rats are able to read each other's facial expressions and demonstrate empathy, choosing to help another rat forced to tread water instead of taking a sweet treat in one cruel study. When their babies aren't taken from them by experimenters or to exploit them in other ways, rat mothers exude maternal love, grooming the fur on their babies' faces. Despite these animals' caring nature and intelligence, experimenters kill millions of rats like Wee Man each year in cruel and useless experiments that waste taxpayer dollars. In U.S. laboratories, they're even denied the meager protections of the federal Animal Welfare Act.
Rats are also exploited in the pet trade—stores like PetSmart and Petco treat them like products rather than as sensitive living beings. Many animals suffer prior to reaching Petco stores and shoppers' homes. PETA's investigation into then–Petco supplier Holmes Farm in Pennsylvania revealed further mistreatment: Workers left dead and decomposing bodies in plastic bins with live animals, put animals into a freezer to die in agony, and crammed screaming rats, gerbils, guinea pigs, and rabbits into a cooler used as a makeshift gas chamber. Animals should never be sold. If you're prepared to care for a rat or any other animal companion, adopt from a reputable shelter—never buy from a pet store like Petco.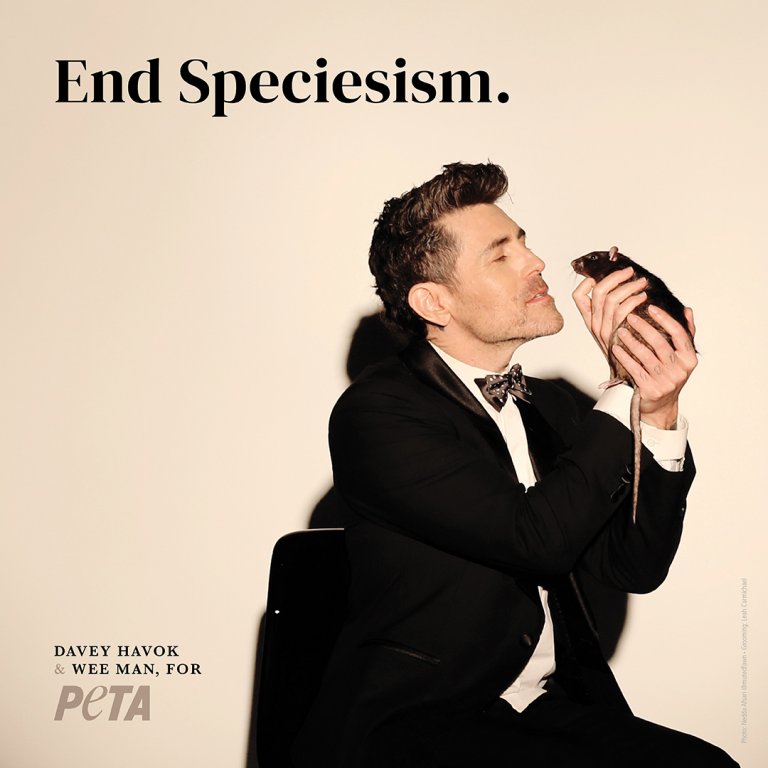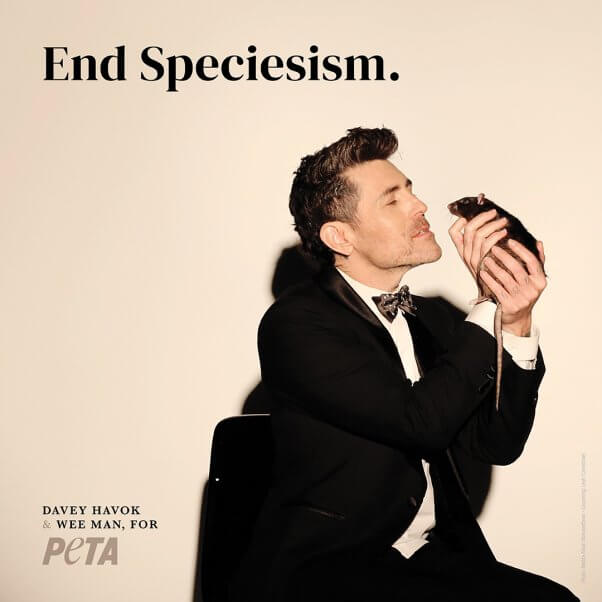 Join Davey Havok and PETA in Helping to End Speciesism
Ending speciesism requires all of us to consider how our actions and words harm animals and then make changes to reduce their pain and suffering. It's very easy to make choices every day that avoid causing harm to animals.
You can join Davey Havok and Wee Man in helping to end speciesism by doing the following: