Dining Out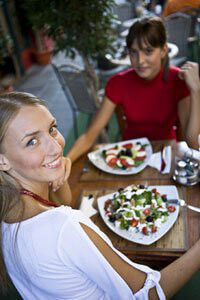 Welcome to PETA's guide to dining out. Whether you're looking for vegan options while on the road or detailed reviews of a vegetarian-friendly restaurant close to home, this dining guide has it all.
 Vegan Eating on the Road
Some people fear that being vegan can make travel more stressful and less enjoyable, but that's not the case. Find tasty vegan meals at a variety of restaurants nationwide ahead of time by checking out our "Chain Restaurants Guide." If you're on the road and pressed for time—or cash—use the "Vegan Snacks Guide" to find quick-and-easy options available at any gas station. Read More.
Vegetarian-Friendly Restaurant Guide
Looking for a vegetarian-friendly restaurant near you? We have reviews for dozens of restaurants across the United States and some around the world. Each review includes a detailed description of the food and atmosphere and provides contact information. Read more.  
For more comprehensive listings of vegetarian restaurants worldwide, check out these dining guides: Happy Cow, Veg Dining, and VegGuide.

Respond