PETA has assessed the vegan-friendliness of burger chains and restaurants across the U.S. and Canada, grading each one based on the availability of a vegan entrée on the menu. The resulting letter grades run the gamut from "A," for chains that offer a vegan option, to "F-," for those that have failed to make any attempt to provide an animal-free burger option.
This ranking is dynamic, and information will change as we receive updates from restaurants or learn of new menu options.
Grade: A
A&W Canada offers the highly sought-after Beyond Burger at all its Canadian locations. It comes on a vegan bun with lettuce, tomato, red onion, pickles, ketchup, and mustard. Keep it vegan by asking for no burger sauce or mayo.
Bareburger has a dedicated vegan menu! You can choose from six different types of vegan burgers or customize your own with unique options such as a vegan egg, tempeh bacon, and habanero mayo. Don't forget the fries, which can be smothered with vegan cheese and toppings like truffle salt and spicy pico de gallo. Finish your meal with a customizable vegan shake, topped with coconut whipped cream and sprinkles.
Burger 21's  animal-free patty comes topped with red onion, lettuce, and tomato. Request a wheat or lettuce bun instead of the brioche bun, which contains honey. Spice it up by adding barbecue sauce, guacamole, or Thai ketchup.
BurgerFi offers a delicious vegan Beyond Burger, topped with ketchup, mustard, lettuce, tomato, pickles, and onions on a vegan multigrain bun.
Burger King has an animal-free Whopper sandwich, topped with tomatoes, lettuce, onions, pickles, and ketchup on a sesame seed bun. Make sure to ask for no mayo and cheese to keep it egg- and dairy-free.
Carl's Jr. offers the tasty vegan Beyond Burger patty for any burger option, including the Big Hamburger, which comes with pickles, onion, ketchup, and mustard on a sesame seed bun. You can also get a vegan Beyond Sausage Burrito for breakfast by requesting no egg or cheese.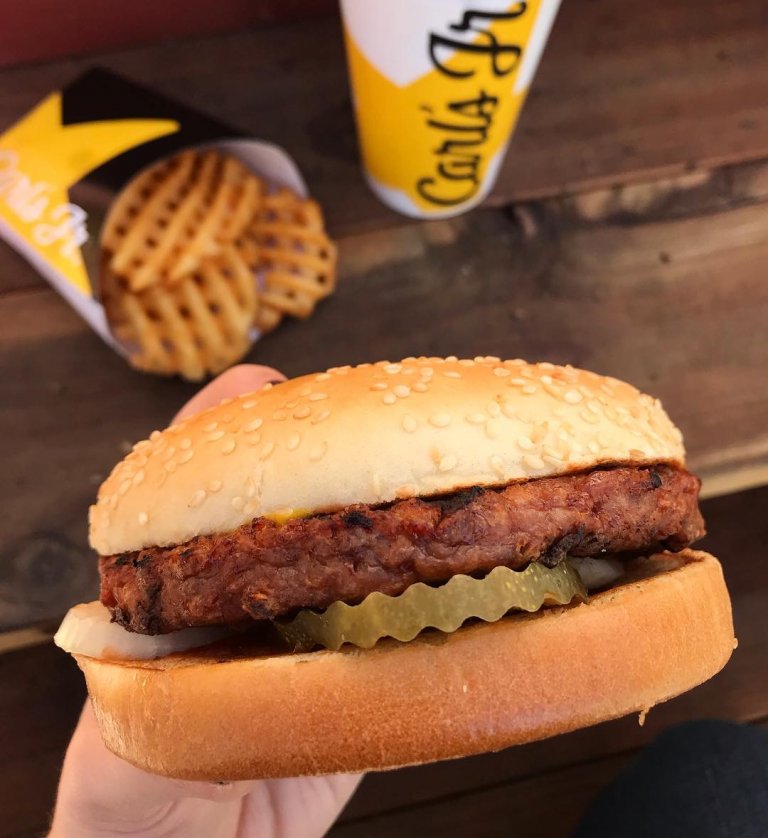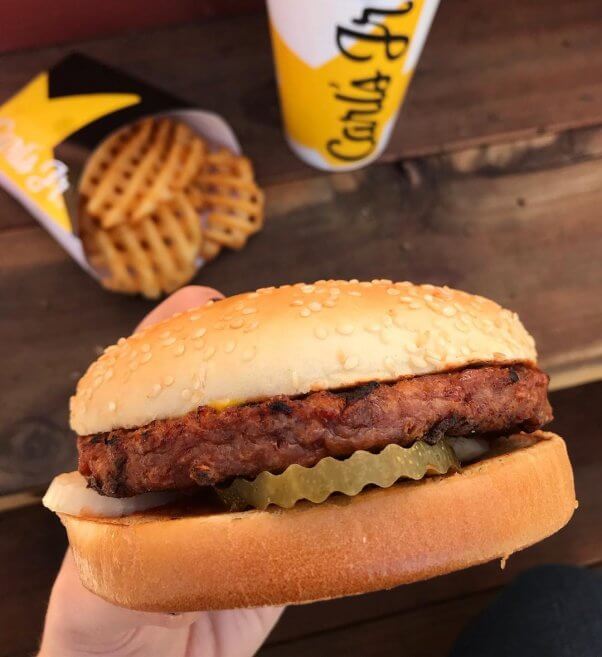 Freddy's Frozen Custard & Steakburgers switched to a delicious vegan burger patty and bun. Be sure to omit cheese and Freddy's Famous Fry Sauce. Some Texas locations may serve a veggie patty made with egg, so check with the restaurant for specific ingredients.
Good Times Burgers & Frozen Custard joins other A-list chains, thanks to its all-vegan Southwestern Black Bean Burger. The Dr. Praeger's black bean patty, guacamole, onion, lettuce, and tomato combine to make for one delicious burger. And yes, the bun is vegan! If you're in Colorado or Wyoming, get to Good Times, stat. Click here to find your nearest location.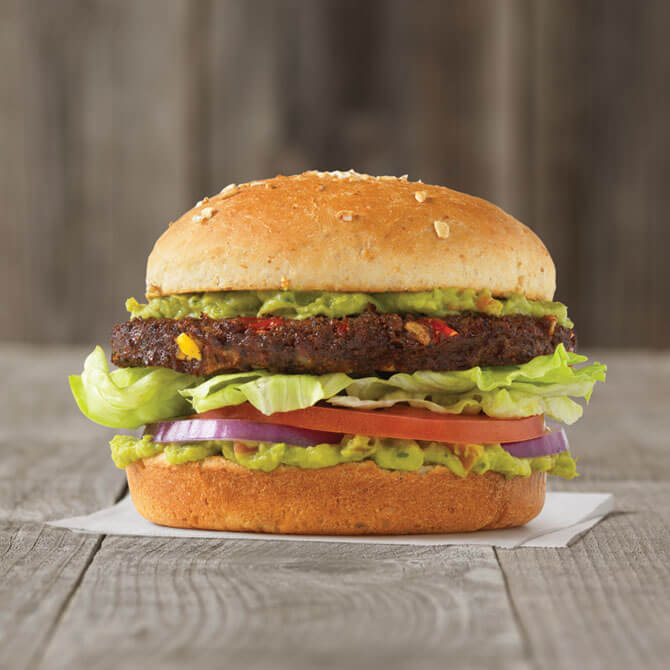 The Veggie Burger is completely vegan at 265 Habit Burger Grill locations! Eight locations in Santa Barbara County may not carry vegan veggie patties, so be sure to ask if you're ordering at any of these locations. The burger comes with sweet mustard sauce, lettuce, tomatoes, and cucumbers on a vegan bun. You can add raw onions and avocado if you'd like. The chain also offers French fries, sweet potato fries, tempura green beans, and a side salad to complete your meal.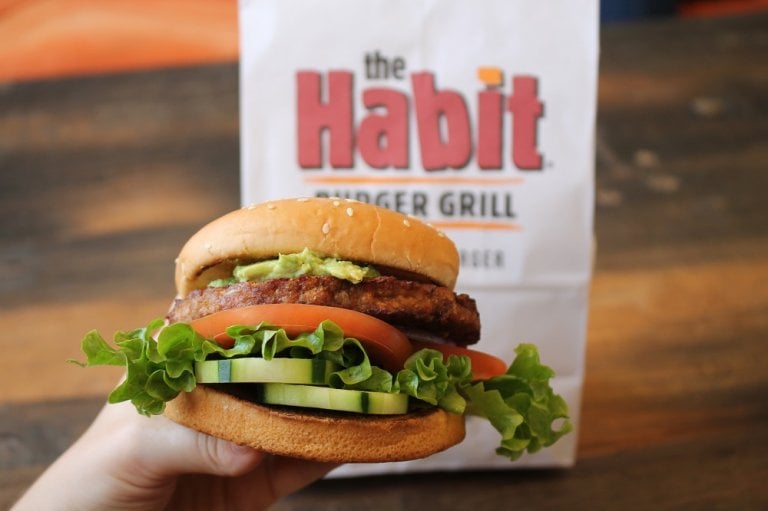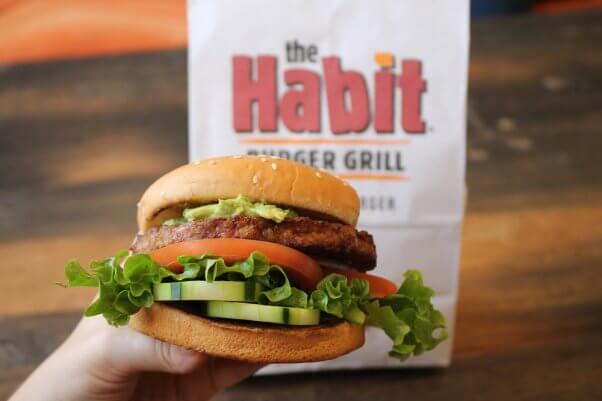 Johnny Rockets offers a vegan gardein black bean patty and comes with several vegan sauce options, including "Red Red" and BBQ.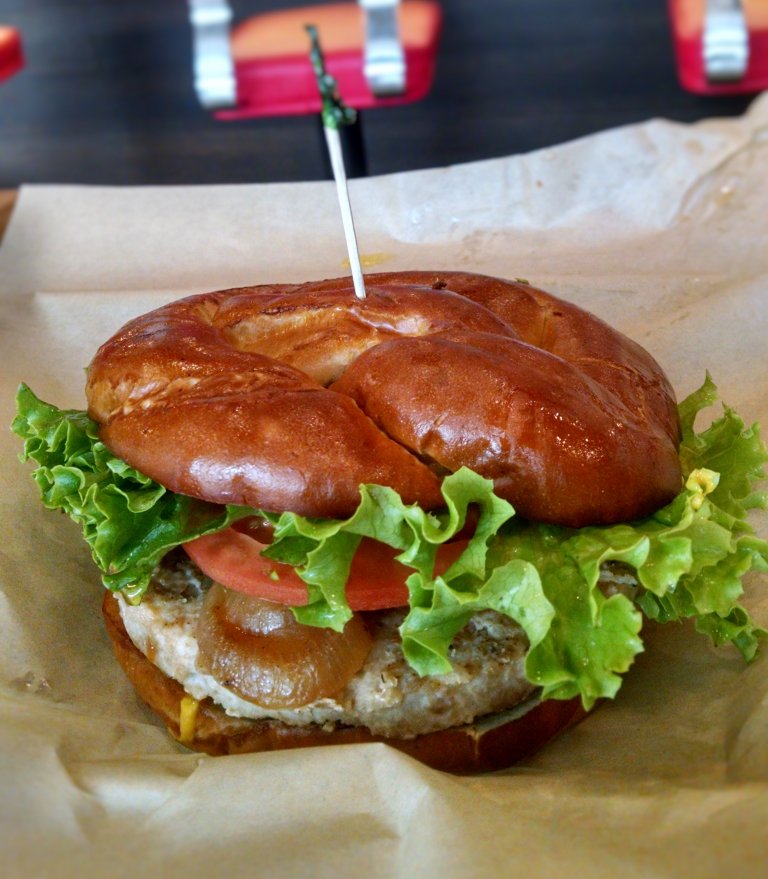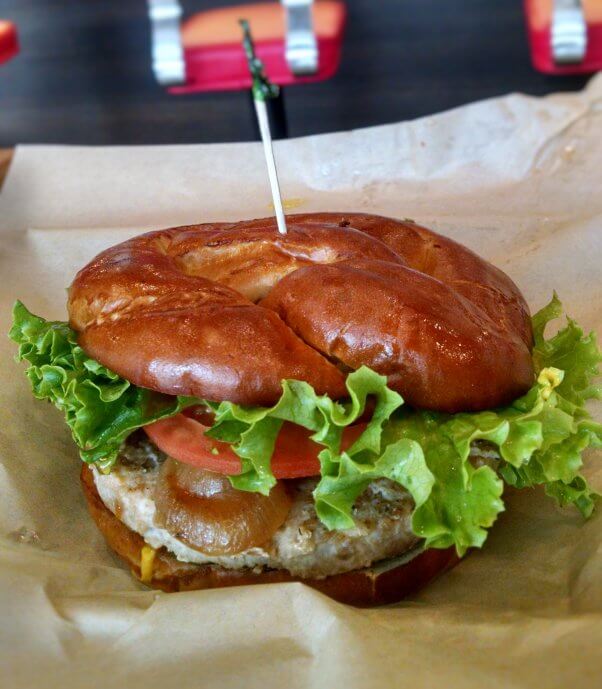 MOOYAH started offering a new Dr. Praeger's burger patty following talks with PETA. This burger features sliced avocado, pickles, lettuce, and tomato on a multigrain wheat bun. Ask for it without the fried onion strings and MOOYAH Sauce to make it vegan. You can also opt for the Build Your Own Vegan Burger. Start with your choice of potato, multigrain, or gluten-free bun or a lettuce wrap, and then choose any of the veggie toppings except for the fried onion strings and finish it with ketchup, mustard, BBQ sauce, A.1. Sauce, Cholula Hot Sauce, or Buffalo sauce.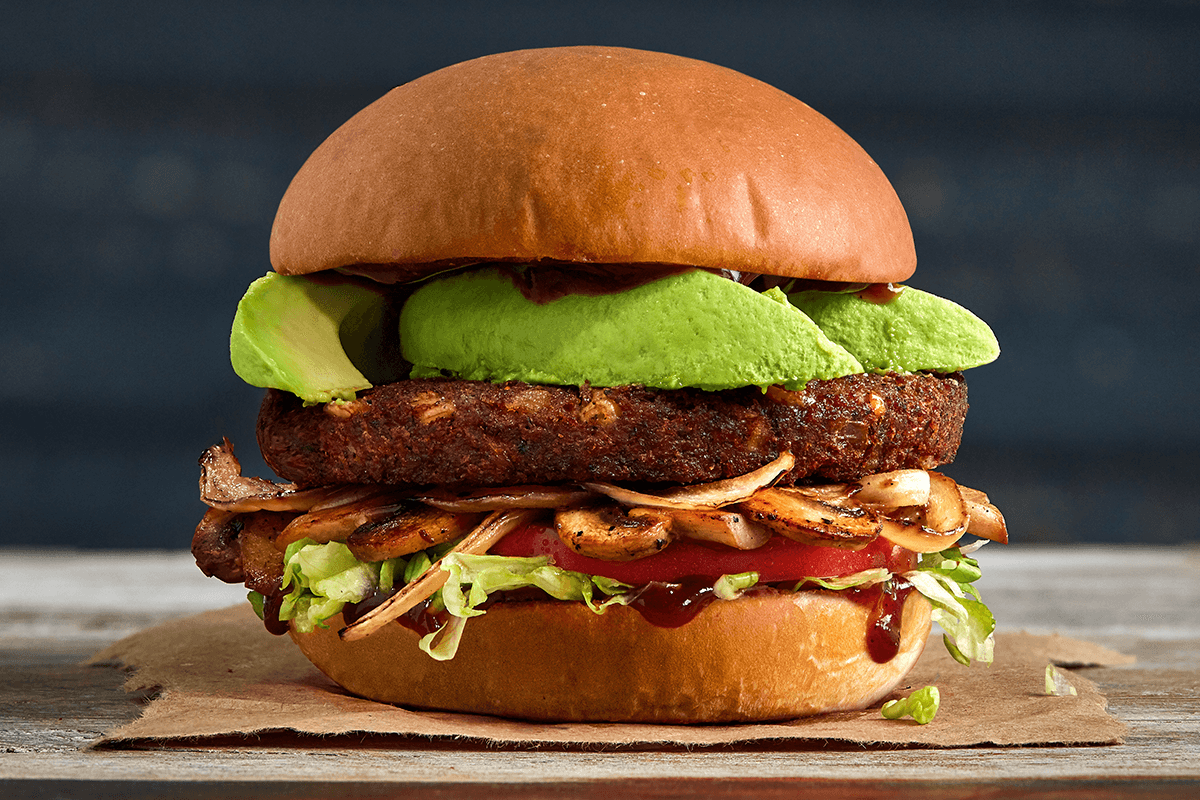 Red Robin offers a vegan burger patty made with ancient grains and quinoa. Try your burger with fresh tomato bruschetta salsa, avocado slices, and shredded lettuce on a ciabatta bun, rustic Italian bread, or a lettuce wrap. Diners can also get a side of bottomless fries or bottomless broccoli.
TGI Fridays serves the Beyond Burger in its restaurants across the nation. Make sure to order the vegan bun, and hold the cheese and Fridays sauce.
Twin Peaks

 serves The Imposter, which features a vegan Beyond Burger patty, arugula, tomato, pickles, caramelized onions, Cajun-style mustard, and a vegan bun. Be sure to ask for it with no cheese, mayonnaise, or honey jalapeño dressing. The burger also comes with a side of sweet potato fries.
Umami Burger offers an animal-free burger on a vegan bun at all locations nationwide (except SLS Las Vegas, the Irvine Spectrum Center, and LAX). Ask for it without cheese, or inquire if your location offers vegan cheese. Umami offers ketchup, mustard, and a spicy vegan Diablo Sauce.
White Castle offers vegan Veggie Sliders with or without Sweet Thai sauce. The burger chain also tested dairy-free cheese at its locations in New Jersey and New York.
White Spot, Canada's nearly 100-year-old burger chain, rolled out the Avocado Beyond Burger at its 64 locations, saying it did so, "Quite simply, because our guests have asked." Just request the gluten-free bun and no jalapeño ranch to make it vegan. The chain went on to make Beyond Burgers available at its 70 quick-service burger restaurants, Triple O's, which include standalone restaurants and counter service at college campuses, gas stations, and entertainment venues.
Grade: B
Ruby Tuesday is testing its first vegan burger option at 450 locations nationwide until mid-March. Called the Sweet Earth Awesome Burger, it includes a pea protein–based patty with a meaty texture. If the initial tests do well, the chain plans to make the burger a permanent menu item.
Shake Shack's Veggie Shack burger features a veggie patty made from greens, grains, and herbs and comes topped with tangy vegan lemon mayo, avocado, roasted tomato, and shredded lettuce. It can be made vegan if you request a gluten-free bun or a lettuce wrap. The chain's first Veggie Shack test came after talks with PETA. We hope Shake Shack will expand the option to all locations and keep it as a permanent item.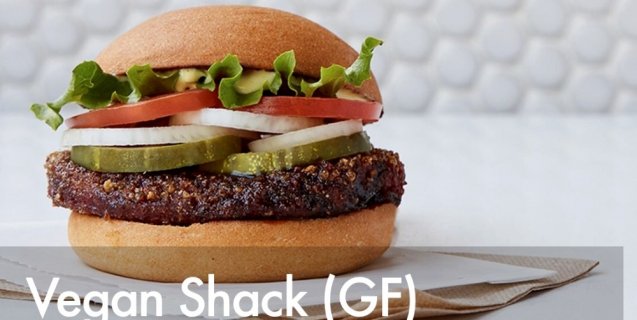 © Shake Shack
Grade: C
A&W U.S. offers a Beyond Burger at 29 locations nationwide, but it's not clear which ones offer a vegan bun. We urge A&W U.S. to follow its Canadian counterpart by offering a fully vegan burger (and breakfast sandwich!) at all of its restaurants.
Smashburger offers six vegan milkshake flavors: Chocolate, Strawberry, Vanilla, Peanut Butter, Tangerine Dream, and Oreo. Make sure to order without whipped cream to make it vegan. There is a vegetarian black bean burger that cannot be made vegan. We're also disappointed that the restaurant fries everything—even its sides of carrots and green beans—in oil containing beef fat. We'd like to see the chain explore vegan burgers as well as other vegan options.
Grade: D
Sonic Drive-In offers a vegetarian burger that cannot be made vegan and is only available at some locations. Sonic should upgrade to vegan patties and make the burger available at all of its locations.
Culver's has a veggie patty, which contains milk and eggs, at many locations—although sometimes the patty isn't listed on the menu. We encourage the chain to offer a vegan burger at all its locations nationwide.
Grade: F
The following restaurants do not currently offer any cruelty-free burgers, though some allow substitutions, like mixed veggies, on a bun or roll. We welcome the following burger joints to contact PETA to learn more about the healthy, delicious vegan options that they could offer for an "A" rating.
Grade: F-
Checkers and Rally's menus are a nightmare for animals. Nearly everything is covered in beef chili, cheese, or bacon—and even the French fries have eggs in them! This chain's steadfast refusal to provide anything that isn't smothered in animal-derived ingredients earns it the lowest possible grade.
Grade: Deferred
Fuddruckers offers a vegetarian burger that can't be made vegan, and its buns contain egg and milk. The chain is testing the Beyond Burger at select locations, and we'll defer our grade until it offers a vegan burger nationwide.
Jack in the Box is testing a veggie patty option for all its burgers. Right now, it's only available at select locations in Phoenix, so we'll defer our grade until the chain makes the offering a permanent menu addition nationwide.
McDonald's is currently testing the McPlant burger at select stores in four states. We're deferring our grade until it makes the burger available nationwide.
Finally, several national chains that aren't primarily known for their burgers—such as Denny's, Yard House, and The Cheesecake Factory—also serve vegan burgers, so you can get your fix even if you aren't near one of our Grade "A" burger joints.
Has one of your favorite restaurants received a failing grade? Contact it through its website, Facebook, Twitter, or other social media accounts to let it know that you want a vegan option—and encourage your friends to do the same.