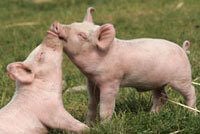 When in their natural surroundings—not on factory farms—pigs are social, playful, protective animals who bond with each other, make nests, and relax in the sun. Pigs are known to dream, recognize their own names, learn "tricks" like sitting for a treat, and lead social lives of a complexity previously observed only in primates. They've been seen showing empathy for other pigs who are happy or distressed. Many even sleep in "pig piles," much like dogs sleep nestled together. Some love to cuddle, while others prefer space. And they don't "sweat like pigs." They're actually unable to sweat, and they like to bathe in water or mud in order to keep cool.
People who run animal sanctuaries that include pigs note that they're more similar to us than you might guess. Like humans, they enjoy listening to music, playing with soccer balls, and getting massages. They can even play video games! Read more inspiring stories and learn more fascinating facts about animals like pigs in the bestselling book
Animalkind
.
https://www.youtube.com/watch?v=lg2qjGqswDY
What the Experts Say
Pigs communicate constantly with one another. More than 20 types of oinks, grunts, and squeals have been identified, which they use for different situations—from wooing their mates to expressing hunger. Newborn piglets learn to run toward their mothers' voices, and mother pigs sing to their young while nursing.
They also have very long memories. Dr. Stanley Curtis, formerly of Penn State University, put a ball, a Frisbee, and a dumbbell in front of several pigs and was able to teach them to jump over, sit next to, or fetch any of the objects when asked to—and they could distinguish between the objects three years later.
Biologist Tina Widowski studies pigs and marvels at their intelligence: "When I was working with the monkeys, I used to look at them and say: 'If you were a pig, you would have this figured out by now.'"
Scientists at the University of Illinois have learned that pigs not only have temperature preferences, they can also figure out through trial and error how to turn on the heat in a cold barn and turn it off again when they get too warm.
Pig Prowess
Pigs have been known to save the lives of others, including their human friends. According to BBC News, a pig named Pru saved her guardian's life by dragging her out of a muddy bog. "I was panicking. I didn't know what to do and I think the pig sensed this," she said. "Without Pru I wouldn't have been able to get out of the mire."
In addition to Pru, there's Priscilla, a pig who saved a young boy from drowning, and Spammy, who led firefighters to a burning shed to save her calf friend Spot. Lulu found help for her human companion, who had collapsed from a heart attack. A pig named Tunia chased away an intruder, and another, named Mona, held onto the leg of a suspect attempting to flee until the police arrived.
Many who have ended up in sanctuaries found their new homes after jumping off slaughterhouse-bound trucks and escaping. And in England, a stone carving of a pig named Butch was placed upon a historic cathedral after he and his friend Sundance escaped from a slaughterhouse and roamed the country for several days before being captured. Fortunately, a national outcry against slaughter allowed the duo to go to a sanctuary.
You can help save other pigs just like Butch and Sundance by taking PETA's Pledge to Go Vegan.