Another win for animals! In a surprising move and after many pleas from North Carolina residents, the Charlotte City Council voted down a bullhook ban and instead banned wild-animal acts altogether. This victory follows years of public advocacy and vigorous grassroots action—which PETA assisted by alerting locals to take action and providing comments arguing in favor of a ban on animal acts.
Kristen Moyer, who helped champion this local grassroots effort, says, "I think the key to our success was our unwillingness to give up, our public outcry, and our insistence that the council vote on the language we had asked for." When faced with opposition, she noted, "[W]e knew we were doing the right thing, and that we had to be a voice for the animals."
Despite pushback from UniverSoul Circus—which promoted an alternative that would have allowed it to continue with its animal-exploiting business as usual—local animal rights activists prevailed and proved that cruel animal circuses are on their way out. Keep reading to see a more comprehensive list of localities that have passed restrictions or bans on the use of animals in circuses.
Update: May 17, 2021
Victory for animals! PETA has learned that the governor of Colorado, Jared Polis, has signed the Traveling Animal Protection Act (SB 21-135) into law. This bill, which bans the use of elephants, big cats, bears, and other animals in circuses and other traveling shows in the state, will take effect 90 days after the legislature adjourns later this year. This bill should also end dangerous animal exhibits at the Colorado Renaissance Festival, including elephant and camel rides and exotic-cat shows.
To help secure this important legislative win in Colorado, PETA supplied detailed information on traveling animal exhibitors in the state to the animal-friendly advocacy group Colorado Voters for Animals, the determined local force behind this bill's success. We also asked our supporters in Colorado to contact their legislators in support of its passage, and our years of protesting, action alerts, and law-enforcement efforts paved the way for this momentous day for animals exploited for entertainment.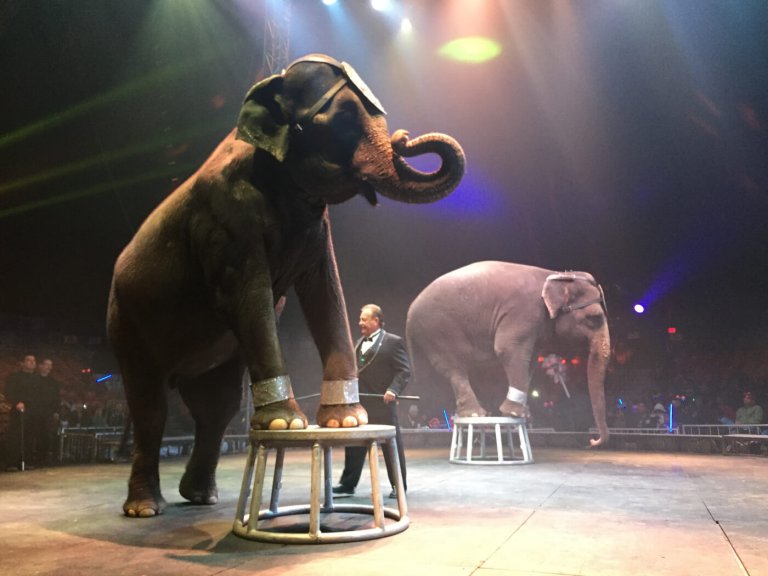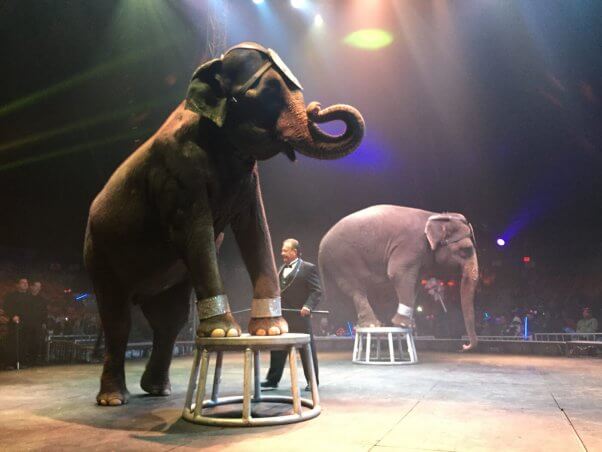 The following towns, cities, states, and countries represent just some of the places that have passed restrictions or bans on the use of certain wild animals in circuses or traveling shows.
These U.S. cities and counties have existing bans or restrictions on animal circuses and traveling wild-animal acts:
Amherst, Cambridge, Topsfield, and Wilmington, Massachusetts
Bridgepoint and Stamford, Connecticut
Dane County, Wisconsin (Elephant acts at the Alliant Energy Center in Madison are banned.)
Los Angeles (The use of wild animals at house parties is banned.)
Multnomah, Oregon (This includes Portland.)
Salt Lake County, Utah (The mayor issued an executive order banning wild- and exotic-animal shows at county facilities, a de facto ban on wild-animal circuses.)
Charlotte, North Carolina
These U.S. states have statewide bans on certain animal acts in circuses:
These countries have restrictions or bans on animals in circuses and traveling shows:
Fight Speciesism: Stay Far Away From Animal Acts, Attractions, or Encounters at Circuses and Traveling Shows
Animals are unwilling participants in circus acts and traveling shows. Denied every opportunity to engage in natural behavior vital to their mental and physical well-being, they're forced to perform confusing and often painful tricks under the threat of punishment. If an event features dangerous hands-on encounters between humans and wild animals, don't buy a ticket. Support performances and venues that rely solely on the talents of willing human performers, and encourage your friends and family members to do the same.
Want to do more for animals?