Relief for elephants! The notorious Ringling Bros. Center for Elephant Conservation (CEC) in Polk County, Florida, is no more. PETA has learned that White Oak Conservation in Yulee, Florida—an organization certified by the Association of Zoos and Aquariums—took over the former Ringling breeding center in the spring and will be transferring all elephants who are healthy enough to move to its vast facility, hopefully as early as 2021.
At White Oak, the dozens of elephants will be able to live in herds and explore 2,500 acres of vegetation, wetland, grassland, and woodland. They'll have access to water holes—deep enough for them to submerge themselves completely—and heated barns.
These elephants will no longer be chained on concrete every day or threatened with painful blows from bullhooks. Their new life will be a far cry from the misery that they knew under Ringling's heartless control.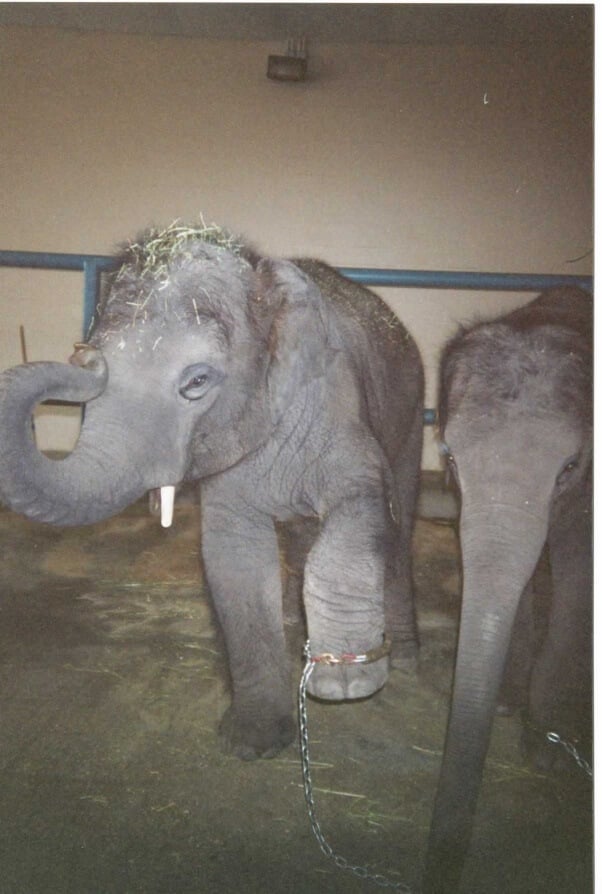 Ringling Bros. Center for Elephant Conservation: A House of Horrors
As PETA exposed, sickness and suffering were rampant at this facility. Ringling forced pregnant mothers there to give birth in chains. It took screaming calves from their frantic mothers and shackled them in chains to break their spirits and then poked, jabbed, and shocked them with bullhooks and electric prods until they learned to do tricks on cue. Tuberculosis was common, and Ringling's own records showed that most of the elephants at the CEC had foot or leg problems, which are caused by intensive confinement.
PETA is thrilled that with the imminent closure of the CEC, Feld Entertainment—Ringling's owners—are out of the elephant business: no more traveling shows and no more chains or bullhooks.
Our Work Isn't Done Yet
While it's good news that Ringling's last remaining elephants will find peace at an accredited facility with a vast, natural habitat, other circuses continue to force animals to perform confusing and unnatural tricks under the threat of punishment.
The public doesn't want to see animals carted around the country and demeaned in circus shows. Other exhibitors must realize that with Feld Entertainment's departure from the archaic world of animal acts, the writing is on the wall: All future shows must feature only talented and willing human performers.