Relief for animals exploited for entertainment! Kentucky has adopted new regulations that prohibit circuses from using endangered species, effectively ban elephant rides in the state, and end dangerous exotic-animal shows at state and county fairs. PETA submitted comments in support of the statewide rule changes in late 2021 and has been instrumental in ensuring that the Kentucky Department of Fish & Wildlife Resources (KDFWR) enforces regulations when it comes to the use of exotic animals in circuses.
As a result of these changes, PETA fired off a letter to the Kosair Shrine Circus, calling on the act to go animal-free—just as Ringling Bros. and Barnum & Bailey Circus has. Shrine circuses are among the very last remaining shows that still deprive wild animals—including elephants and big cats—of any semblance of a natural life, carting them around in small crates and keeping them in shackles when they're not being forced to perform.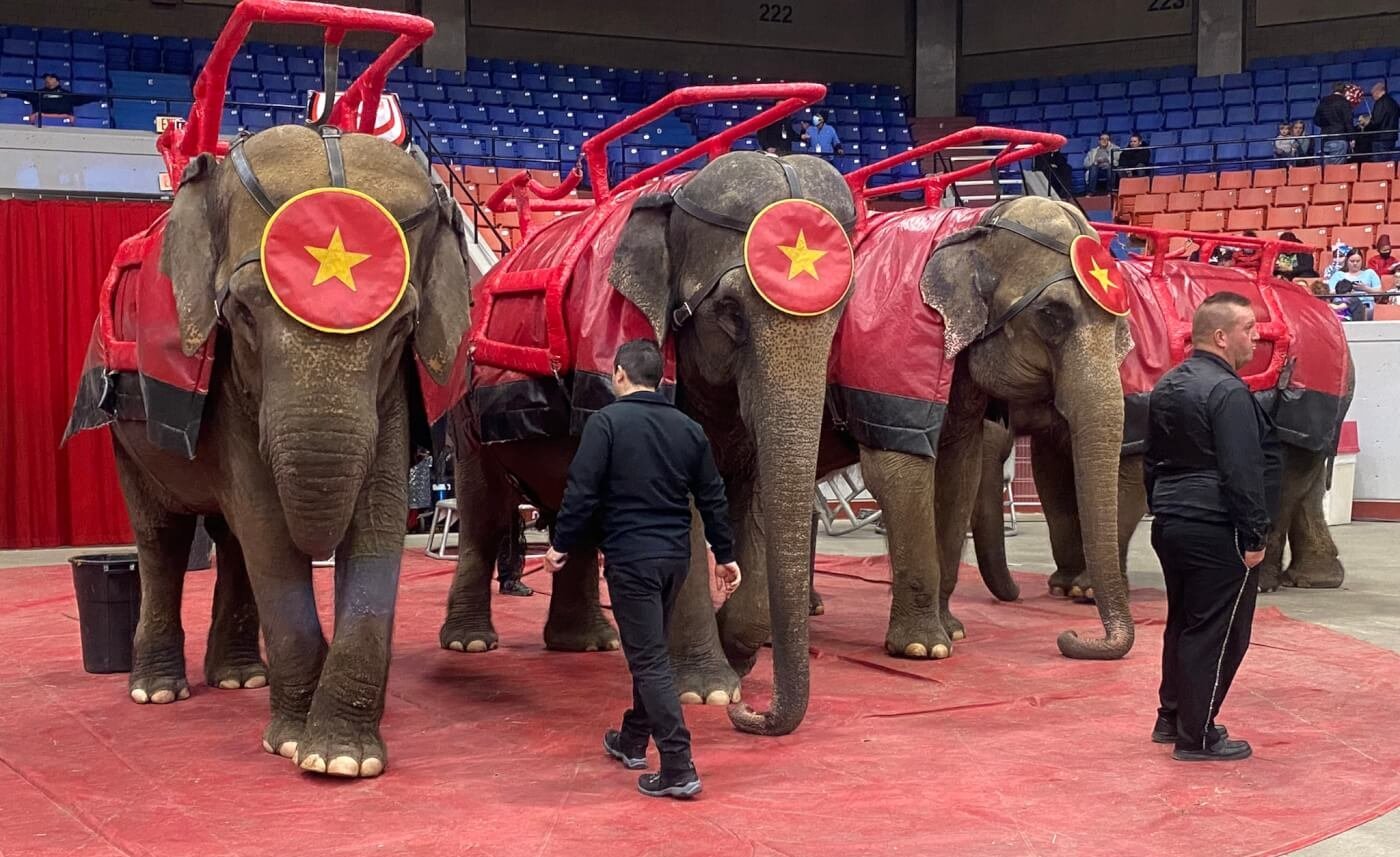 "All animals deserve freedom from cramped cages and protection from performing tricks under the threat of violence," says PETA Foundation Director of Captive Animal Law Enforcement Rachel Mathews. "PETA is calling on the Kosair Shrine Circus to embrace the modern, cruelty-free future of entertainment by showcasing dazzling displays of human talent, rather than exploiting animals."
PETA's Past Efforts for Animals Used for Entertainment in Kentucky
In January 2020, after PETA alerted the KDFWR to Garden Bros. Circus' plans to perform with elephants at the Paducah-McCracken County Convention & Expo Center—despite a local law that prohibits animals who "constitute a danger to the safety of others"—the agency assured PETA that the circus wouldn't be allowed to transport elephants into the state.
Likewise, in 2019, after PETA alerted officials to Garden Bros. Circus' plans to exhibit elephants in Corbin despite a local ordinance prohibiting it, KDFWR officials forbade the circus from transporting the animals into the state.
The year before, elephant handler Anthony Frisco, who was traveling with Garden Bros., was charged with several violations of Kentucky law for failing to comply with the terms of his captive-wildlife permit.
Six other states have laws that ban the use of elephants or other animals in circuses and traveling shows. Numerous cities also ban traveling animal shows. In 2021, Charlotte, North Carolina, and Boise, Idaho, became the latest cities to ban such acts.
Take Action to Help Prevent Animals From Suffering in Circus Shows
Keeping far-ranging tigers inside cramped cages, forcing sensitive elephants to perform uncomfortable tricks under the threat of punishment, and dressing up curious bears in demeaning costumes are forms of speciesism, a human-supremacist worldview. Shriners International claims to be dedicated to compassion and service to others, yet its member clubs continue to host notoriously cruel animal circuses.