Every year, thousands of nonhuman primates are transported from countries such as China, Mauritius, and Vietnam to the U.S. and European Union to be imprisoned in laboratories and tormented in experiments. Some are bred in captivity on cramped, squalid monkey factory farms, while others are stolen from their families in the wild.
The traumatized monkeys are crammed into small wooden crates and transported in the dark and terrifying cargo holds of planes, often on passenger flights just below unsuspecting customers for as long as 30 hours.
Following these fateful flights, the primates are trucked to notorious for-hire animal testing companies like Shin Nippon Biomedical Laboratories, Covance, and Charles River Laboratories or horrendous monkey dealers like Primate Products. These facilities subject some of the animals to painful experiments, and sell others to universities, federal facilities, and private laboratories, where they are imprisoned in tiny cages, cut into, poisoned, crippled, addicted to drugs, shocked, and killed.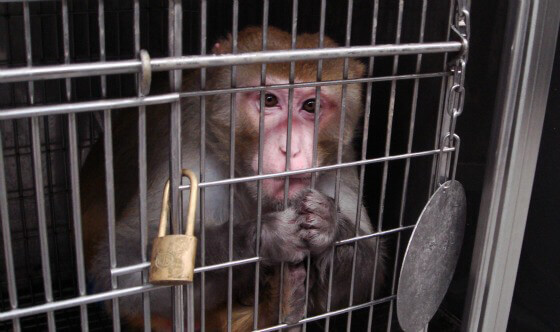 Almost every major airline in the world—including Delta Air Lines, American Airlines, United Airlines, US Airways, Air China, China Eastern Airlines, China Southern Airlines, TAM Airlines, El Al Airlines, Philippine Airlines, Hainan Airlines,  Vietnam Airlines, and dozens of others—refuses to take any part in this violent industry and prohibits the transportation of primates to laboratories. Some carriers, including UPS, FedEx, Cathay Pacific, and Korean Airlines, won't transport any animals to laboratories. You can find a complete list of airlines that have confirmed to PETA that they DO NOT fly monkeys and other primates destined for laboratories or laboratory suppliers here.
PETA's Air Cruelty campaign has flown from victory to victory and prompted a massive compassionate shift in the passenger and cargo industry. As a result, suppliers are finding it difficult to transport monkeys to laboratories and experimenters are having a much harder time getting their hands on primates to abuse in cruel experiments. This is critical because, historically, between a quarter and a third of all primates kept in U.S. laboratories each year have been imported from overseas. Government figures reveal that in recent years, there have been significant decreases in the numbers of primates imported by U.S. laboratories as well as a drop in the numbers of primates experimented on. Simply put, this means fewer monkeys are suffering in laboratories and more primates are enjoying their freedom in the wild.
Please speak up for the monkeys who are still suffering in the primate trade. Take a minute of your time now to click the following links and urge airline CEOs whose companies still transport monkeys to laboratories to join their colleagues and adopt a formal policy against the transportation of nonhuman primates for use in experiments: