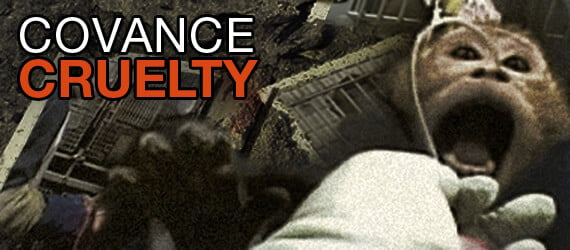 For nearly a year, a PETA investigator worked undercover inside a Virginia laboratory owned and operated by Covance, one of the largest animal testing companies in the world. Our investigator documented unthinkable abuse and miserable conditions for the hundreds of monkeys who were unfortunate enough to be imprisoned in this facility.
PETA's investigation revealed that workers at Covance were striking, choking, and screaming curses at confused and terrified monkeys. Our investigator saw injured and sick monkeys who were deprived of veterinary care and primates who were slammed into their cages and sprayed with pressurized hoses.
As a contract research corporation, Covance will test any product—including chemicals, drugs, pesticides, cosmetics, and other household products—on animals for any company with enough money to pay it to do so. As part of these tests, small monkeys are forced to endure a crude procedure called "gavage,"in which thick plastic tubes are forced up their nostrils and down their throats in order for experimenters to pump experimental substances into their stomachs.This procedure causes the animals to choke, gag, and sustain bloody noses.These types of cruel tests are often designed to see how much of a substance will make the monkeys sick, and they explicitly forbid veterinary intervention, even if the animals begin to exhibit symptoms of extreme pain or discomfort.
Primates are normally very social animals, but in Covance's laboratory, they are isolated in tiny barren, stainless-steel cages. PETA's investigator observed several primates who were exhibiting stress-induced neurotic behavior such as incessant rocking and spinning. Many monkeys bit their own flesh and pulled out their own hair as a result of being locked in this horrendous environment and of Covance's failure to provide these highly emotional and sensitive animals with meaningful psychological enrichment or socialization.
Soon after the shocking undercover investigation concluded, Covance filed desperate lawsuits against PETA and PETA UK to try to prevent the dissemination of the video footage and other evidence of abuse and violations inside the company's laboratories. During court proceedings, a British judge stated that the video footage was "highly disturbing" and that there was a legitimate public interest in PETA's investigation. Covance's attempts to muzzle PETA and PETA UK failed. The lawsuits were dropped in the U.S. and Europe, and PETAwas allowed to continue publicizing the evidence of cruelty and abuse that it had documented at Covance. In the U.K., Covance was ordered to pay PETA UK $290,000, and some of the money was even used to fund an anti-Covance advertising campaign.
Based on the video and photographic evidence produced during our investigation, PETA filed a complaint with the U.S. Department of Agriculture (USDA) alleging that Covance's inhumane treatment of animals violated the federal Animal Welfare Act (AWA). As a result of PETA's complaint, Covance was cited and fined for multiple violations of the AWA, including failure to give veterinary care to sick animals, pain relief to animals who had been subjected to painful procedures, and social and psychological enrichment to primates. The USDA also cited Covance for physically abusive handling of primates and numerous failures of the committee responsible for oversight of animal testing at Covance.
In recent years, Covance has been cited for additional violations, including leaving dogs to suffer from preventable dental disease; allowing monkeys to be housed outdoors in frigid weather, which resulted in frostbite; failing to notice that a monkey's leg had become trapped in the back of a cage, which caused the animal to be unable to access food for several days; and keeping primates in isolation, which fails to meet the basic psychological needs of these highly social and intelligent animals.
Fortunately, demand is declining for Covance's cruel services, and the company has since closed the Virginia laboratory where PETA's investigation took place. Covance has also announced that it's closing another animal testing facility that PETA had vigorously campaigned against and is laying off employees elsewhere.
But PETA has not stopped keeping the pressure on Covance for using cruel and archaic animal tests and violating federal animal-protection law.
PETA regularly introduces shareholder resolutions at Covance's annual meetings urging the company to take meaningful steps to ensure that it is using alternatives to animal testing whenever possible and is in compliance with federal law. In addition, PETA is actively campaigning to end the shipment of monkeys to Covance—one of the U.S.' largest importers of primates for use in experiments—and other cruel facilities.
You can help us stop the flow of monkeys to Covance and other laboratories by contacting the few remaining airlines that still ship primates to laboratories and urging them to end this cruel practice.