Update: October 28, 2021
In a powerful opinion piece in The Washington Post, noted Fordham University theologian Charles Camosy agrees that the dog experiment reportedly funded by the National Institute of Allergy and Infectious Diseases (see details below) is appalling—and calls on regulators to work with PETA to implement our strategy for ending animal experiments and supporting modern methods instead. Here's an excerpt from the op-ed:
As the animal protection group People for the Ethical Treatment of Animals has noted, those concerns go well beyond dogs to seven national primate research centers around the country. PETA calls for a Research Modernization Deal in which the best scientific work can be done without cruelty to our fellow creatures. . . . PETA is right about the need to find a new NIH director to replace the outgoing Francis Collins who will shut down research that violates the dignity of nonhuman animals. Bipartisan pressure, not virtue signaling, is needed to actually make it stop.
Please take action below to help ensure that the U.S. modernizes its research methods and ends decades of cruel and wasteful experiments on animals.
Originally published on October 25, 2021:
National Institute of Allergy and Infectious Diseases Director Anthony Fauci has come under public attack over torment funded by his agency. This is President Joe Biden's chance at change—it's never been clearer that Fauci's next boss must be pro–modern science and anti-animal testing. New reports allege that Fauci's National Institutes of Health (NIH) division greenlit tests in which experimenters drugged beagle puppies and locked their heads in cages filled with hungry, infected sandflies. The drug tests were apparently executed even though the Food and Drug Administration doesn't require new drugs to be tested on dogs.
Fauci's agency's reported experiments on dogs are just the tip of the iceberg: At NIH, the rot runs deep and it goes to the top. But PETA has the solution. It's called the Research Modernization Deal: Developed by PETA scientists, it outlines the failure of animal experiments and provides a strategy for eliminating them.
"I think everybody who heads an NIH agency right now should resign," said @peta senior VP @kathygfrompeta after reports of cruel experiments on dogs funded by tax-payer dollars, on Monday's "American Agenda". pic.twitter.com/PA8O0bbAbh

— Newsmax (@newsmax) October 25, 2021
NIH is mired in bad science that's demanded by animal experimenters themselves. These puppies' torment is just a sliver of the full scope of NIH's cruelty—which PETA has been exposing for years. In 2019, while appearing on Tucker Carlson Tonight, PETA Senior Vice President Kathy Guillermo discussed how NIH wastes billions in tax dollars on cruel, useless animal experiments. Referring to the agency's squandering of tens of billions of taxpayer dollars on painful and deadly experiments on animals that do nothing to advance our understanding of human health, Guillermo said that "it's a scam of the highest order."
For months—well before his resignation announcement—PETA had been calling for NIH Director Francis "Blind Eye" Collins to be fired. Now, with Collins soon to be on the outs, we have a rare opportunity to influence the course of scientific research in the U.S. and help end decades of cruel and wasteful animal experimentation—and we must seize it. For these beagle puppies and other dogs …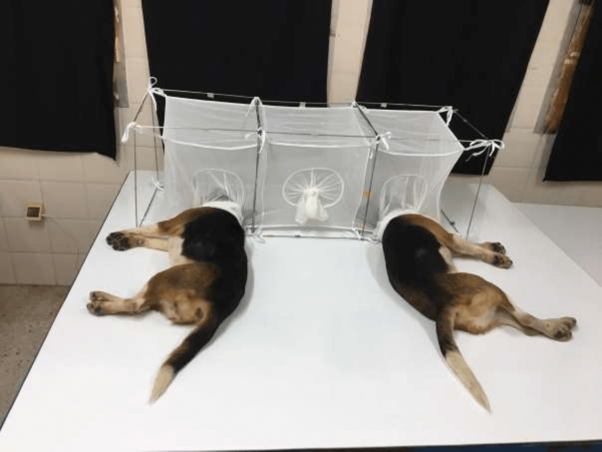 … for the monkeys who are held prisoner at the seven remaining U.S. National Primate Research Centers and deserve so much more than to be experimented on and killed …
… for the brain-damaged monkeys Elisabeth Murray and other NIH experimenters terrify with fake but realistic-looking snakes and spiders as part of a decades-long project that has cost you and other taxpayers $47 million and has not led to a single cure or even treatment …
… and the countless other animals imprisoned in government laboratories, we must urge Biden not to hire another "dinosaur" of an NIH director.
"Despite pleas from patients, animal experts, and forward-thinking scientists, past NIH leadership has not been willing to change the agency's reliance on failing animal models," PETA neuroscientist Dr. Emily Trunnell said in a statement. "PETA is calling on President Biden to appoint a new NIH director who is not only visionary but also willing to make the decisions necessary to put the U.S. back at the forefront of biomedical innovation."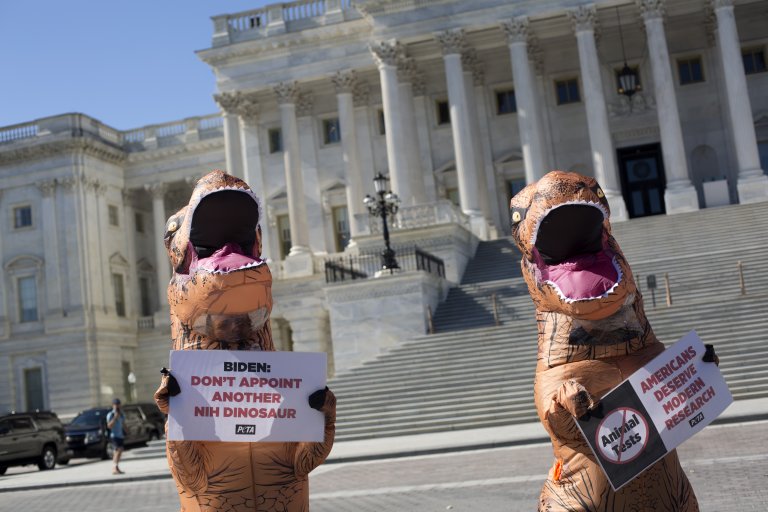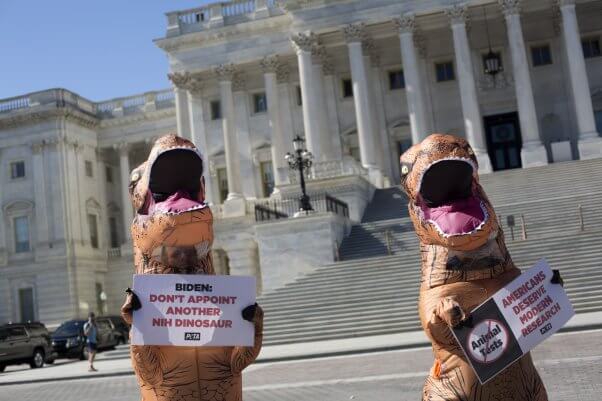 If you're a U.S. resident, please help us flood Biden's inbox with messages urging him to appoint a director who's committed to bringing the agency into the 21st century by investing in cutting-edge, animal-free research methods. As the Biden administration gears up to appoint new NIH leadership, please take a minute to urge the president politely to choose well:
This

👆 action is limited to U.S. residents. Regardless of where you live, keep reading for another easy and effective way to speak up for animals.
It's crucial that the president appoint a new NIH director who puts America's health first and firmly says no to all the animal experimenters who have been driving policy at the agency for the last decade. The areas that can actually help humans must be funded, including epidemiological studies, in vitro work using human cells, integrative modeling and molecular simulations or three-dimensional printed human tissues, cell-based assays, and organs-on-a-chip. PETA's Research Modernization Deal addresses all this and more. Click below to leave polite comments on NIH's Facebook page urging it to stop throwing away tax dollars on cruel and useless animal experiments and instead focus on modern, non-animal research methods: