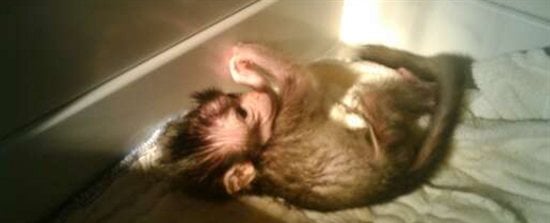 A distraught whistleblower from Shin Nippon Biomedical Laboratories (SNBL), a notorious Everett, Washington-based animal testing conglomerate, contacted PETA to reveal shocking allegations of mistreatment of animals used in painful and lethal experiments. The whistleblower weighed her concerns for her job and fear of retaliation against the suffering and deaths of animals that she witnessed every day at SNBL and repeatedly appealed to SNBL managers and supervisors to improve conditions for animals in the company's laboratories. After those pleas were ignored, she felt compelled to contact PETA.
SNBL torments tens of thousands of primates, dogs, rabbits, and other animals every year to test products for other companies. It force-feeds animals experimental chemicals to intentionally sicken and kill them and infects them with debilitating diseases.
SNBL is the third-largest importer of primates in the U.S., purchasing nearly 3,000 monkeys every year from China, Cambodia, Israel, and Indonesia—some snatched from their homes and families in the wild—for use in experiments.
According to the whistleblower, in one experiment at SNBL, monkeys were hooked to their cages with a metal tether through which ice-cold saline solution and test compounds were continuously dripped into their veins. The monkeys were kept like this for many months and reportedly were so cold that they shivered and their teeth chattered non-stop. Monkeys had blood drawn from their arms many times a day, resulting in swelling, redness, and bruising of their limbs. These wounds were considered "routine" and were never treated. After the first few blood draws, the monkeys' veins were damaged, and workers would poke and dig around in the limb to find others. The monkeys winced, screamed, trembled, and shook, and tried to defend themselves. The whistleblower said, "Eventually, many of the monkeys stop fighting and reacting … it is like the life is gone from them."
While working at SNBL, the whistleblower observed workers handling the monkeys so violently that the animals suffered bloodied noses, broken fingers and toes, and bruises to their bodies. Their tails were bent or deformed because workers slammed cage doors on them. The employees also allegedly banged loudly on the monkeys' cages to frighten and intimidate them into being quiet. Managers and supervisors apparently knew of this ongoing physical and psychological abuse of monkeys but refused to stop it.
The whistleblower also reported that monkeys were tied for many hours in restraint chairs with their arms and legs kept entirely immobile as drugs were injected intravenously over the course of a day. The whistleblower said, "The monkeys fight continuously for hours to loosen the ropes … it is just too much for them." Some monkeys collapsed in the restraint chairs and never recovered.
A USDA report from 2011 documented that 78 percent of the monkeys at SNBL are caged alone—in violation of federal law—unable to touch or interact in any way with other monkeys. This is so distressing to monkeys that they develop stress-induced abnormal behaviors such as self-mutilation, incessant rocking, and hair-pulling.
Like the whistleblower, federal inspectors have also found cruelty and neglect inside SNBL's laboratories. U.S. Department of Agriculture inspection and investigation reports reveal hundreds of violations of the federal Animal Welfare Act. The company was recently assessed fines of $31,000 and $12,900 for denying veterinary care and adequate pain relief to suffering animals and failing to ensure that experiments were not duplicated. SNBL also made headlines in 2008 after a whistleblower revealed that a monkey had been boiled to death when her cage was put into a high-temperature cage-washing machine while she was still in it. In 2010, the FDA cited SNBL for failing to ensure that employees charged with providing care for the thousands of animals at SNBL were properly trained.
SNBL's customers—the companies for which it conducts tests on animals—include Pfizer Pharmaceuticals, Eli Lilly, AstraZeneca, Genentech, and Seattle Genetics. Several government agencies—including the Department of Defense, the Centers for Disease Control and Prevention, and the Department of Health and Human Services—have signed contracts with SNBL worth more than $1 million. And, SNBL profits from the importation and sales of monkeys for use in experimentation.
Please take a stand for the monkeys imprisoned at SNBL by calling on airlines to stop transporting primates destined for laboratories.