Today is a day for celebration! A senior official from China Southern Airlines (CSA) has just sent an e-mail to PETA announcing that the airline will immediately "stop transporting live primates for laboratory experiments on all flights."
The airline had been the target of relentless PETA campaigns by PETA entities worldwide, which included protests in Bangkok, Chicago, Hong Kong, London, Tokyo, and elsewhere. Activists in Los Angeles held regular protests at CSA's office there. PETA entities coordinated dozens of actions in which our supporters flooded CSA with more than 100,000 e-mails and telephone calls asking it to stop shipping primates to laboratories, where they would suffer and die in experiments. Some of these call-in actions happened as recently as this week.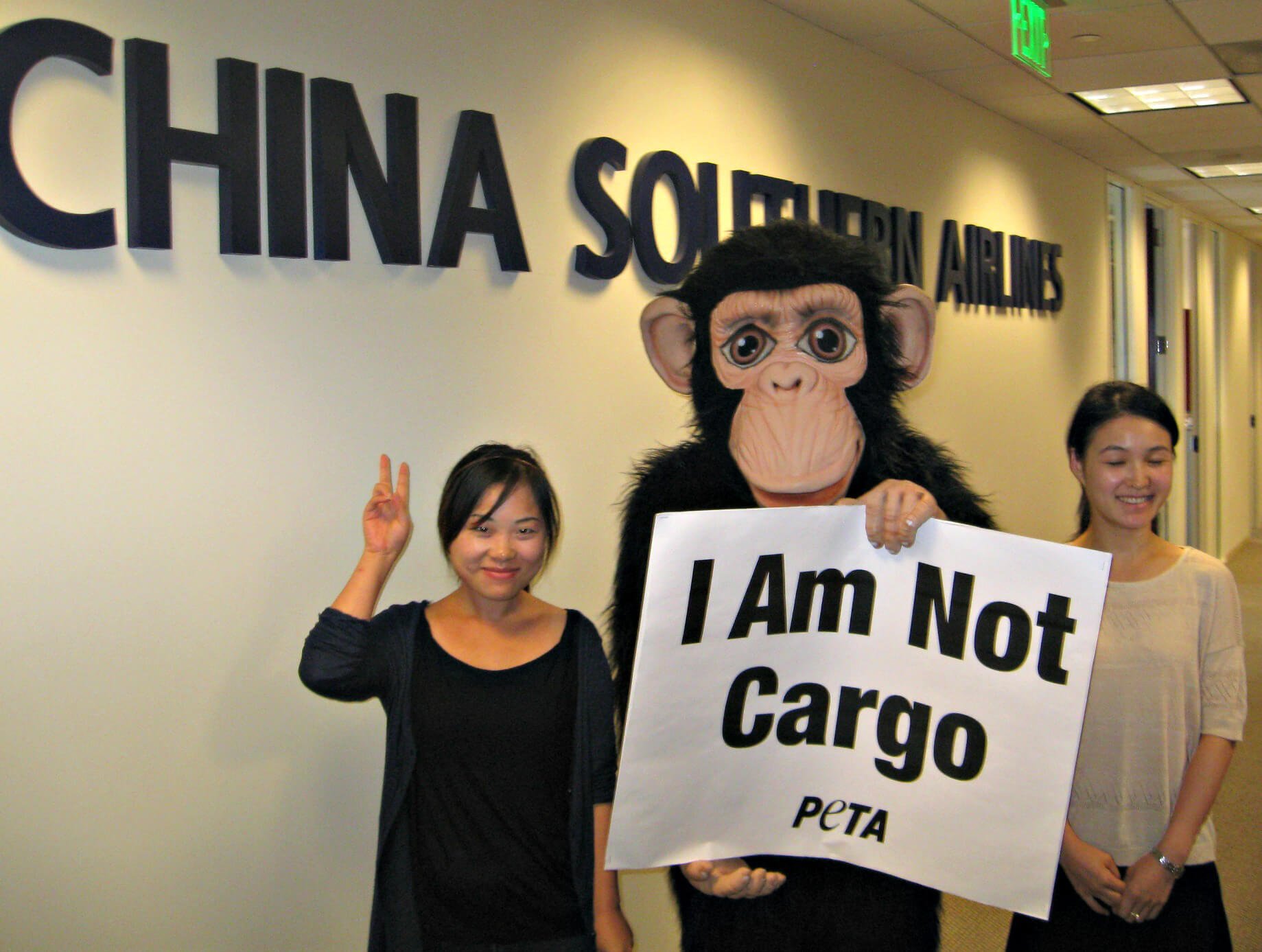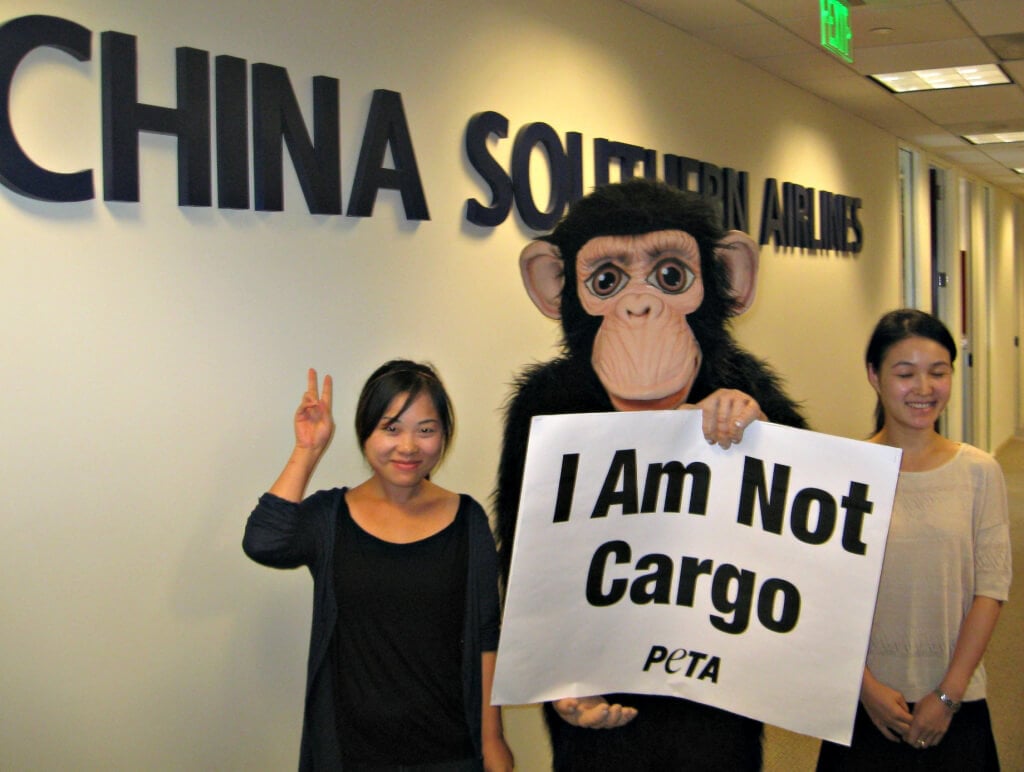 Pamela Anderson sent a letter on PETA's behalf to the airline pleading for it to stop shipping monkeys to laboratories. PETA also purchased CSA stock with the intent of using our position as a shareholder to change corporate policy about shipping primates to laboratories.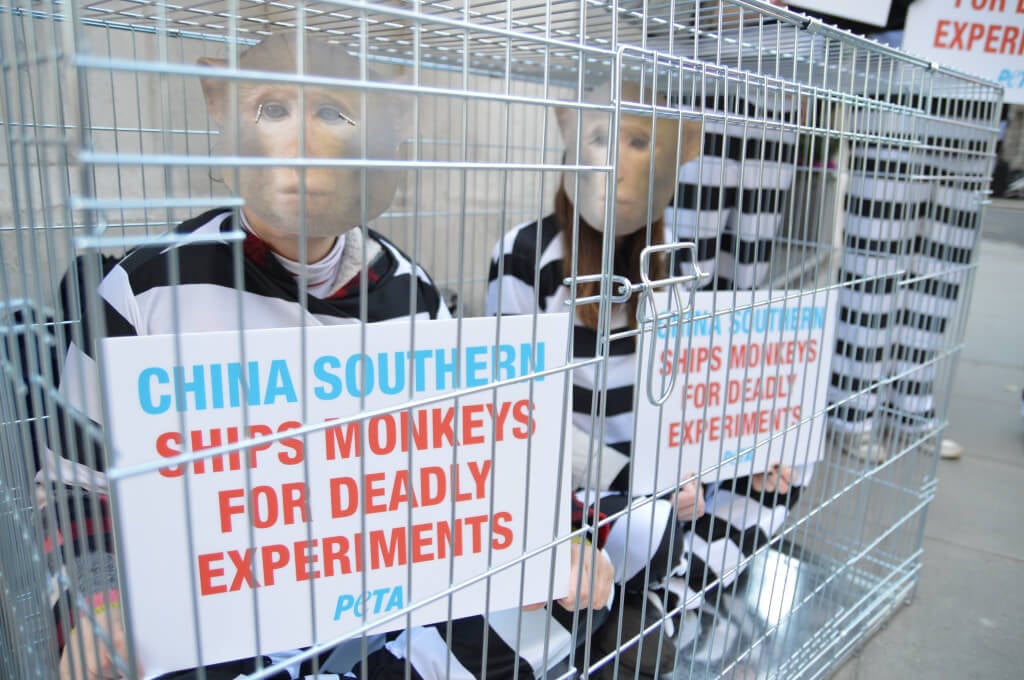 In December, PETA placed a billboard targeting CSA outside the airline's cargo office at Chicago O'Hare International Airport, where all of the more than 2,500 primates on CSA flights came into the U.S. last year.
Among the laboratories that CSA shipped monkeys to was the notoriously cruel Covance, where a PETA investigator documented that monkeys had tubes forced down their throats so that experimental substances could be pumped into their stomachs.
In its e-mail to PETA, CSA states that the airline will now "play a supporting role for animal protection and welfare in conjunction with PETA."
CSA was the only major commercial airline based in China that still shipped primates to laboratories, and its policy change leaves Air France as the only major airline left in the world that is willing to ship monkeys for use in experiments. It will now be extremely difficult and costly for experimenters to get their hands on monkeys to torment. Thanks in large part to the hard work of PETA members and supporters like you who e-mailed, called, and protested, more monkeys will remain in their natural habitats with their families instead of being captured and imprisoned at decrepit breeding farms and in terrifying laboratories.
What You Can Do
Please tell Air France to stop shipping monkeys to laboratories.