If you've watched the Netflix series Tiger King: Murder, Mayhem and Madness, you may have heard about some of the roadside zoos mentioned below. These cruel tourist traps exploit tigers, lions, and other animals for profit, causing lifelong suffering that is only briefly touched on in Tiger King. Vacationers who spend money on these archaic exhibits keep them in business, and animals will continue to suffer as long as people keep heeding the call of highway billboards and pulling over. Don't be swayed by speciesist places that tack on the word "sanctuary" or "rescue" to their name—it's a deceptive ploy that many roadside zoos use to dupe unwitting visitors.
Be sure not to spend any of your vacation time at places where animals will still languish in misery long after you're back home. View our interactive Google Earth presentation with Chrome to see if any hellholes exist near you:
Here are a few of the grimmest spots for animals:
Alligator Adventure
North Myrtle Beach, South Carolina
Reptiles aren't regulated under the federal Animal Welfare Act (AWA), so hundreds of alligators, crocodiles, snakes, and other reptiles at Alligator Adventure are afforded no protection. Alligators live in crowded enclosures, where they have to fight for food and "death roll"—the term for what the animals often do to kill prey—each other. Many alligators are missing limbs. Employees attempt to break up fights by hitting the animals with large sticks. Workers also tear baby alligators away from their mothers and tape their mouths shut for shows and public encounters.
Also at Alligator Adventure, visitors have observed a cougar pacing, which is a sign of psychological distress. The owners confine many other animals––such as a bobcat, kookaburras, and scarlet macaws––to small, barren cages.
Barry R. Kirshner Wildlife Foundation
Oroville, California
The Kirshner Wildlife Foundation has a long history of acquiring infant animals torn away from their mothers. Since 1995, it has acquired over 100 baby wild animals from breeders and other roadside zoo operators. The facility also has a history of abuse, attacks, escapes, and fines for violating state and federal laws as well as evidence of an inability to meet the country's minimum standards for animal care.
Cherokee Bear Zoo and Santa's Land
Cherokee, North Carolina
Cherokee Bear Zoo and Santa's Land—two roadside zoos located on tribal land in western North Carolina—keep bears and other animals in grossly inhumane conditions. As if they were stuck in the 1950s, these facilities display often neurotic bears in desolate concrete pits or cramped cages.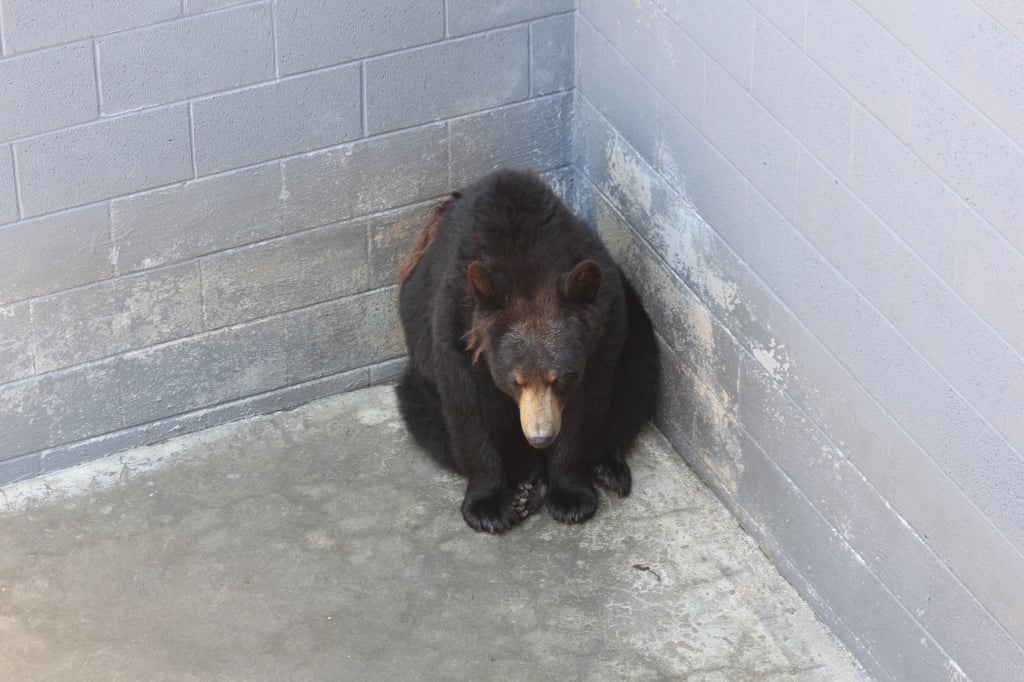 Clark's Trading Post
Lincoln, New Hampshire
Clark's Trading Post confines North American black bears to grossly undersized and barren concrete pits and forces them to ride scooters, be pushed on a swing, and eat ice cream from a spoon.
Hovatter's Wildlife Zoo
Kingwood, West Virginia
Hovatter's allowed an alpaca's teeth to become so overgrown that the animal's ability to eat was impaired, and it failed to provide young lion cubs with adequate nutrition. The feds cited the roadside zoo for failing to provide chimpanzees with adequate enrichment after PETA filed a complaint, which presented evidence that the chimpanzees had experienced hair loss—possibly as a result of over-grooming caused by a lack of stimulation—and that one chimpanzee repeatedly sucked on his hand for over 30 minutes.
Lagoon Amusement Park
Farmington, Utah
The feds have slapped Lagoon Amusement Park with various citations for violating the AWA, including repeated ones for inadequate veterinary care, filthy enclosures, and inadequately trained staff. The owners confine a solitary lion to a tiny, barren concrete cage next to a screeching steam train and surrounded by roller coasters packed with screaming crowds. They also keep numerous other species—such as a camel with drooping humps, which can be a sign of weight loss or dehydration—in small, bleak pens.
MarineLand
Niagara Falls, Ontario, Canada
MarineLand displays beluga whales, dolphins, sea lions, and walruses in cramped tanks. The infamous marine park has imported beluga whales and dolphins abducted by humans from their ocean homes, and visitors are allowed to feed and touch the belugas throughout the day. The park also keeps bears, deer, bison, and elk confined to cages, surrounded by noisy roller coasters and other theme park rides. An investigation conducted by the Toronto Star detailed widespread reports of negligence, cruelty, and mass animal graves.
Natural Bridge Zoo and Virginia Safari Park
Natural Bridge, Virginia
The Natural Bridge Zoo keeps a lone elephant named Asha, who has spent years without the company of another elephant. During the winter, she's locked inside a cold, damp barn, and in the summer heat, she's forced to walk in endless circles while giving rides. The roadside zoo has been cited for nearly 150 violations of the AWA, including for denying dozens of animals adequate veterinary care, withholding food from bears, confining animals to mud-filled enclosures, and using cubs who were too young to be handled and others who were too big and strong for photo ops. The U.S. Department of Agriculture USDA has ordered Natural Bridge Zoo to pay more than $20,000 in federal animal welfare penalties and suspended its license on two separate occasions, and the Virginia Department of Game and Inland Fisheries has also suspended its permit because of unsanitary and inhumane conditions.
Nearby, at the Virginia Safari Park, workers subject animals to a pattern of mistreatment. In 2018, CEO Eric Mogensen was assessed a $99,999 civil penalty to settle an administrative lawsuit brought under the AWA alleging that animals at Virginia Safari Park and Mogensen's other facilities were denied veterinary care for diseases and injuries. This included a spider monkey named Jethro, who was euthanized after being left out for several days in frigid temperatures and not given timely veterinary care for frostbite he sustained as a result. The lawsuit also alleged that Mogensen had falsified records to cover up the intentional drowning of a wallaby by his daughter, who was convicted of cruelty to animals for the crime.
Oswald's Bear Ranch
Newberry, Michigan
At Oswald's Bear Ranch, the public handles bear cubs and uses the animals for photo ops. These highly disruptive practices often result in long-term psychological and physical issues. Breeders tear cubs away from their mothers and ship them to Oswald's. Observers have seen cubs pacing and crying out—signs of severe distress.
Bears at the facility have died after being trapped in a collapsed den, following a drug overdose, and from other undisclosed causes. Workers have also slaughtered at least six bears at Oswald's and told a state inspector that "mean" bears should be "harvested" and "made into jerky."
The Preserve
Fredericksburg, Texas
The Preserve is the grandiose rebranding of Have Trunk Will Travel (HTWT), an "entertainment" company that rented out elephants for movies, photo shoots, elephant rides, parades, and cheesy reality television shows. HTWT is on record endorsing the use of painful electrical shock devices called "hot shots" to discipline and control elephants. And HTWT trainers were caught on video beating endangered elephants, including a baby, with bullhooks and shocking them with electric prods.
Not a lot has changed for the elephants under the exhibitor's new name—trainers still wield painful bullhooks to intimidate the animals and force them to participate in photo ops as well as gimmicky "tricks" such as playing a harmonica, kicking a soccer ball, and painting with their trunks. No true preserve would ever force animals to perform for visitors.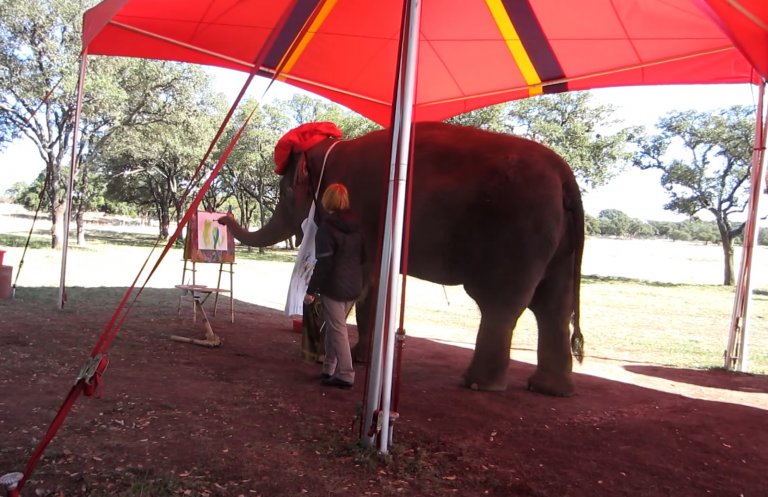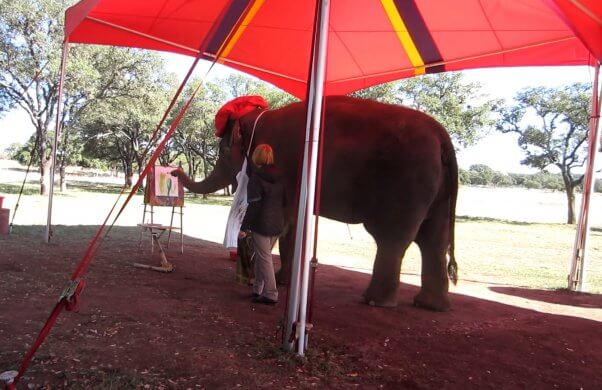 Pymatuning Deer Park
Jamestown, Pennsylvania
The feds hit this notorious roadside zoo with an official warning for more than a dozen AWA violations—including for confining visibly ailing bears to concrete pits, with no opportunities to swim, climb, dig, den, or engage in other types of natural behavior. Other violations included repeatedly failing to clean up animals' waste, failing to maintain a current veterinary program, and failing to have a sufficient number of adequately trained employees—among many other issues.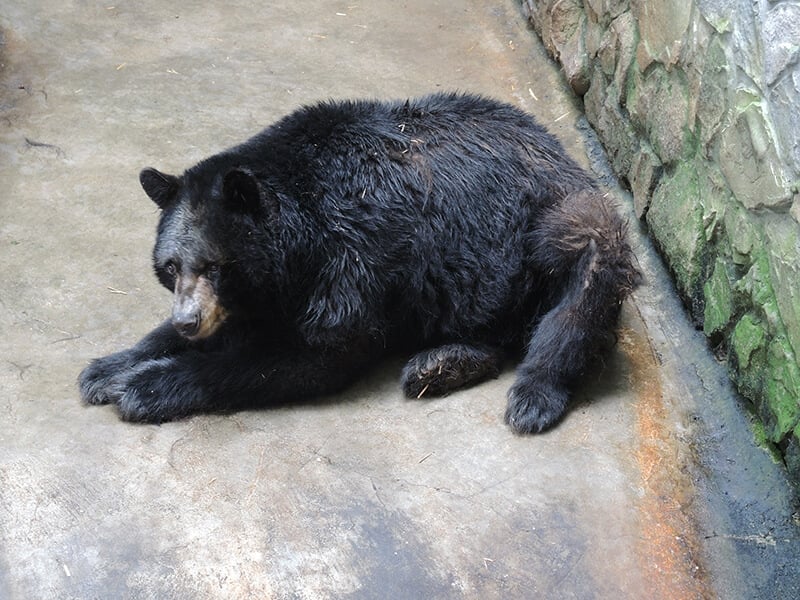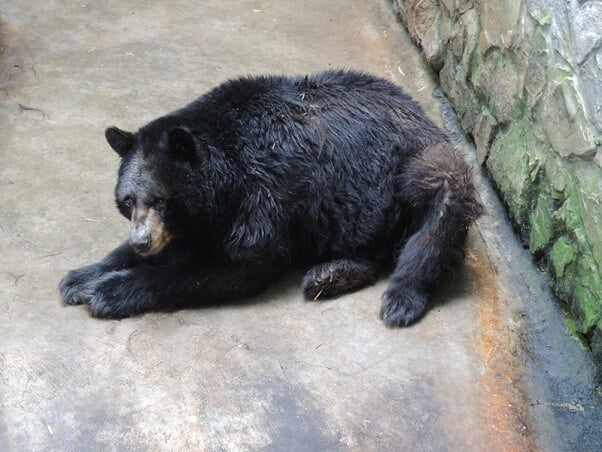 SeaQuest Aquariums
Multiple Locations
Nationwide, SeaQuest aquariums have popped up inside shopping malls, and in just a few years, the shady company has amassed dozens of reports of animal neglect, animal deaths, legal violations, and injuries to the public. Owners of SeaQuest imprison animals indoors, confining them to cramped and crowded enclosures. A steady stream of human visitors harasses the living, feeling beings—all so the exploitative business can make a profit.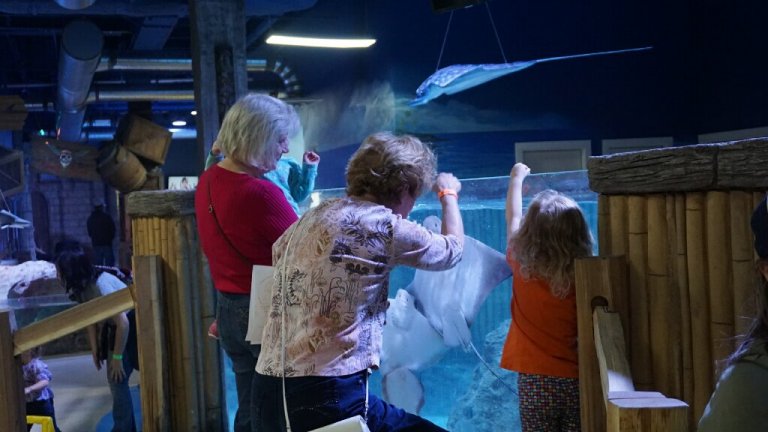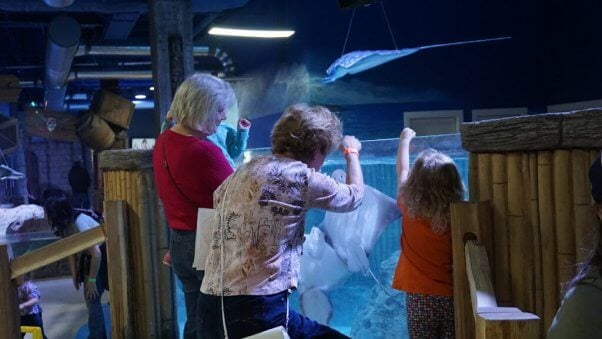 At SeaQuest's Las Vegas location—cited and fined $2,000 for illegally possessing four baby otters—former employees reported seeing birds stepped on and killed, turtles crushed by children, and an octopus boiled alive when the tank's water temperature changed. Officials suspended the state permit of the SeaQuest in Littleton, Colorado, after a series of state law and permit violations, including an incident in which a sloth sustained serious burns to his face from a heat lamp. And within a month after a SeaQuest opened in Folsom, California, a visitor reportedly found a dead stingray in a tank. Children were still touching the animal's lifeless body.
Are there any SeaQuest aquariums on your road trip itinerary? Click on the link below to view our interactive Google Earth presentation with Chrome to find out:
Suncoast Primate Sanctuary
Palm Harbor, Florida
PETA has campaigned against this decrepit hellhole for many years—dating back to when it went by Noell's Ark and then Mae Noell's Chimp Farm. This facility is by no means a "sanctuary"—rather, it's a roadside menagerie with a long history of AWA violations. Although license revocations are extremely rare, the USDA yanked the facility's exhibitor's license in 1999—yet the same roadside zoo, operated by the granddaughter of the original owners, opened a few years later under a misleadingly grandiose name. Repeatedly cited, the owners of the facility keep primates in rusty, dilapidated cages with jagged edges.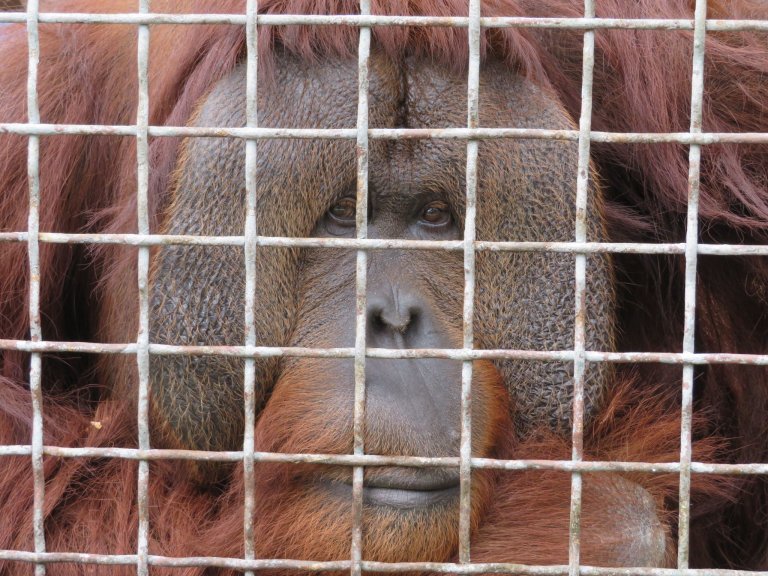 Three Bears General Store
Pigeon Forge, Tennessee
Three Bears General Store has a lengthy history of animal welfare violations, including failing to provide animals with adequate veterinary care and clean drinking water. The USDA has repeatedly cited Three Bears for failing to allow the animals to enter their dens during the day in order to escape public view or take shelter from inclement weather. The owners confine two Asiatic black bears to a virtually barren concrete pit, where they have nothing to do but pace back and forth and beg tourists for food. The two bears reportedly can't live together, so they each only have access to the deplorable outdoor pit by themselves for short periods each day and are otherwise confined to small spaces indoors.
In nearby Gatlinburg, there are yet more bear pits. Gatlinburg Wildlife Encounters keeps bears in similarly appalling conditions.
Tregembo Animal Park
Wilmington, North Carolina
PETA has been monitoring this roadside zoo—one of the worst in the country—for over 20 years. Visitors have documented the horrible living conditions for animals, including algae-filled water receptacles and cramped, filthy cages, and have even found bodies of dead and decaying animals on the property.
An eyewitness documented that the owners keep animals—in apparent need of veterinary attention—inside small cages. Video footage shows a limping guenon monkey, a fox and a donkey with hair loss, and a bobcat who appeared to have difficulty navigating up a structure. Many animals at this facility exhibit neurotic repetitive behavior patterns.
In 2017, after two North Carolina residents filed a lawsuit against Tregembo alleging that the roadside zoo's treatment of the bears Ben and Booger violates the state's anti-cruelty statute, officials moved both bears to a reputable animal sanctuary.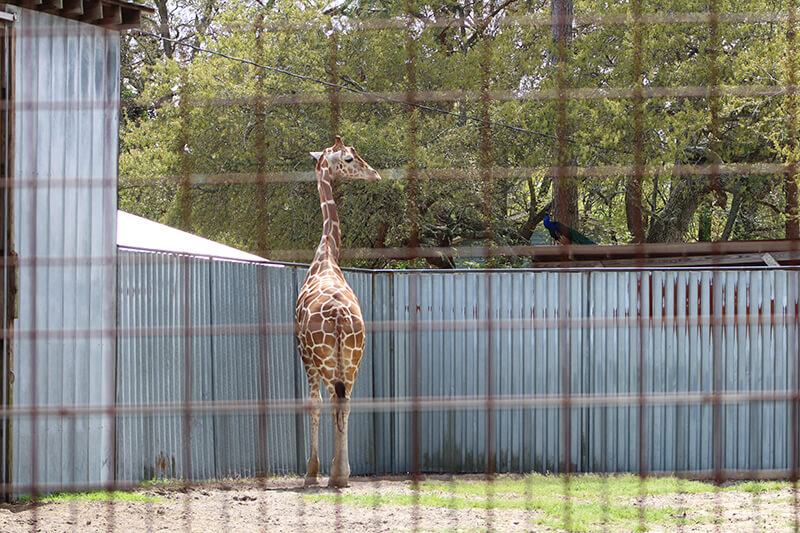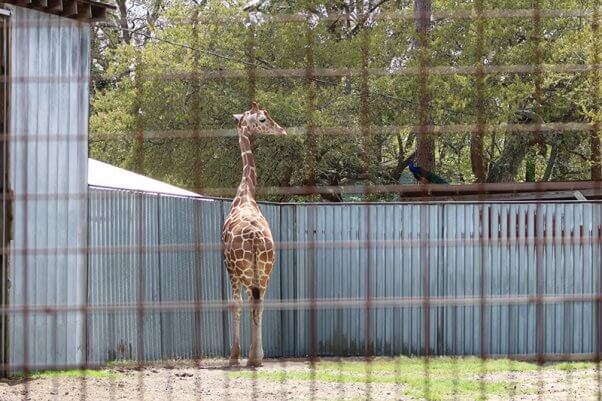 West Coast Game Park Safari
Bandon, Oregon
The owners relegated a teenage chimpanzee named George to a small enclosure at this highway roadside zoo after the entertainment industry cast him aside when he became too large to control. He shares the already cramped space with another chimpanzee named Daphne, who has spent nearly half a century trapped in inadequate conditions. West Coast Game Park also forces baby wild animals into photo ops, tearing sensitive bear and big cat cubs away from their nurturing mothers in order to make a profit. After PETA alerted the USDA to a suffering leopard named Ninja—found sucking on a raw, untreated wound on his tail—the agency cited the roadside zoo for failing to provide the animal with adequate veterinary care. On a follow-up visit, inspectors documented additional animals suffering, including a bear with extensive hair loss. A solitary peccary was also languishing at the facility with an inflamed eye and overgrown hooves. The USDA concluded that the safari park has a "pattern of personnel not performing adequate daily assessment of animal health."
---
Delightful Destinations
You won't be taking home anything but souvenirs and great memories from these stops: