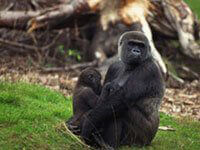 Whether a facility is called a "safari park," a "drive-through wildlife preserve," or a "game park," more space does not necessarily mean better conditions for animals.
At Georgia's Yellow River Game Ranch, obviously ailing animals were allowed to suffer without any veterinary care and bears were forced to drink contaminated pool water. Inspectors found the facilities in egregious disrepair.
Also in Georgia, the Wild Animal Safari failed to provide animals with open wounds with veterinary care. While two zebras were transported, one sustained a broken leg and the other a vertebral fracture. Instead of euthanizing the animals, both were shot. After a small primate escaped, he was also shot. In addition, inspectors found the body of a dead lion stored in the meat freezer.
Oregon's West Coast Game Park Safari also denied animals veterinary care, including a bear with extensive hair loss, a solitary peccary (also known as a javelina) with an inflamed eye and overgrown hooves, and a leopard who was suffering from a raw, untreated wound. The inspector noted that the zoo has a "pattern of personnel not performing adequate daily assessment of animal health."
Animals have suffered and died at Arkansas' Wild Wilderness Drive-Through Safari. A spider monkey lost the tips of his fingers, and baboons lost the tips of their tails to frostbite. The roadside zoo has been fined multiple times, but conditions for the animals remain dire.
African Lion Safari in Ontario, Canada, forces elephants to put on displays for visitors.
"Famous waving bears" beg guests to throw them a slice of bread at the Olympic Game Farm in Sequim, Washington, and Québec's Parc Safari forces ponies and camels to give rides and elephants, cheetahs, and other animals to perform.
Back Door Dealings
While a collection of animals may get customers through the front gate, some parks warehouse "surplus" animals for life or quietly ship them out the back door. Animals may be sold into the pet trade, advertised in swap sheets and on the Internet, or sold to exotic-animal dealers.
Bear Country U.S.A., a drive-through park in South Dakota, has sent bears to slaughterhouses for butchering. The owners pleaded guilty in federal court to selling bear gall bladders and other body parts illegally. An investigation revealed that 44 bear paws, 254.5 ounces of bear gall bladder, and 12 pounds of bear meat were sold. The zoo continues to operate.
"[The bears] were being harvested. They were slaughtering them …. It's kind of like running a puppy factory, but in this case, they're running a bear factory."
—U.S. Fish & Wildlife Service spokesperson
One of the owners of Wild Wilderness Drive-Through Safari pleaded guilty to transporting four adult tigers after selling the big cats to a facility in Missouri, where they were shot in a trailer. The new owners intended to sell their hides.
When your family hits the road, instead of going to a wildlife park or drive-through zoo, visit one of the great national parks around the country, where everyone—both human and nonhuman—can enjoy the freedom of nature.