For years, Kari and Gary Johnson operated Have Trunk Will Travel, a traveling exhibit that exploited Tai, Dixie, and other elephants for senseless Hollywood productions and various events. Observers documented that the Johnsons hit and yanked the elephants with bullhooks, weapons resembling a fireplace poker. When California banned the weapons, the couple moved to Texas and rebranded as "The Preserve." Don't be fooled by its misleading name—this facility forces elephants to stand on their heads, paint, play instruments, and perform other stunts under the threat of punishment.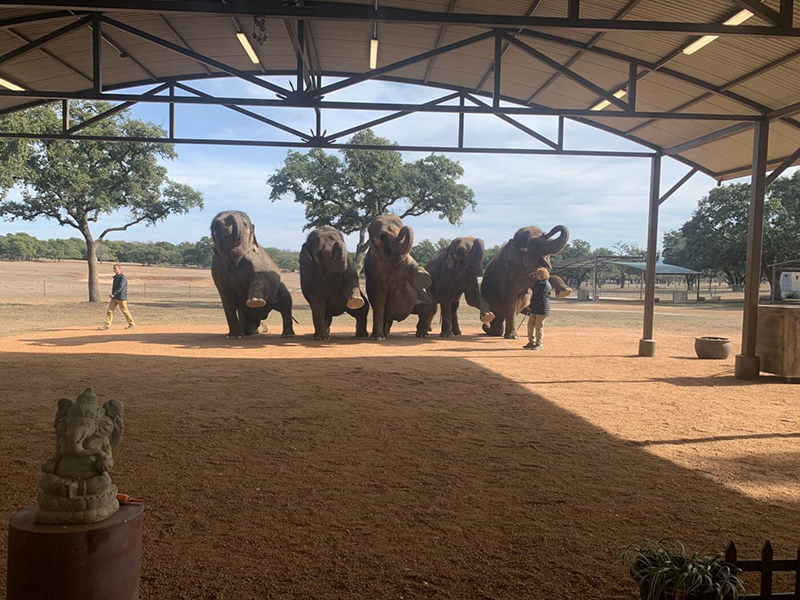 Tai and Dixie both died within months of each other at The Preserve, after spending their lives being forced to perform on stressful sound stages, do gimmicky circus-style tricks, and give rides. Both elephants were captured from their wild families in Asia as infants, then chained, beaten, and exploited for human entertainment.
[peta-video youtube="lkivcY_BBh8″]
When left in peace in their natural homes, elephants spend their days socializing, swimming, exploring, and playing. Just like all other individuals, they want and deserve to be free to be themselves. Forcing elephants to perform under the threat of violence is an egregious form of speciesism—discrimination based solely on species membership.
It's too late to grant Tai and Dixie the retirement that they so desperately needed, but The Preserve can still give the remaining elephants—Kitty, Rosie, and Becky—a retirement at an accredited sanctuary, where they would have the freedom to roam, forage, socialize, and play on their own terms.
Please send polite comments to:
Kari and Gary Johnson
[email protected]
Please feel free to use our sample letter, but remember that using your own words is always more effective.