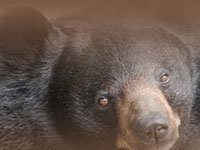 Update:  Relief—for Some—at Last!
Great news: Relief has come for six American black bears, three grizzlies and two Asian black bears who have spent years in misery at the Chief Saunooke Bear Park, a roadside zoo near Cherokee, North Carolina—until now. The bears have been moved to a comfortable, safe environment where they can now walk through tall grass, dig in the dirt, climb trees, take a dip in a pond, and just live as bears were meant to.
In 2012, a PETA investigator documented appallingly inhumane conditions at the zoo. The bears lived in concrete pits and were so stressed by their constant confinement that they continually turned in tight circles, paced endlessly, and broke their own teeth gnawing on the metal cage bars. Shortly after PETA's investigation broke, the U.S. Department of Agriculture (USDA) suspended the zoo's exhibitor's license and slapped it with a $20,000 fine. Chief Saunooke Bear Park is now closed for good.
This is a very happy ending for the bears at Chief Saunooke, but the fight is not over. Bears are still suffering in Cherokee. Please join us in asking the owner of the Cherokee Bear Zoo to retire the bears to a sanctuary.
***
According to Cherokee legend, black bears are the keepers of dreams. When observing the lives of the bears who have been relegated to the concrete pits of roadside zoos in the Qualla Boundary area of western North Carolina, one has no doubt that all these imprisoned bears are dreaming of their own freedom.
Three roadside zoos—Cherokee Bear Zoo, Chief Saunooke Bear Park, and Santa's Land—keep bears in grossly inhumane conditions, as detailed in PETA's 63-page bear welfare report documenting serious problems found by a team of bear experts at these facilities. As though locked in a 1950s time warp, these Cherokee facilities display neurotic, hungry bears in desolate concrete pits or cramped cages in which the animals pace back and forth, walk in endless circles, cry and whimper, and beg tourists to toss them a morsel of food.
Highly intelligent animals capable of empathy and a wide range of feelings, bears are active for up to 18 hours per day in their natural habitat and spend their time exploring diverse terrain. In the wild, bears forage for a wide variety of foods and dig in soft earth, brush, and leaves—but the concrete pits that the Cherokee bears are forced to call home deprive them of everything that comes naturally to them. Surrounded by four solid walls, the bears cannot scan the horizon, gain a perspective on their surroundings, or make much use of their acute sense of smell.
Cherokee's roadside zoos have made no effort to simulate the animals' natural habitat or provide them with stimulation. They have also been cited repeatedly by the U.S. Department of Agriculture for failing to meet minimal federal standards established in the Animal Welfare Act.
The cages lack any form of environmental enrichment, such as appropriate climbing structures, hidden food treats for foraging, barriers for privacy, and substrate for digging, resting, and nest-building.