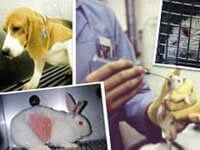 International Animal Testing Programs
PETA entities worldwide push international organizations, government agencies, and industries to reduce or ban animal experiments and replace them with modern, sophisticated non-animal test methods. One way in which PETA's efforts have had global reach is through its work with the International Council on Animal Protection in OECD Programmes (ICAPO), an advisory group to the Organisation for Economic Co-operation and Development (OECD).  ICAPO's efforts to integrate non-animal test methods into OECD test guidelines and programs have resulted in successes that have curtailed animal experimentation in many of the 34 OECD-member countries, sparing the lives of potentially millions of animals.
Read on to see the progress that PETA entities have made around the globe.
The European Union
Some rights for animals have been granted under the German and Swiss constitutions, and Europe has banned the sale of animal-tested cosmetics products. In addition, a Europe-wide directive requires the use of non-animal methods where they exist. With all this, it might seem as though animals in European laboratories were better off than those in the U.S. and elsewhere. But scratch the surface and you will see that the situation is more complicated than that.
Nonhuman Primate Experiments
Europe is home to some of the most shocking experiments on nonhuman primates ever to be documented. An undercover investigation in 2003 at the German branch of Covance, one of the largest contract-testing labs in the world, documented the horrific suffering of thousands of monkeys, who were subjected to a life of deprivation, fear, torment, and poisoning. Comparable conditions were also found in a U.S. Covance laboratory that PETA investigated the following year. A similarly deplorable chimpanzee facility in the Netherlands at the Biomedical Primate Research Centre (BPRC) was shut down after performing harmful experiments for years. With its closure, great apes are no longer used for research anywhere in Europe—and a recent European Union (EU) law has effectively banned tests on them in all foreseeable circumstances. However, the battle to end harmful research on other nonhuman primates and other animals is far from over. A documentary by VICE News revealed that monkeys are restrained, shaved, drugged, and experimented on at the BPRC in Rijswijk, which continues to imprison approximately 1,300 rhesus monkeys and marmosets. Officials are calling on the Dutch government to stop subsidizing the senseless suffering of all primates.
REACH
In 2007, the EU introduced a new chemical-testing plan known as Registration, Evaluation, Authorisation and Restriction of Chemicals (REACH), which has already led to the deaths of approximately 800,000 animals and is likely to kill millions more. As a result of heavy pressure from PETA and other animal protection organizations, the final law is less destructive than the original draft and contains some progressive elements—but data for around 25,000 more chemicals will still be required, and tests that consume thousands of animals per chemical may be demanded for many of these substances. PETA entities in the EU, along with PETA U.S. science and policy experts, are working hard to ensure that EU and industry officials take advantage of every opportunity to avoid animal testing under REACH. For example, in 2009, PETA U.S. and PETA U.K. spearheaded an effort to address the duplicative testing that was beginning to occur under REACH, and as a result, the European Chemicals Agency (ECHA) issued a clarification of the information requirements for manufacturers and importers of chemical substances under the REACH regulation—advice that has the potential to save the lives of more than 4 million animals. In 2012, PETA U.K. submitted a complaint to the European Ombudsman against ECHA accusing the agency of maladministration for failing to ensure that animal testing was conducted as a last resort, as required by law. Her decision, rendered at the end of 2014, has had enormous implications for preventing the suffering of millions of animals and confirmed that ECHA had failed in its mandate to use all tools at its disposal to ensure that companies minimized animal experiments. The Ombudsman issued clear direction for ECHA to request information from registrants to demonstrate compliance with the law when required and instructed ECHA to inform member states of all possible instances of noncompliance, not just proven violations. PETA and other members of the PETA International Science Consortium have also published articles in technical and trade journals and worked with the mainstream media to alert the public to the threat of REACH. PETA entities worldwide meet regularly with some of the world's largest chemical companies to promote the use of non-animal test methods for REACH and have also given money directly toward the development and scientific assessment of non-animal methods that could be used to replace animal tests under REACH, potentially saving tens of thousands of lives.
Accredited Stakeholders
With a wide breadth and depth of scientific and regulatory expertise, the PETA International Science Consortium has accredited stakeholder status with both the European Union Reference Laboratory for alternatives to animal testing (EURL ECVAM) and ECHA. EURL ECVAM plays a critical role in determining the scientific acceptance and regulatory use of non-animal testing methods within the EU as well as globally, and the consortium will continue to work with and influence its policy. As an ECHA-accredited stakeholder, the consortium is granted access to international regulators and meetings relating to REACH to encourage the replacement of animals wherever possible. Access to meetings such as these increases the consortium's ability to promote and fund reliable and relevant strategies to reduce and ultimately eliminate the use of animals in experiments.
Directive 2010/63/EU on the Protection of Animals Used for Scientific Purposes
In 2010, the EU passed new legislation regulating animal experiments in all of its 28 member countries. Nearly 11.5 million animals are officially used in scientific procedures in the EU every year, and the use of many other animals goes unrecorded. PETA entities in Europe worked to ensure that the best possible results were obtained for animals during the process of turning the proposal into law. While the new law falls far short of a comprehensive ban on animal experiments, it has improved controls on them in most countries of the EU. The law covers all vertebrate animals—including fish, mice, rats, and birds—and sets particular restrictions on the use of nonhuman primates. Like the old EU law that it replaces, the new law also requires that non-animal methods be used where possible and that the number of animals and the level of suffering be kept to a minimum in every experiment. In practice, such measures are often not implemented fairly and still allow terrible suffering to take place, but they do offer some degree of protection.
Cosmetics Testing
In 2013, all animal testing for cosmetics was banned in the EU, and an EU-wide ban on the sale of cosmetics products containing ingredients tested on animals went into effect. The sales ban means that cosmetics companies are no longer permitted to test cosmetics and personal-care products on animals (anywhere in the world) and then sell them in any EU country. This is one of the most enlightened and ambitious pieces of legislation on animal testing anywhere in the world, and it has helped drive innovation and the development of new, highly effective non-animal testing methods that are now being used to replace animals in experiments all around the world.
But despite the remarkable progress that's been made, ingredients used in cosmetics products may still be tested on animals in the EU under REACH. Regardless of the clear mandate from the public and international governments on this issue, the European Commission and ECHA are insisting that chemicals used in cosmetics can be tested on animals if there's a possibility of workforce exposure during the manufacturing processes. This means that animals will continue to suffer and die in tests for cosmetics ingredients.
PETA entities worldwide are determined to uphold the public's opposition to cosmetics testing and support the advancement of innovative, humane testing methods by pushing policymakers to uphold the law. It's essential that cosmetics ingredients manufactured and marketed in Europe never be tested on animals under any circumstances anywhere in the world.
India
PETA India works to replace animals in medical and veterinary training, product testing, and government-funded laboratories. As a result of PETA India's efforts, the Pharmacy Council of India now recommends the use of superior non-animal tools in labs and examinations, and the Medical Council of India removed the requirement for animal use in training. The removal of this requirement will make it possible to replace the use of animals in medical school curricula with sophisticated alternatives.
PETA India's campaign to replace the use of animals in dissection with effective software led to a decision by the University Grants Commission, the Indian university system's apex regulatory body, to advise all Indian universities to end dissection at the undergraduate level.
PETA India continues to work with government officials to bring India in line with internationally accepted testing methods. This effort got a boost in March 2011 when India was invited to become a member of the OECD, enabling PETA India to participate in ICAPO. Animal testing is reduced, refined, and replaced when OECD test guidelines are used, allowing member countries to accept tests without duplication, even when countries have varying regulatory requirements. Thanks to PETA India's many meetings and discussions with government and other Indian officials, the Ministry of Health and Family Welfare permanently banned the testing of cosmetics and their ingredients on animals as well as the importation of animal-tested cosmetics and their ingredients.
PETA India has exposed dreadful conditions for animals in laboratories—including those at the All India Institute of Medical Sciences (AIIMS), where monkeys were kept isolated and confined to rusty, cramped cages for many years, in violation of Indian law. Following PETA India's three-year campaign, AIIMS suspended all experiments on monkeys and sheep until improvements could be made and agreed to retire six monkeys immediately, rehabilitate others for retirement, and relocate the rest of the monkeys to a spacious enclosure where they would be able to live together and socialize.
The Future
Progress is being made to end the use of animals in laboratories. With your help, we can do even more. Get the facts and the information that you need to help animals here.