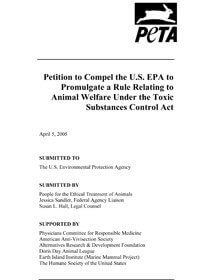 In 1999, PETA led the U.S. animal protection community in landmark negotiations with the White House that forced the Environmental Protection Agency (EPA) to issue guidance on steps that companies should take to avoid conducting new animal testing under the agency's High Production Volume (HPV) chemical-testing program. Since that time, PETA and the Physicians Committee for Responsible Medicine (PCRM) have filed detailed scientific briefs in opposition to hundreds of company proposals to conduct new animal testing.
After five years of documenting blatant violations of the EPA's animal welfare guidance by both the chemical industry and the agency itself, PETA filed a legal petition on April 5 to compel the EPA to issue a rule that would make this guidance enforceable under all of the agency's chemical-testing programs. PETA's petition was supported by PCRM, the American Anti-Vivisection Society, the Alternatives Research and Development Foundation, the Doris Day Animal League, Earth Island Institute (Marine Mammal Project), and The Humane Society of the United States.
Included in the petition are details of more than 50 test plans in which the EPA violated its own animal welfare guidance by, for example, recommending separate rather than combined tests (using twice as many animals), recommending the use of animals for genetic toxicity testing (even though non-animal genetic toxicity tests exist and could have been used), recommending testing of gases at explosive levels, recommending testing of naturally occurring substances found in fruits, vegetables, and nuts, recommending testing beyond the scope of the HPV chemical program, recommending that fish be exposed to chemicals that do not even dissolve in water, and recommending that animals be dosed with corrosive chemicals.
The EPA is required to provide a detailed response to PETA's petition with 90 days, after which we will consider what further legal action may be necessary.
Click here to read more about the High Production Volume (HPV) Chemical testing Program.