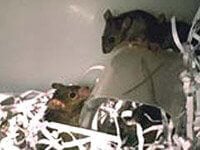 Following five months of discussions and campaign tactics—ranging from having a man in a bunny suit trail former U.S. Vice President Al Gore to public criticism from Sir Paul McCartney, Bill Maher, and Alec Baldwin—PETA and other animal protection organizations reached an agreement in October 1999 with the Clinton Administration that saved the lives of up to 800,000 animals. In addition, the agreement added animal protection measures to the Environmental Protection Agency's (EPA) High Production Volume (HPV) chemical-testing program, which was fast-tracked by Mr. Gore. The HPV program originally called for the testing of 2,800 widely produced industrial chemicals.
The agreement greatly reduced the number of animals used—original estimates indicated that up to 1.3 million animals of various species would be poisoned and killed—and set a precedent in the government's incorporation of non-animal methods into testing requirements. The following are some key points of the 1999 agreement:
No animal experiments should be performed when any validated method that does not involve the use of animals is reasonably available.
The testing of many chemicals will be delayed for two years to allow for the incorporation of promising non-animal tests, including a test to replace the crude and cruel lethal dose animal-poisoning tests.
The Department of Health and Human Services will commit $4.5 million and the EPA will commit $500,000 to develop non-animal testing methods over the next two years.
The EPA will recognize international chemical databases that it had previously ignored, thereby eliminating new tests on animals when relevant data on a chemical is available in the databases.
The EPA will accept a non-animal testing method to generate genetic toxicity data.
Toxicity tests that would have required 300 birds per test will not be conducted.
The EPA will examine the totality of information on chemicals and allow chemical companies to forgo conducting certain tests rather than require the old "check list" approach, which includes many animal tests.
The EPA will incorporate this approach into future HPV test rules, and animal protection organizations will be included in high-level meetings on this and future EPA testing programs.
A partial amnesty will be given to chemical companies to reveal and share testing data that they had previously withheld.
As a result of the agreement, PETA called off its national grassroots campaign against Mr. Gore for his role in fast-tracking the HPV program.
Click here to read the EPA's letter to HPV program participants outlining the above agreement.
Click here to read more about the HPV chemical-testing program.