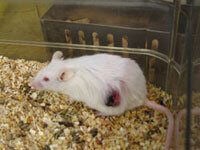 Update: PETA filed a formal complaint with the U.S. Department of Agriculture (USDA) regarding information from a whistleblower in 2007. It took the agency several years to complete its investigation, but we have now learned that the USDA cited the university for multiple violations of the Animal Welfare Act and issued an official warning, with the threat of substantial criminal or civil fines if the university continues to violate federal law.
In 2007, a veterinary technician at the University of Colorado–Denver (CU) turned to PETA when officials refused to address his serious charges related to the neglect and mistreatment of animals, including that sick and injured animals were being denied veterinary care, unqualified employees were conducting procedures on animals, animals used in painful surgeries were being denied adequate anesthesia, and the school's animal experimentation oversight committee was failing to monitor animal use properly. The employee reportedly saw a monkey with a prolapsed colon left to suffer for hours before she was euthanized, a cat whose eye was swollen shut denied veterinary care for nearly a month, a rabbit who did not appear to be fully anesthetized killed by having his heart punctured with a needle, and cats subjected to cruel and invasive back surgeries with apparently inadequate anesthetics by experimenter Moshe Solomonow.
After receiving this disturbing information, PETA immediately filed complaints with the university as well as the federal government and launched a campaign to end Solomonow's inhumane experiments on cats.
Following our exposé, we learned that the university stopped purchasing cats from Class B dealers who buy animals from "random sources," including animal shelters and unscrupulous "bunchers" who respond to "free-to-a-good-home" ads and collect dogs and cats from the neighborhoods in which they live.
We also discovered that after 40 years of experimenting on and killing cats, Solomonow hasn't used cats in nearly three years and appears to have no funding for his experiments.
But now PETA has uncovered evidence that despite the USDA's warning, CU continues to flout the law and abuse animals. Documents obtained by PETA through a Colorado Open Records Act request to CU reveal that animal welfare incidents, dozens of which may constitute violations of federal law and guidelines, have occurred in the university's laboratories since the USDA action, including the following:
A worker broke a rabbit's back as the animal struggled against restraint. The paralyzed rabbit was still used in an experiment before she was finally killed.
Experimenters induced cancer in animals and then ineptly cut off the resulting tumors, leaving the animals—who were given no pain relief—with large, gaping wounds.
Twenty guinea pigs died or were killed after a worker injected them with an antibiotic intended for rats.
Live mice and rats were found crawling in the freezer in which dead animals were discarded.
A careless employee dumped a box of live animals into the trash, where they died.
After reviewing evidence submitted by PETA, the National Institutes of Health (NIH) has reprimanded CU for repeatedly violating federal animal welfare guidelines in its laboratories—including failing to supply pain relief to animals used in experimental surgeries, permitting incompetent personnel to perform invasive procedures on animals, and putting living mice into a freezer meant for dead animals. NIH has also criticized CU for not reporting the problems and ordered the university to repay grant money used for noncompliant experiments on animals. The USDA's investigation into CU's laboratories is still underway.
PETA continues to fight for the thousands of animals who are still imprisoned at CU and has filed formal complaints with the USDA and the NIH calling for fines and the revocation of federal grants awarded to the university.
You can help animals who are suffering at CU and in other laboratories by clicking here to ask the federal government to divert tax dollars away from cruel animal experiments and put them toward modern and humane non-animal research methods.