https://www.youtube.com/watch?v=6sYjvm03S9k
Why Auburn?
PETA investigated Auburn University (AU) in Alabama after discovering that Iams had contracted with AU to collect pregnant dogs from hunters and breeding kennels and conduct a feeding study on the mothers and pups.
However, brucellosis, a disease that can be deadly if not treated, broke out, and according to an Auburn staffer, some of the puppies died. Iams stopped the study when it couldn't get rid of the disease.
While at Auburn, our investigator found a cabinet in a back corner containing shelves on which Iams stores bones from dogs, like Dewley, Daisy, and Buck, who were killed in a nutrition study some years back.
We were pleased to learn that Iams would not be repeating the project. And thanks to PETA and its supporters, as of October 2006, Iams is permanently abandoning experiments on dogs and cats conducted in outside labs like Auburn's, which is part of Iams' deadly history.
But PETA's investigator found more secret suffering in the lab to which he had been assigned.
Cruel Dog Experiments That Didn't Work
PETA's investigator was hired to work in the laboratory run by Clint Lothrop and Michael Tillson (who is married to the Iams' project veterinarian). These two experimenters have spent years transplanting kidneys between dogs, a wretchedly cruel project funded by the Morris Animal Foundation. Records show that most of the dogs in the experiments―including Posh, Sporty, Ginger, and Baby Spice, Will, and Grace―endured post-surgical misery associated with the transplants, often vomiting for days even though they could not eat and experiencing swollen and painful legs, bloody diarrhea, and so much pain that they couldn't even lie down.
Human kidney transplants are common, and cats seem to have few problems with the procedure, but dogs are different. Unless the dog undergoing the transplant is related to the donor dog and the blood typing is an exact match, there is little chance that the patient will survive. Not only that―the "research dogs" Lothrop and Tillson used experimentally were also very young, energetic dogs. Naturally, the only dogs who would get kidney transplants in the real world are already very sick. Lothrop and Tillson banked on the fact that many good people consider their companion dogs to be their children and will do anything for them. They peddled false hope that kept very sick dogs in misery until they died―and all of them died―and left their guardians broke and devastated.
False Promises for Clients With Cherished Dogs
After the funding from the Morris Animal Foundation stopped, it appears that Lothrop and Tillson were determined to continue their experiments―but this time using client dogs, which would enable them to skirt the federal Animal Welfare Act (AWA). Auburn began advertising its kidney transplant program in June 2004 by announcing its "revolutionary new canine kidney transplant procedure." In their news release, Lothrop and Tillson claimed that their new procedure "promote[d] increased tolerance of transplanted organs between unrelated dogs"―a claim never shown to be true. Lothrop and Tillson claimed that by destroying sick dogs' immune systems with radiation and transplanting donor dogs' bone marrow into the transplant recipients, the sick animals "may be able to live out their lives without taking high-doses of immunosuppressive drugs." Careful wording indeed. But the procedure doesn't work … and all the dogs are dead.
More than a dozen people whose dogs were dying of kidney failure contacted Auburn in the hope this much-hyped procedure would save their beloved dogs. From June 2004 until today, Lothrop and Tillson took approximately $14,000 from each of these people. To these desperate dog guardians, Lothrop and Tillson were like gods who were going to save their best friends.
The Final Days of Napoleon, Cutie, and Others
Napoleon was a bullmastiff taken in for a transplant. His suffering must have been almost unbearable, but Lothrop's callous and derogatory comments after Napoleon died in May 2005 have to be heard to be believed. Lothrop casually described Napoleon's condition to PETA's investigator: "[Napoleon] walked outside to pee and fell over. He had frank blood coming out of his butt with diarrhea, blood clots, you know, just sloughed a big section of bowel … and it stunk." Asked if the client would have to pay the full cost of the surgery, Lothrop replied: "Oh, yeah, I mean if your surgeon fucks up your surgery, he's still gonna charge your ass … I've had people just scream their fucking lungs [out] at me [when their dog dies, and I say], 'I'm sorry, so sorry. I feel so sorry. I know how much you miss her,' [when what I really want to say is], 'Now get the fuck out of here!'"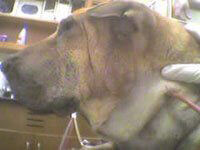 Cutie―a very sick Shar Pei―was taken to Auburn on June 25, 2005, for a kidney transplant. On July 8, our investigator reported that Cutie had pneumonia and had stopped eating. At that point, Lothrop and Tillson should have told Cutie's family that they would not put her through the rigors of an organ transplant. But they didn't. Instead, they put Cutie on dialysis, forcing her to lie still for hours on end attached to a kidney dialysis machine that they admitted they didn't know how to use properly. PETA's videotape shows Cutie foaming at the mouth as she slowly walked around the dialysis room before treatments.
Lothrop knew that Cutie had been vomiting blood and had lost weight over the weekend, despite the feeding tube that was surgically implanted in her. Seven days later, on July 15, our investigator reported a foul-smelling green discharge coming from Cutie's feeding tube, and Tillson told the staff to "keep an eye on it." On July 20, our investigator reported that Cutie had bloody sores on her nose, and staff guessed that it was from ramming her face into her cage bars in the middle of the night while trying to escape in order to avoid the mess caused by her own diarrhea. On July 29, Cutie's feeding tube was removed when the green discharge was found to be an extremely resistant strain of E. coli. Lothrop and Tillson had left a critically sick dog for 14 days with a raging E. coli infection.
On August 8, one worker guessed that AU had brought in $6,000 from Cutie's dialysis. As the dialysis technicians were trying to place a blood transfusion catheter in Cutie's rear leg, she became upset and tried to bite one of them. He yelled, "If you keep doing that, I'm gonna smack you in the head." The other worker called Cutie a "damn bitch" as she moaned in pain on the table. The following day, as Cutie lay on the table undergoing dialysis, the machine began to beep and Cutie began to shake violently. The machine had run out of acetic acid without either technician's having noticed. Cutie continued to suffer at Auburn, barely clinging to life―all because Lothrop and Tillson wanted to do another kidney transplant.
On September 8, Lothrop himself ran the dialysis machine on Cutie but was not able to do it properly, saying, "I haven't done [dialysis] in a while." Lothrop said that there was too much blood in the machine and not enough in Cutie.
On September 19, the investigator's log notes read: "Cutie died today during her hemodialysis treatment. I saw her alive for a few minutes at noon. 'C,' 'B,' and Lothrop had just begun her treatment and were having serious problems with the machine. Cutie looked to be very 'out of it' and her body was shaking."
Cutie's horrendous suffering never should have occurred. But it did―all because of two veterinarians who failed to abide by even the most basic veterinary ethical standards.
Apache's Story: From Beloved Companion to AU Research Tool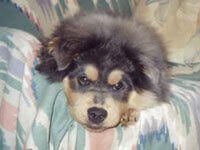 Even as a puppy, Apache was ill, and according to his guardian, he most likely had kidney problems from the time he was born. Even though his new guardian had a limited income, she wanted to do what was right for this little dog. She thought that she had found the answer when she discovered Auburn's dog kidney transplant program, but instead of getting him a long and happy life, all she and Apache got was more misery and heartbreak.
Initially, our investigator was relieved when blood tests showed that Apache and the "donor" dog, Murphy, were not a match. At least Apache wouldn't suffer as the other dogs had, and Murphy wouldn't suffer for "spare parts." But to our investigator's amazement, Lothrop told him that he didn't care what the results were―he was going to do the transplant anyway. Lothrop and Tillson took $14,000 from Apache's guardian, who said she would use her credit cards or get a home loan to pay Auburn's bill, and conducted the transplant on November 21, 2005. Apache died just days after the surgery over the Thanksgiving Day weekend.
Apache?s guardian has joined PETA in calling on Auburn to immediately put a stop to the transplant program, to reprimand Lothrop and Tillson for failing to adequately inform clients that their dogs had no reasonable chance of surviving the transplant and living normal lives, and to refund the tens of thousands of dollars that was bilked out of clients under false pretenses.
Heart and Other 'Experimental' Dogs
Heart was a beautiful black-and-white dog who died alone in her cage. She had spent five miserable years in Lothrop and Tillson's lab. When she was less than a year old―a healthy, vibrant puppy―her immune system was destroyed with full-body radiation, and her kidneys were switched with those of her sister, Oreo, who died just days after the surgery. Afterward, Heart went through a prolonged period of vomiting, swelling, bloody diarrhea, and inability to eat as her body struggled to accept Oreo's kidneys. She was put on anti-rejection drugs, then she spent the next five years living in a kennel at AU while her organs deteriorated. In May 2005, Lothrop and Tillson's staff found that Heart had an arrhythmia, but she was never examined after that time to make sure that the condition hadn't worsened.
Line was born at Auburn and died at Auburn. He suffered tremendously at the end of his life, and our investigator tried to comfort him as he lay listlessly in his small steel cage. A staff member who had known Line since his birth was sufficiently distraught that Line was being made to suffer over the Memorial Day weekend without any painkillers or euthanasia that he dared to address the dog's horrible condition with the Institutional Animal Care and Use Committee, a risky proposition that could have gotten him fired. Instead, the committee head, Dr. Michael Hart (formerly the head of the Iams study that had ended early because of brucellosis), ignored Line's condition and told the staffer that they would discuss the matter with Lothrop when he was back in the office. As he sat in front of Line's cage, the technician said to our investigator, "What are we doing for him? Are they just trying to get some results for their dialysis machine to see how it works? … Line has done more than his share in this life."
Ten Things That Are Very Wrong at Auburn
1. Dog guardians are misled about their animal companions' almost non-existent chance of survival and the pain and misery that they will have to endure from the irradiation and surgery.
2. The kidneys of "mismatched" dogs are switched, and the dogs die.
3. Transplant veterinarians mock grieving guardians behind their backs.
4. AU veterinarians charge approximately $14,000 for each surgery and put the money into a "slush fund."
5. AU staff members do not know how to properly perform kidney dialysis treatments (using a dialysis machine) for which clients are charged vast sums of money, so the staff members don't know if the dog's blood is being cleared of toxins.
6. Dogs used in kidney transplant experiments suffer greatly without receiving proper veterinary care or euthanasia.
7. Dogs go insane from being kept for years in cages without being walked or given any attention.
8. Dogs come down with heartworms because they are not given a basic preventive medicine.
9. A government grant for an unrelated experiment is used to conduct dog transplants.
10. Dogs in critical condition are left unattended.
What the Experts Say
Campaign Update
May 2007: In response to a complaint from PETA, the Alabama State Board of Veterinary Medical Examiners voted unanimously to submit a letter of concern to Clint Lothrop regarding "patient discharge instructions, timely client accessibility and communication, and [his] assessment of professional language choices."
June 2008: After learning about PETA's investigation, Morris Animal Foundation launched its own audit of the Auburn kidney transplant laboratory and found "lapses in animal care" and noncompliance with research protocols. As a result, Morris Animal Foundation has vowed not to fund any future projects involving Clinton Lothrop or Michael Tillson and has suspended funding projects at Auburn until it can demonstrate that "animals used in research are not harmed and receive outstanding care …," which the university has not yet been able to do. Furthermore, Morris Animal Foundation has increased its scrutiny of all institutions submitting grants and has instituted periodic audits of the studies that it funds.