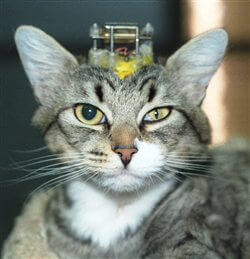 UPDATE: Random-source dealers will no longer have a license to kill—or, more precisely, a license to sell to killers. Congress approved the ban on funding U.S. Department of Agriculture (USDA) licenses for Class B dealers. Without a license from the USDA, the Class B dealers cannot operate.
One danger faced by dogs and cats who are left outside or turned over to disreputable animal shelters is that they could wind up in the hands of Class B dealers, people who profit by acquiring "random source" animals and selling them to laboratories for use in cruel and deadly experiments. Now, a bill before Congress, the federal Pet Safety and Protection Act of 2011, would outlaw the seedy underworld of Class B dealers and end the trafficking of lost, abandoned, and stolen animals in the vivisection industry.
Such a law is long overdue. A 2010 congressional report stated that Class B dealers have been violating the law for many years, including mistreating animals and even fraudulently obtaining them from unknowing citizens looking to place cats and dogs into loving homes. In fact, five of the eight active Class B dealers in the country are currently under investigation by the U.S. Department of Agriculture for their continued violations of the federal Animal Welfare Act. Even as these businesses flout the law, they are allowed to continue profiting off the backs of homeless animals with the endorsement of the U.S. government.
Please, never give unwanted animals away to strangers or let your dogs or cats roam outside alone.

Written by Heather Faraid Drennan