Only the best of the best compete for gold at the Olympics—and athletes are always on the hunt for something to lift them above the competition. Given the numerous health benefits of vegan eating, it's no surprise that these legendary champions found an advantage by ditching animal flesh and secretions:
This Year's Vegan Champion, Meagan Duhamel
This Canadian two-time world-champion pairs skater went vegan in 2008 after reading the book Skinny Bitch (a classic read). What started out as a way to improve her health prior to the 2010 Olympics became a lifelong change.
In addition to bringing home a gold medal in the team figure-skating event and a bronze in the mixed-pairs event, Duhamel—in all her vegan glory—also rescued a dog from the horrific dog-meat trade. And this isn't even the first time she's done so. Her dog companion, a 2-year-old named Moo-tea, was adopted while she was in South Korea last year. While the new rescue won't be staying with her permanently, she's working to secure him a wonderful home—and she's urged her fellow Olympians to follow suit.
The King, Carl Lewis
One of history's most talked-about Olympians—vegan or otherwise—is hands down Carl Lewis. In his track career, he won 10 medals—nine of them gold. Only four other Olympic athletes have won that many gold medals. He also famously attributed the best year of his racing career to his vegan lifestyle.
33 years ago, Carl Lewis made Olympic history at one of LA's most iconic stadiums, the Los Angeles Memorial Coliseum, home to LA 2028's athletics.

Posted by LA28 on Friday, August 4, 2017
Kendrick Farris, aka "the Only Dude on Earth Who Could Probably Take On Marvel Comics' Luke Cage"
Farris looks as though he's eaten every person who ever asked about his protein sources. Of course, he hasn't, as that wouldn't be very vegan of him. He was the only American male weightlifter to qualify for the Rio Olympics in 2016. During the U.S. Olympic Team Trials that year, he broke American records by lifting a total of 831 pounds in the clean and jerk.
He told Huffington Post that one reason he gave up meat was out of respect for animals: "I don't agree with the way the animals are mass-slaughtered. So that's one thing that kind of got me looking at what they call a vegan diet."
Queen V (Venus Williams)
This highly accomplished tennis star—whose record includes four Olympic gold medals and one silver—has been following a mostly vegan lifestyle since 2011, when she was diagnosed with Sjögren's syndrome. Upon winning a silver medal in 2016, she became the most decorated tennis player in Olympics history.
Arguably the First Modern Vegan Olympic Hero: Murray Rose
Over the course of his career, this legendary Australian swimmer set 15 world records and won six Olympic medals. He dominated the sport in the '50s and '60s, all while eating vegan, which earned him the nickname "The Seaweed Streak."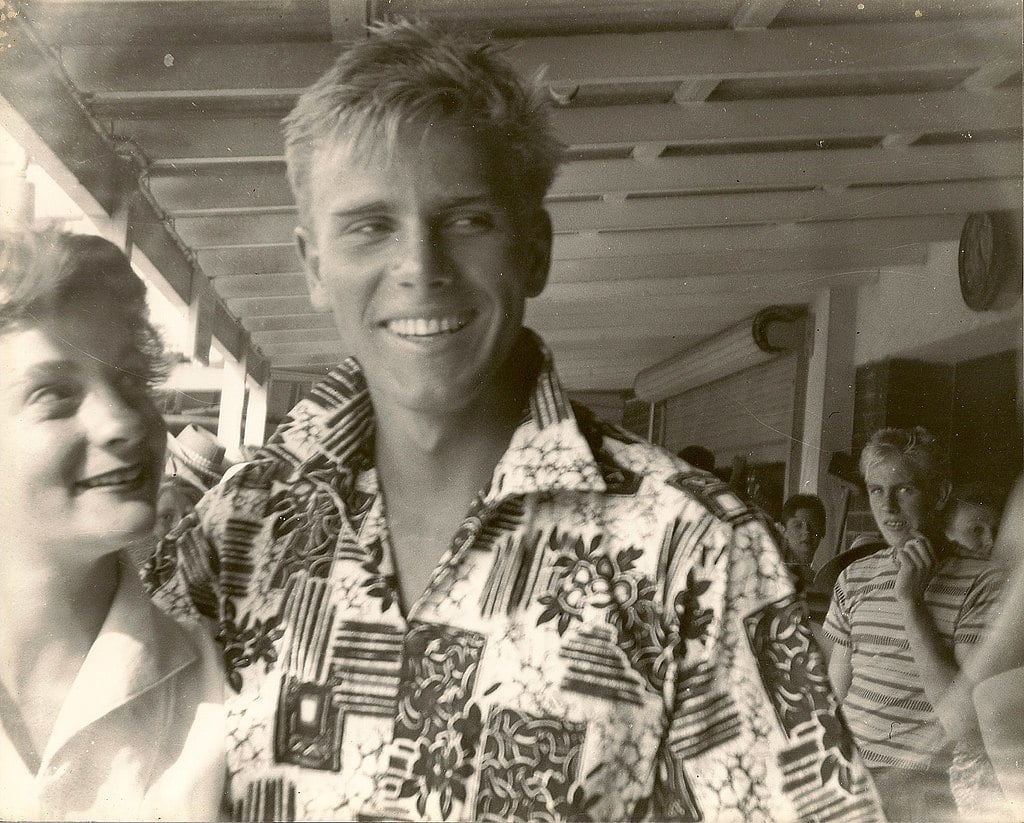 "Murray Rose and Kaye Nottle" |

By Mbagley (Own work)

| CC BY-SA 3.0
Russian Vegan Olympian Alexey Voyevoda
Not only is Voyevoda an Olympic bobsledding gold medalist, this vegan from the Motherland is also a world-champion arm wrestler. When asked why he first went vegan, he told PETA U.K., "At first, I approached it from a scientific standpoint. However, I then came to have some ethical views about this diet. I love happy, living animals!"
@simonsam #Vegan Alexey Voyevoda wins Olympic gold at #Sochi! http://t.co/2v2pS93h3G #Champion4Animals pic.twitter.com/TC9y6zefcx

— PETA (@peta) February 17, 2014
Be a Champion for Animals
If you're hoping to slim down and get healthier in order to lift more, run farther, or swim faster—or if you just want to save over 100 animals a year—go vegan today!