From RZA and Ellie Goulding to Michelle Pfeiffer and Waka Flocka Flame, numerous celebrities have made 2016 an exciting year, as more and more are opting for vegetarian or vegan lifestyles.
And from the pack, PETA has named two the Sexiest Vegetarian Celebrities of 2016!
There's no denying that one of the more recent celebrities to choose vegan is also one of the sexiest men in all of Hollywood. Liam Hemsworth has long been known for The Hunger Games movies and that love life of his with one of our favorite ladies.
Then in late 2015 in his interviews and social media posts, he began mentioning his choice to go vegan.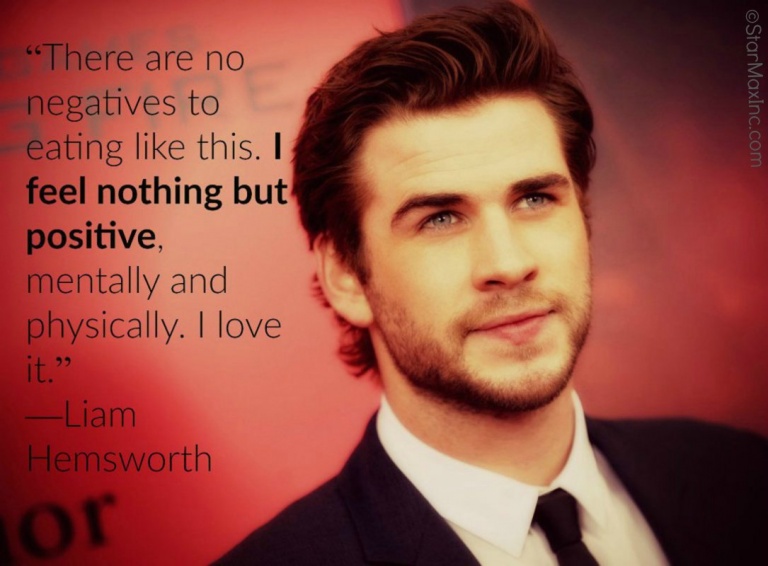 Same here, Liam!
We, too, feel nothing but positive about your decision to be go vegan!
Months before appearing at Coachella this year, to pay tribute to the late, great (and fellow vegan) Prince, Grammy-nominated artist Jhené Aiko celebrated her birthday with a friend, her sister, and her daughter—and a yummy vegan meal.
The sexy singer is passionate about animal adoption and also a dedicated vegan whose favorite restaurant is Vegan Glory in her hometown of Los Angeles. She also loves the vegan nachos at Native Foods Café. This is what she told us:
Having grown up with a love for and connection to all animals, and having been educated on the health benefits of a plant-based diet, it only made sense for me to go vegan. I have more energy, my skin looks better, and—a bonus—I'm happier!
Go ahead, Jhené, with your sexy vegan self!
Congratulations, Liam and Jhené!
If you want to join them and countless others in going vegetarian or vegan, order a free vegan starter kit today.